Construction has started on Studio Ghibli's upcoming theme park Ghibli Park, which is being built in Japan's Aichi Prefecture, ahead of its partial opening in 2022.
According to The Japan Times, construction started on Tuesday (July 28) in Aichi Prefecture with the first attractions scheduled to open in fall 2022.
Ghibli Park will be built on 7.1 hectares of land within the former site of the 2005 World Expo by the Aichi Prefectural Government in collaboration with Studio Ghibli.
The prefectural government hopes to open three of the attraction's five themed lands in late 2022, and the remaining two areas by March 2024.
Groundbreaking ceremony held for Ghibli Park
2️⃣今回起工するのは、全5エリアのうち、2022年秋に開業予定の「青春の丘エリア」「ジブリの大倉庫エリア」「どんどこ森エリア」の本体工事。
ジブリ作品の世界観を表現した唯一無二のジブリパークが、世界中の皆様に愛され笑顔をお届けできるように❗さあ、鍬入れです。 pic.twitter.com/u86t5zTtMO

— 大村秀章 (@ohmura_hideaki) July 28, 2020
Themed areas include Ghibli's Giant Warehouse, My Neighbour Totoro-themed Dondoko Forest, and Princess Mononoke Village.
Additional areas are Springtime of Life Hill, which has attractions from Howl's Moving Castle and Castle in the Sky, and Witch Valley, based on Kiki's Delivery Service.
The expo site already features the 'Satsuki and Mei's House' attraction, which was modelled on the home of characters from My Neighbor Totoro (1988).
At a groundbreaking ceremony, Aichi Governor Hideaki Omura said: "The 2005 Expo's theme of 'love' has also been portrayed in Studio Ghibli's films consistently, so we can inherit that philosophy.
"We aim to make the facility a world-class park and hope many people will visit here."
Ghibli Park will be 'a world-class park'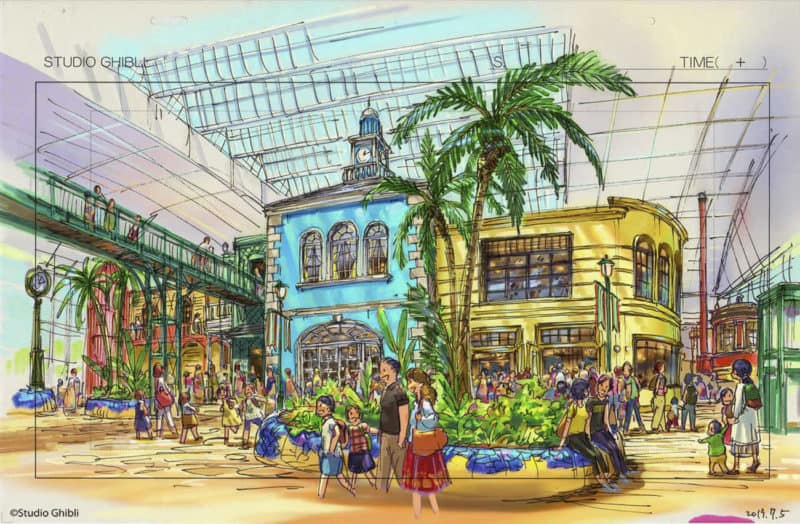 Ghibli Park's construction will cost ¥34 billion ($323 million). It's thought the theme park will attract around 1.8 million visitors each year, with annual economic benefits of ¥48 billion ($455 million).
The Springtime of Life Hill area will house a giant elevator offering views from above, while Ghibli's Giant Warehouse will feature an exhibition room, video exhibition room, playing areas, and shops.
Dondoko Forest will boast Satsuki and Mei's House, and Princess Mononoke Village will have a sculpture of the Tatarigami spirit monster.
Earlier this year, Studio Ghibli released the latest concept art for Ghibli Park, unveiling some of the themed areas, as well as a dining area inspired by Spirited Away.