Universal Orlando Resort has finally unveiled its Jurassic World VelociCoaster, heading to Islands of Adventure in 2021 as the fastest and tallest launch coaster in Florida.
VelociCoaster will feature a series of intense manoeuvres that will send visitors catapulting up to 70mph and more than 150 feet in the air.
It will be the world's first coaster based on Jurassic Park and Jurassic World and will feature an original story and the original cast of the films.
This includes Chris Pratt as Owen Grady, Bryce Dallas Howard as Claire Dearing and BD Wong as Dr Henry Wu.
VelociCoaster spans 4,700 feet of track
VelociCoaster spans more than 4,700 feet of track and reaches heights of up to 155 feet, as riders embark on a high-speed chase while racing alongside a pack of Velociraptors.
The coaster experience includes:
Accelerate through two launches, the fastest reaching 70 mph in 2.4 seconds.
Enjoy a 360-degree barrel roll above the Islands of Adventure lagoon.
Experience a zero-gravity inverted stall that sends riders upside down across 100 feet of track.
Go airborne during the towering 'Top Hat', which propels riders 155 feet in the air and then into the steepest drop yet at Universal.
Fly through 12 seconds of airtime and weightlessness.
Jurassic World VelociCoaster will be the latest addition to the immersive land of Jurassic Park at Universal's Islands of Adventure.
Jurassic Park offers visitors the chance to meet life-size dinosaurs while enjoying the Jurassic Park River Adventure and Raptor Encounter.
Race alongside a pack of Velociraptors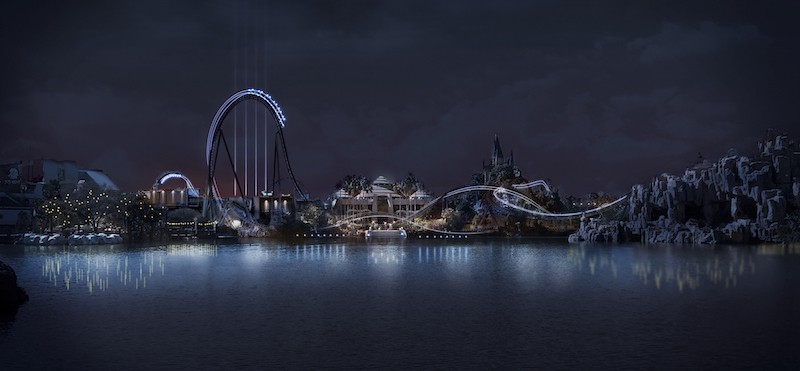 Last month, Universal Orlando Resort installed some giant raptors for the new coaster, although there was no official announcement from Universal Orlando.
The ride is expected to be a 'story coaster', much like Hagrid's Magical Creatures Motorbike Adventure, which launched in Orlando in June 2019.
Last year, Universal Studios Hollywood officially opened Jurassic World – The Ride, a new thrill ride that uses state-of-the-art visual effects and technology.