The third theme park on site at Universal Orlando resort promises an erupting volcano and other thrilling experiences together with relaxing indulgences and innovative TapuTapu technology.
The heavily themed waterpark launched with an authentic South Pacific dedication ceremony. The Maori entertainment ranged from water dancers to "Haka" war dancers. Right on cue, the ceremony culminated with an eruption from the mighty 200-feet Krakatau volcano, the park's central icon.
Volcano Bay begins a new chapter at Universal Orlando. Replacing the pioneering, but ultimately outdated, Wet 'n Wild on International Drive, it sits immediately alongside Universal's Cabana Beach Bay Resort hotel. The "next-level water theme park" was brought to life by Universal Creative. It aims to give visitors a fun-filled, hassle-free experience with their friends and family.
Spanning 25 acres, it boasts more than 30 experiences including 18 unique attractions. Guests can check out speedy body slides that drop from the top of the volcano into the waters below. They can enjoy breathtaking twisting multi-rider raft rides and a hydro-magnetic waterslide coaster that goes travels through the centre of Krakatau. A multi-directional wave pool with sandy beaches, a peaceful winding river, plus an action river are also featured.
At night the volcano becomes a light show. The park also promises beautifully-themed dining locations featuring more than 60 delicious South Pacific-inspired dishes, plus drinks including cocktails.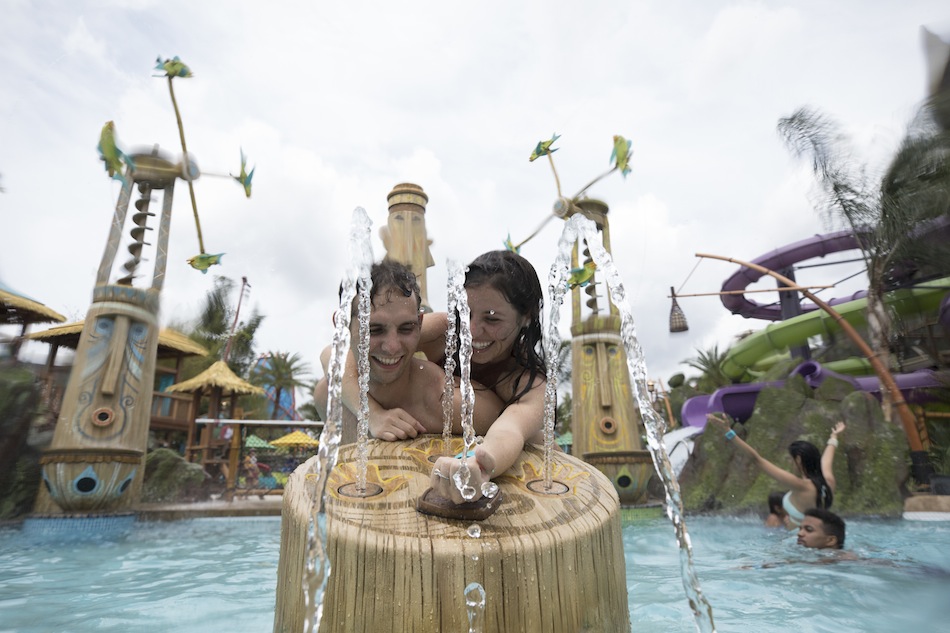 A key part of the Volcano Bay experience is the TapuTapu wristband included with every admission. Features of the wearable device, designed exclusively for Universal Orlando, include:
• Virtual Line Access. The device sends guests an alert them when it's time for their ride or slide.
• TapTu Play. Many experiences can be activated throughout the park using the wristband. These include controlling streams of water spurting from whales in Tot Tiki Reef, shooting water cannons at guests snaking down Kopiko Wai Winding River, or illuminating images in the volcano's hidden caves and more.
• TapTu Pay: Guests can make purchases throughout the entire park with their TapuTapu device. This of course eliminates the need to carry cash, credit cards or a wallet as they splash, relax and play.
• TapTu Snap/My Universal Photo Access. Images from special photo opportunities and selfie-spots throughout the park are automatically linked to guests' accounts so that they can view, share and purchase at their convenience.
• Locker Access. After renting their lockers, guests will be able to access them with a simple touch of their TapuTapu device.
"Universal's Volcano Bay sets a new standard on every level," believes Tom Williams, Chairman and CEO of Universal Parks & Resorts. "Our new water theme park is the perfect complement to the rest of our incredible destination at Universal Orlando. It provides our guests with spectacular entertainment experiences and innovative technology that helps them enjoy more of what matters most – connecting with each other and having an amazing time together."
Images courtesy Universal Orlando