Leading creator of rides and attractions, Zamperla, supplies a host of rides to Asian theme parks.
Zamperla has supplied its Energy Storm to Jeju Shinhwa World, South Korea, along with a number of other thrill rides and family from its portfolio to theme parks across Asia.
Jeju Shinhwa World, South Korea
This is the latest in a number of Zamperla rides at the park which is themed on the animated TV series, Oscar's Oasis.
The company has already provided its Magic Bikes attraction, which requires participants to use pedal power to propel their vehicle into the sky. Zamperla's best-selling Disk'O Coaster is another adrenaline-fuelled attraction at the park, along with the high throughput Tea Cup ride.
Energy Storm takes the thrill factor at Jeju Shinhwa World to a whole new level, combining high speeds and dual rotation. The ride features five sweep arms which rotate upwards and flip riders upside down as they spin.
Wanda Nanjing Indoor Theme Park in China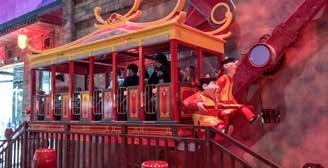 Zamperla has also supplied several large rides to the recently opened Wanda Nanjing Indoor Theme Park in China, all custom-themed to reflect the region's cultural history. For example, a Moto Coaster has been encased in the skeleton of a ship and a Crazy Bus has been designed in the style of a Chinese chariot.
Zamperla's Discovery Revolution popular in Asia
The company's Discovery Revolution continues its popularity in the Far East region, with three more opening in 2018. These are a 30-seat Discovery Revolution at Joyland, China; a 16-seat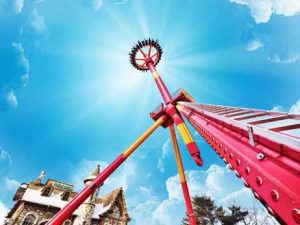 Discovery Revolution at Funfield, Australia; and a 30-Moseat Discovery Revolution at Kyongju World, Korea.
"The Discovery is particularly appreciated by riders because of its spectacular 360° feature that provides the perfect adrenaline rush! The success of the ride is also due to it having the right mix of dimensions/capacity, thrill experience and price," says the company.
"Indeed, the popularity and success of the Discovery Revolution is proven by the fact that over 20 examples of the attraction are now in operation around the world."
More Zamperla rides for the OCT Group
Zamperla has been working with the OCT Group in China for a number of years in Beijing, Wuhan, Shenzhen, Shanghai, Chengdu and Tianjin, and is now involved in a seventh project with the group at Happy Valley Chongching in Nanjing.
At Happy Valley Chongching,Zamperla has supplied four major rides, including an Air Race, a Disk'O 24, an Energy Storm and a Giant Sky Chaser, along with two family rides, a Magic Bikes and a Samba Balloon. There are also several other projects scheduled, details of which will be revealed at a later date.
Zamperla Windstar
The ultimate Zamperla ride, Windstar is a perfect family attraction, combining interactivity
with a smooth circular motion.  The most recent WindstarZ to be installed in the FarEast region was at Dragon Park – Sun World Ha Long Complex, in Vietnam.
The ride is now inspiring the creation of some special theming, for instance the WindstarZ Manta was presented at IAAPA 2017.  The continued popularity of the ride has led to Zamperla developing an eight-seater version of the attraction for smaller locations which will make its debut at the IAAPA Attractions Expo 2018.
Thunderbolt
Elsewhere, the third example of Zamperla's Thunderbolt roller coaster is now in action in Dalian Discovery Kingdom in China.
Evergrande
The company has also confirmed that it will be supplying rides to the four Evergrande Fairytale World indoor theme parks.