Zamperla, a leading ride manufacturer, has launched a new Wash-Through Ride System to ensure guest safety as attractions reopen.
Zamperla is pleased to announce the launch of its new Wash-Through Ride System, designed to help attractions keep guests safe as they reopen following the COVID-19 pandemic. The company has conducted a strategic study related to visitor flows within parks and has developed a new solution for disinfecting rides as a result.
This new system helps operators to clean and disinfect roller coaster vehicles effectively, in order to prevent the spread of the virus.
Wash-Through Ride System
The Wash-Through Ride System is straightforward to install as attractions reopen. It is a tunnel or suspended structure that arches above the vehicle and uses a sanitising fog to clean it, either before loading passengers or while they are seated. The misting system is also easy to customise so that it can fit in with existing theming, so it is a non-invasive solution.
The sanitising mist itself is colourless, odourless and non-alcohol-based, for a pleasant experience. It has a biocidal action that lasts up to 18 hours on surfaces but does not leave them wet or cause any damage.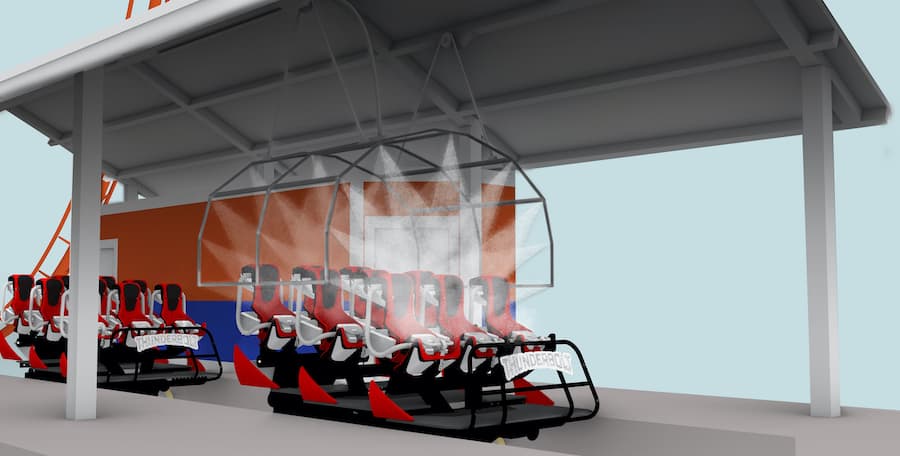 The time taken for the Wash-Through Ride System is around 45 seconds, with 15 seconds of spraying and 30 seconds to the biocidal action to be activated. Operators can choose how often the cleaning cycle takes place, it can be done every 5 or 10 rides and is fully automatic for ease of use and to limit human interaction.
The solution could also become a way for operators to wash vehicles at the end of each day, by using cleaning soap inside the pipes. The intensity of the spray can also be altered, meaning it can be used with or without passengers present.
Last month, Zamperla also announced that it has created a new plexiglass safety barrier to help visitors keep their distance and stay safe.