The theme park week saw miniature superheroes in Hong Kong, a new land announced for the Smokey Mountains and new attractions revealed. These included a chocolate-themed dark ride and a world's first coaster.
1) Dollywood adding Wildwood Grove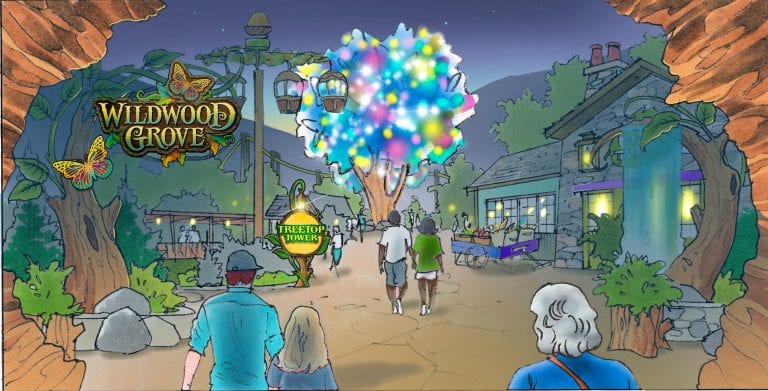 With Dolly Parton herself on hand, Dollywood unveiled the details behind the largest park expansion in its 32-year history on Friday. Wildwood Grove is a 5-acre new land being added to the park. It has a fantasy Smoky Mountain wilderness theme injected with a healthy dose of a child's imagination. According to Dolly, "This area is going to give families a place to explore, play and imagine together—but more importantly—it's a place where they can spend more time together".
The land will feature six brand new rides, including a family inverted coaster. There will be a 4,000 square-foot indoor climate-controlled play area anchored by the giant Wildwood Tree. This will be covered in fluttering butterflies. It will feature a performance stage its base made to look like the tree is coming out of a grouping of boulders. The tree itself will also come to life each night, creating a "unique nighttime show that features the butterflies glowing in a kaleidoscope of spectacular color."
2) Ant-Man & The Wasp Coming To Hong Kong
Hong Kong Disneyland officially named the latest Marvel themed ride coming to the park in 2019: Ant-Man & The Wasp Nano Battle! The new dark ride attraction located next to the park's Iron Man Experience simulator ride is replacing the former Buzz Lightyear themed dark ride with a new super-hero themed experience.
The storyline of the new attraction was also revealed as a tie-into the story being told by the Iron Man attraction next door. Guests will join Ant-Man and The Wasp in a battle again Arnim Zola's army of Hydra swarm-bots invading the S.H.I.E.L.D. Science and Technology Pavilion at the Stark Expo. The attraction will also feature appearances by Paul Rudd and Evangeline Lilly as Ant-Man and The Wasp.
3) SeaWorld San Diego adding another coaster
Having just opened the Electric Eel coaster from Premier Rides in May, the last thing anyone expected was that SeaWorld would add another coaster for next year, but according to official filings submitted to the California Coastal Commission that is exactly what is happening. The paperwork shows a compact figure-eight shaped coaster layout that will be less than 30 feet tall, but also clearly shows that it has two separate loading stations placed on each end of the figure-eight.
While nothing beyond the planning paperwork has been confirmed by any party, the unique dual-station design looks exactly like a brand new ride concept that was on display in November at IAAPA Orlando from Skyline Attractions called a Skywarp Horizon. It would be fantastic to see SeaWorld San Diego premier a new world's first attraction, if this is what I think it is.
4) America's Fun Park shuts down in Branson
The Branson, Missouri tourist area is anchored by the Silver Dollar City theme park. It has always offered a cluster of smaller attractions to round out guest's stay in the area. The smaller attraction have had a good history of success. However, the area also has a history of smaller park concepts opening and not lasting too long. First a small park named Branson USA made a go of it from 1999 to 2001. Then the site was then bought by the owners of Silver Dollar City themselves. They relaunched the small park in 2003 as Celebration City, only to shut it down in defeat in 2008.
A new budget friendly park concept was attempted this summer called America's Fun Park. A small collection of traveling style rides were assembled on the site of a closed shopping center and opened for business in early June. Unfortunately the owners then decided the concept was not sustainable and shut down the park by late July. However, they vowed to retool the concept and try to reopen in October.
5) Pinball Hall of Fame wants to go big In Las Vegas
The Pinball Hall of Fame in Las Vegas has always been somewhat of a secret attraction. It is well known by pinball aficionados and UNLV students. However, it never typically made the mainstream list of attractions known by your average guest to Sin City. This may likely change in the near future. The owner of the off-strip attraction is now planning to move to a new location. He plans to build a new facility on the South end of the Las Vegas Strip itself. Over three times the size of its current home, it will house the over 1,000 pinball machines he owns.
6) Eurosat CanCan coaster now testing at Europa-Park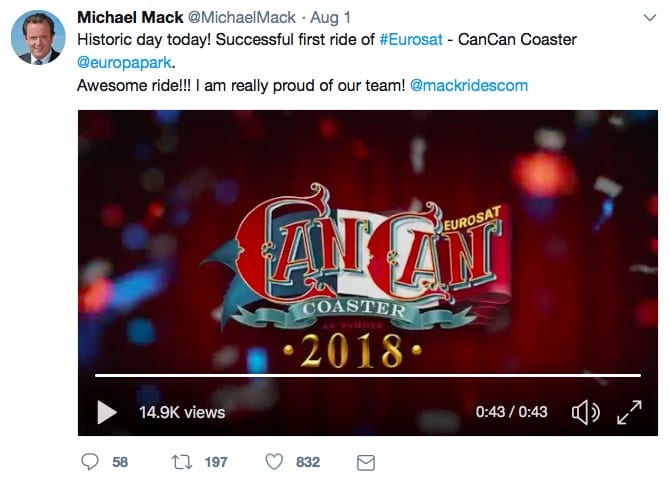 While the Mack family suffered a horrible loss just before the start of the summer season with a fire at Europa Park that destroyed their Piraten in Batvia dark ride as well as most of the Scandinavia area of the park, things are looking brighter now as teams have been rebuilding the park's iconic Eurosat coaster for a new generation of riders.
Michael Mack posted a video on social media of their family taking the historic first test rides of the newly rebuild coaster system, which will be renamed Eurosat CanCan Coaster when it reopens later this year.
7) Troubling times for Kennywood this summer
Kennywood just announced its record breaking The Steel Curtain coaster is coming in 2019. However, the rest of the park has been suffering from a severe case of bad-luck this season. The Sky Rocket coaster has been closed since May. There has been an incident involving thick smoke billowing out of a mechanical room for the launched coaster. Then this week alone four other small incidents have taken place and hit the local media. These included the brakes failing on the park's Pirate swing ship, the new Thomas train ride derailing twice in the same week, and a reported derailment of the Lil' Phantom kiddie coaster.
Hopefully these issues can be addressed and put Kennywood back on track.
8) Nickelodeon indoor park coming to China
The Triple Five Group, known for their massive indoor amusement parks built inside some of the world's biggest malls on North America (West Edmonton Mall, Mall of America and the soon to open American Dream Meadowlands) is expanding their efforts to China. Joining forces with Jiayuan Group and China Creation Group, they are now planning to build a Nickelodeon themed park inside The Mall of China to open in 2020.
9) Fall festival season approaching for many attractions
As Fall approaches, many attractions are also preparing to put on a number of different festival style events. These boost attendance during the later months of the season. For many parks, putting on a Halloween themed fright event is an annual mainstay, but the horror route is not right for everyone and many other options also exist.
Putting on an Oktoberfest style beer festival is a popular option for many, and one that both of the Busch Gardens parks will embrace once again this year with new "Bier Fest" events. Disney will once again hold their super-popular International Food & Wine Festival at Epcot. Another popular option from attractions with the right sized theatrical venues is to host a concert series. Examples are Epcot's Eat To the Beat concerts, various country music concerts at parks like Dollywood and Silver Dollar City. In addition, various faith based music events will take place at parks like SeaWorld and Universal Orlando.
10) Reese's Cupfusion coming to Hersheypark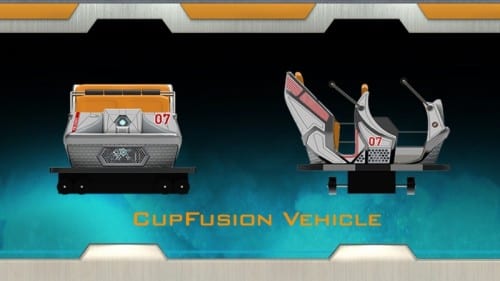 Hersheypark announced this week that they will soon shut down the existing Reese's Xtreme Cup Challenge dark ride. They will do this in order to relaunch it as a brand new interactive dark ride experience next season called Reese's Cupfusion. Guests will defend Reese's Central and the Crystal Cup power-source from the evil Mint the Merciless. They will also battle his band of evil candy themed goons include Crazy Corn, Gumbo, Citizen Cane, Jawbreaker and more.