ACTVENTURE, the integrated active lifestyle destination being developed on Australia's Sunshine Coast, is considering a second location in the UAE.
The ACTVENTURE Advisory Board, which includes WhiteWhiter West's CEO, Geoff Chutter, met to discuss possible sites during IAAPA's Winter Forum in Dubai. The event gives operators from all over the world the chance to experience behind-the-scenes tours of the UAE's newest parks and attractions.
The board is keen to capitalise on the region's leisure and entertainment (L&E) industry forecast of 45 million visitors a year by 2021.
"The UAE is the leading L&E destination in the region with a huge growth potential over the next three years where we believe the market could double when the current projects on the books are complete," commented Chutter.
Whitewater West's Geoff Chutter: ACTVENTURE will cause huge waves in Australia
"I believe that ACTVENTURE is a differentiated active lifestyle destination that will cause huge waves in Australia. Bringing the concept to UAE will only add to the country's diversified sector."
Chutter was one of three global executives invited to serve on the Advisory Board last year to bolster its strategic vision and global expansion plans. He was joined by Joe Zenas, CEO of Thinkwell Group and Fredrik Jonsson, Founder and Managing Partner of Mereha.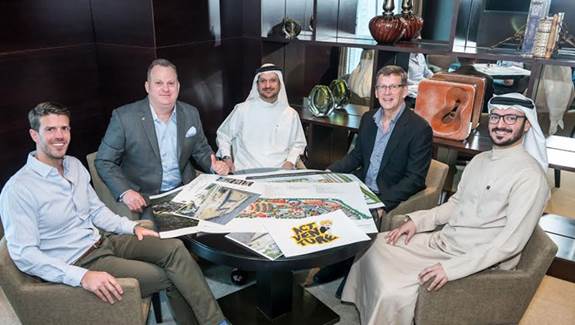 Owned by the UAE-based Najibi Investments, the 24-hectare project on the Sunshine Coast is set to include a state-of-the-art water park, and a great lawn for major events, concerts, and community activities. It will also feature a 6,000 square metre retail and restaurant precinct. Construction is expected to begin later this year. Future phases will encompass a hotel and an action sports facility, as well as a large indoor sports training centre offering parkour, gymnastics and more.
"Dubai is set to become a world-class leisure and entertainment destination rivalling Orlando, Singapore and Hong Kong, and we want to participate in this growth trajectory," confirmed Talal Y. Najibi, Executive Chairman of Najibi Investments.
Main image courtesy ACTVENTURE