Ballast VR has announced that visitors to Yas Waterworld in Abu Dhabi can now enjoy a brand new attraction, DIVR, the UAE's first aquatic VR experience.
Speaking about DIVR, Leander de Wit, General Manager at Yas Waterworld says: "At Yas Waterworld, there are always new experiences to discover, and exciting adventures to be lived. We are excited to introduce this first-of-its-kind adventure in the UAE that is guaranteed to deliver unforgettable guest experiences.
"We strive to cater each experience to fit our guests' interests and look forward to welcoming waterpark fans to try out the all-new Underwater VR Experience!"
Unique VR experience
The new experience allows visitors to draft through the deep ocean, exploring shipwrecks, caves and submarines. Or, they can glide down mountain slopes, over waterfalls and through stunning canyons. Guests can even go further afield, with a virtual visit to space.
Ballast CEO, Stephen Greenwood, says "We'd like to thank the entire team at Yas for helping realize our vision by bringing groundbreaking attractions to the region and demonstrate an incredible successful debut even amidst the challenges of 2020. We have no doubt that this attraction's popularity will continue to build momentum in 2021 and beyond as we make plans to expand our attraction portfolio in the region."
DIVR allows Yas Waterworld to expand its offering with a unique attraction, providing a new experience for visitors while also benefitting from a great ROI with little initial investment. Almost 1000 visitors tried DIVR in the first month, and the experience is priced at 75 Dhs per person ($20.50 USD) or 275 Dhs for a group of 4 ($60.30USD) and is operational all week long.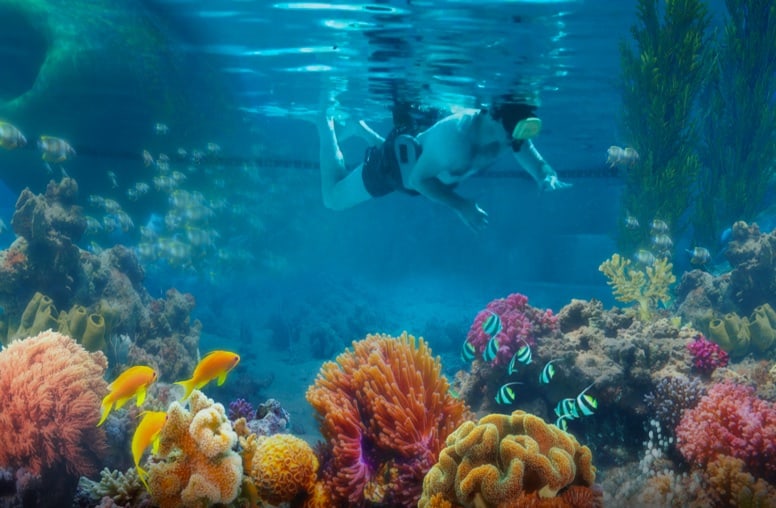 Health and safety
The waterpark puts the health and safety of both visitors and employees first, particularly in following the pandemic, and has been awarded the 'Go Safe' certification by the Department of Culture and Tourism – Abu Dhabi (DCT Abu Dhabi). It also has a COVID-19 compliance certificate from TÜV SÜD, a leading testing and certification body.
Ballast VR has more than 25 installations at waterparks around the world, helping operators to generate extra revenue while providing a memorable experience for guests. Its collaboration with Yas Waterworld was brought about as a result of Ballast's partnership with Altitude Sports Ventures, a sports management company specializing in bringing strategic development programs to UAE companies.
Last year, Ballast VR also celebrated the opening of a new VR waterslide at Vana Nava Water Jungle in Hua Hin, Thailand.