Leading waterpark and attractions company, WhiteWater, scooped two Brass Ring awards for Best New Product at this year's IAAPA Attractions Expo.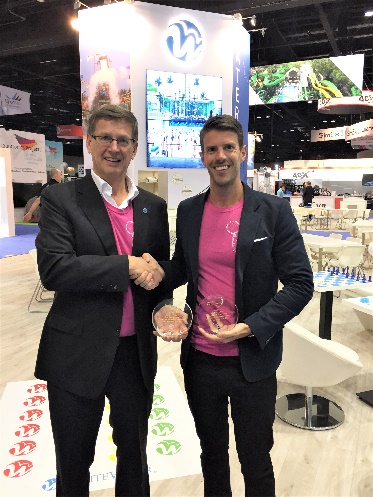 The first was for family adventure attraction, Water Transportation System, as adapted for Morgan's Inspiration Island. The other was for doubled-winged waterslide, Manta 71.
These latest accolades bring the company's Brass Ring total to 33 since the awards' inception in 1991.
"The continual recognition our products receive is an important testament to the quality of the rides we produce but, more importantly, is the job they do for our clients by operating smoothly and satisfying every 'play type' of guest," commented CEO Geoff Chutter.
WhiteWater redesigned its classic Water Transportation System and created five custom-themed, fully-inclusive splash pads especially for the world's first ultra-inclusive splash park, Morgan's Inspiration Island.
The facility is inclusive of all cognitive, physical, and sensory abilities so that all of its guests can experience the joy of play.
WhiteWater's inclusive design features 'roll on, roll off' boarding
For over an eighth of a mile, Morgan's River Boat Adventure twists and turns through a jungle setting. Created to easily accommodate wheelchairs and guests with physical limitations, it opens up the river journey experience to everyone.
WhiteWater made boarding easy with a flat 'roll on, roll off' design. This means that loading wheelchairs is just as straightforward as walking onboard, so everyone can queue together.
Manta – the only winged waterslide on the market
Any park looking to make a skyline statement, might well consider WhiteWater's Manta slide. The only winged waterslide on the market, it combines multiple sensations into one ride.
Just as they reach the end of the enclosed flume, riders are suddenly faced with the massive walls of the Manta rising ahead of them. They drop 23 feet into the valley below
before speeding up the other side to reach a feeling of weightlessness, then back down and up again, multiple times.
According to WhiteWater, the flexible design makes the Manta suitable for indoor parks, too.
Founded in 1980, WhiteWater designs and manufactures innovative waterpark products and active family attractions for clients worldwide including waterslides, multi-level water play structures, wave-generating equipment, FlowRider® stationary surfing machines, harnessed attractions, interactive play, and water rides.