Cloward H2O, an expert in aquatic design, is working on the new Montgomery Whitewater Center, alongside S2o, Liquid Design and GMC. The new whitewater and outdoor recreation facility sits on a 120-acre site in downtown Montgomery, near I-65, and aims to redefine the area as a young professional and family destination.
The centre, which is set to open in summer 2023, will feature whitewater rapids that wind through shops and restaurants, as well as other attractions such as a zip line tower. The plans also include an outdoor performance venue, a hotel and a conference centre.
The project was approved in 2019 and construction started in summer 2021. Once complete, the Montgomery Whitewater Center is expected to employ over 125 people.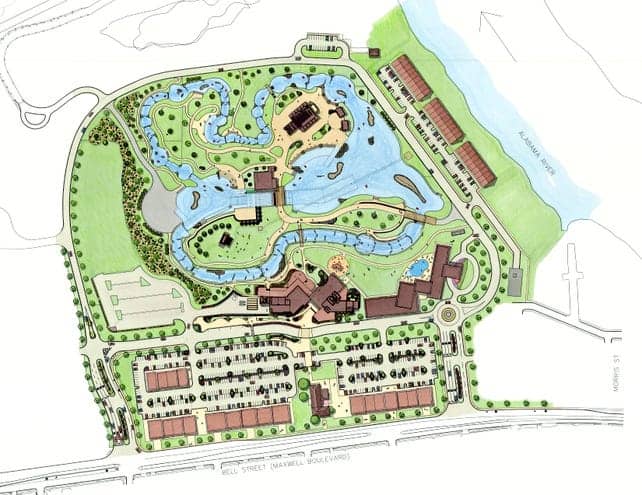 A complex project
"This is not your typical pool," says Allen Clawson, principal overseeing the project for Cloward H2O. "The structural, waterproofing, and mechanical systems employed to manage and contain the 10,000,000 gallons of very active water are somewhat complex, as you can imagine."
For this project, Cloward H2O is providing engineering services for the pump station, upper and lower basins, river channel structural and waterproofing. It is also working on whitewater flow circulation pumping, water quality management systems, control and automation systems, as well as several speciality items such as conveyor systems, slalom gates, and obstacles within the course.
Braden Steiner, project manager for Cloward H2O, says that the technical challenges are overcome through the application of the firms broad and diverse aquatic engineering experience: "We have been fortunate to be able to apply our experience with other large venues in tackling these challenges."
Accessible whitewater rafting
The facility, which will be one of a few recirculating whitewater parks in the country, features two separate river channels providing an Olympic standard course and a dynamic recreation channel, bringing whitewater rafting to an accessible location. Visitors will also be able to enjoy climbing, zip lines, mountain biking, rope courses and more.
The rapids will include 10,000,000 gallons of surging whitewater. To power this, the pump station will employ five 750 Hp vertical turbine pumps for a total of 500,000 gpm, enough to fill an Olympic sized swimming pool in less than 80 seconds, feeding the two whitewater channels which are designed to drive class III, IV, and V rapids.
This will also serve as an Olympic training facility and will host world-class competitions, as well as providing first responder training. The projected annual visitation is around 300,000.
The Montgomery Whitewater Center will bring the thrill of whitewater parks to visitors of all ages and experiences in a safe, controlled environment.
Recently, Cloward H2O revealed how it worked with Grupo Vidanta on a permanent solution for some of the challenges with its man-made lakes at its flagship resort property in Puerto Vallarta.