A new record-breaking attraction has just opened in Dubai, allowing visitors to enjoy the deepest dive pool in the world. Deep Dive Dubai is 60 metres (196 feet) deep, beating the previous record-holder, Deepspot in Poland, by almost 15 metres.
Explore an underwater city
While the pool is currently only open by invitation, it will open to the general public later this year. Visitors will be able to take part in both scuba diving and freediving experiences.
The building in Nad Al Sheba is a 1,500-square-meter oyster-shaped structure, inspired by the UAE's pearl-diving heritage. Inside, the pool is home to an underwater city, where divers can explore sunken apartments and even play pool in an underwater arcade. In addition, there is also an underwater film studio and a nearby media editing room.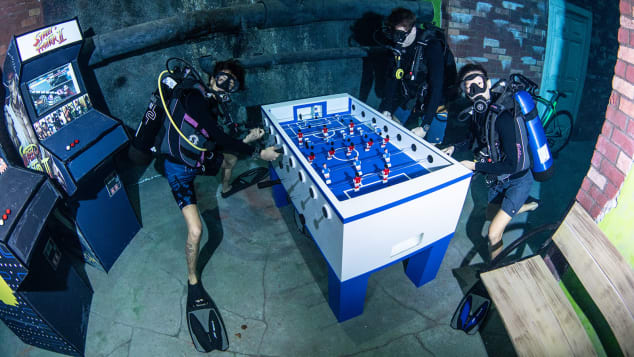 Experienced divers and beginners alike will be able to take courses at Deep Dive Dubai, and can explore the sunken city by themselves after an initial tour. Safety is paramount, with 56 cameras installed to monitor divers, and an advanced hyperbaric chamber in case of emergencies.
In addition to this, the pool is also at least four times bigger than any other diving pool in the world, with 14 million litres of fresh water, which would fill six Olympic-sized swimming pools. The water is 30 degrees Celsius (86 degrees Fahrenheit), suitable for wearing a thin wetsuit or a swimming costume.
Meanwhile, those wishing to stay on dry land can view the action through large windows and TV screens in the on-site restaurant.
Dubai is also home to the world's tallest skyscraper, the Burj Khalifa, as well as Dubai Mall, the largest mall in the world. But Deep Dive warns guests not to visit the top of the Burj Khalifa after a dive: "After any dive, it's recommended to wait 18-24 hours before ascending higher than 300 meters (1,000 feet)."
The trend for underwater experiences is growing, with new attractions opening in seas, lakes and oceans across the globe.