Worldwide creator of waterparks and waterslides, Polin Waterparks, is using a virtual reality simulator to launch its brand new Storm Racer Waterslide at the IAAPA Attractions Expo in Orlando.
Visitors to Booth #1378 will be given complimentary Google Cardboard VR headsets to experience the innovative thrill ride first hand.
Polin's Storm Racer breaks new ground in the sector by being the first raft waterslide that allows families or teams to race against each other.  Sensors on the slide detect the exact high point reached by each raft and transmit the information to a scoreboard.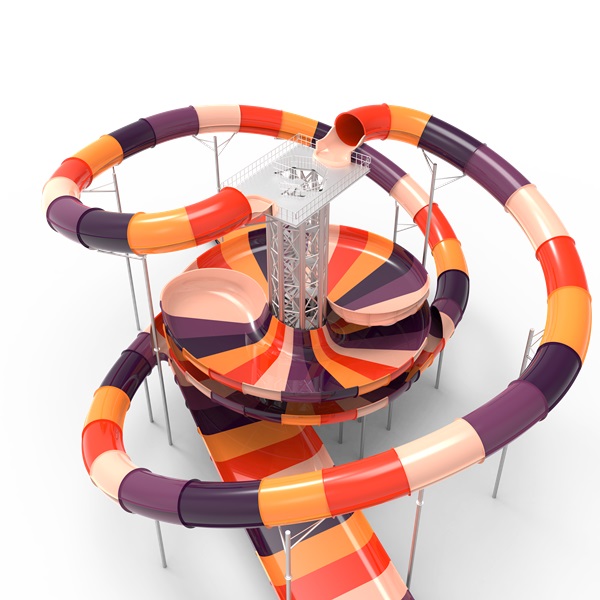 Launched from a height of 24 metres, riders speed along a slide path of 87 metres, reaching speeds of nearly 40 kilometres an hour. Guests shoot through a closed tube that curves downward in a wide arc before plunging into an open bowl configuration where they experience centrifugal force as they are propelled up a wide, sweeping, curved, vertical slope.
Rafts rush toward the top of the slope but just before they threaten to fly over the edge,   gravity safely pulls them backwards in a reverse ride. The Watersplash feature is activated when riders make it to the top, delivering a celebratory shower.
According to Polin, Storm Racer can accommodate 8 x 120 riders per hour allowing multiple guests to enjoy the fun together.
Product features include:
Central start tower with a compact design (between the two raft entry points)
High-capacity (120 x 8 riders per hour)
A shared slide experience with others in the queue
Family-raft waterslide
Racing waterslide
Streamlined and iconic design
Water splash feature (with interactive lights)
Both single or racer options available
Multiple theming options
L-RTM-manufactured components
Experience the STORM RACER waterslide in virtual reality with Polin Waterparks, Booth #1378 at IAAPA Attractions Expo, Orlando, November 15-18 2016.
Save
Save
Save
Save