The world's largest indoor waterpark has added a giant water play structure from Polin Waterparks featuring over 1,000 feet (317m) of slides.
Now operated by Parques Reunidos, the 650-hectare (1,606-acre) facility is located inside a former zeppelin hangar near Brandenburg, about an hour from Berlin. Tropical Islands is already home to multiple attractions including Germany's highest waterslide tower (27m/88.5ft), an expansive wave pool and various lodging facilities. The park can accommodate up to 8,200 guests a day, or 6,000 at any one time. Those staying overnight can enjoy its waterpark and spa facilities 24 hours a day.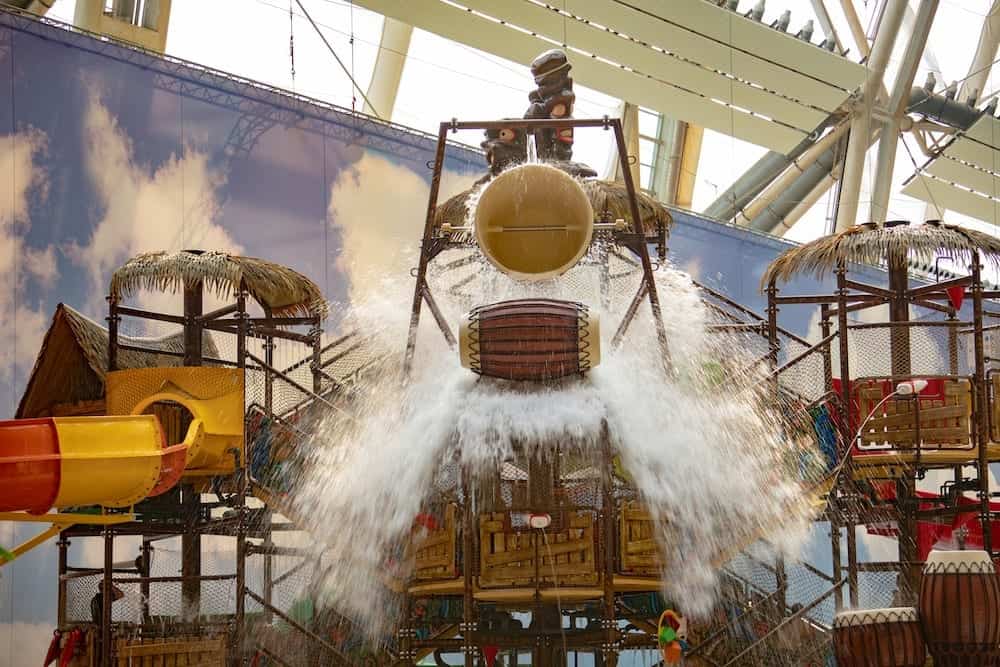 Interactive and highly-themed
Polin's new addition is highly interactive, with no fewer than 48 custom-designed features. Wood-like theming camouflages the playground's metal parts. Attached to the structure are additional themed elements including a hut and a large tipping bucket.
As fun-seekers climb the 116 stairs to reach the top of the 15m (49ft) tall structure, they have a bird's eye view of the one-of-a-kind waterpark that sits beyond.
The playground's waterslide selection includes a Windigo thrill ride, a Space Hole, multislide and compact slide. The largest of the slides is 66m (216ft) in length. The featured slides are actually some of the first fibreglass constructions at Tropical Islands since most of its existing waterslides are manufactured from stainless steel.
The playground is comprised of six two-level modules, anchored using special floor-mounting, and features a hydro-mechanical system. It was engineered to meet German TÜV safety standards.
Shiny slides
Polin says the custom theming of the new attraction was an important consideration for the waterpark so that it blends into the existing environment.
Thanks to its experience in composites, the Turkish manufacturer offers slides with a variety of finishes and effects. These include Natural Light Effects, Special Pattern Effects, transparent and translucent waterslides and Slide 'N Roll, which combines sound, design and light effects. All of Polin's slides are now delivered with a shiny RTM (resin transfer moulding) finish.
Opened in December 2004, Tropical Islands brings together Asia, the Pacific region, Africa and South America under one roof with a constant temperature inside of around 26°C (79°F). As well as a selection of themed buildings and facades, the large space is also broken up by around 50,000 plants.