Spring is nearly here, and with it comes sunshine, warm weather, and waterslides. In addition to a number of upcoming new attractions at your local regional water parks, there are brand new water parks opening up in 2019 across North America.
By Lance Hart, Screamscape
SeaWorld Parks & Entertainment
SeaWorld Entertainment parks are adding three major waterslides to their existing parks this year:
Water Country USA (Williamsburg, VA) will open Cutback Water Coaster this season. The attraction is an 856 foot long ProSlide RocketBLAST / Flying SAUCER hybrid slide allowing 4-passenger rafts to race down the hill at 35 feet per second.
Aquatica Orlando will open KareKare Curl. This attraction will drop sliders in two passenger tubes down a large hill before flying up into a massive zero gravity wall element for a moment of weightlessness before plunging back down to the bottom.
Aquatica San Antonio has just opened Ihu's Breakaway Falls, the tallest drop slide in Texas. It features three slides at the top of a huge tower. Guests can choose either one of two drop pods slides, or a more traditional sit-down one on the third.
Indoor waterparks in Arizona, New York and New Jersey
Five brand new waterparks will open to guests in 2019 across America.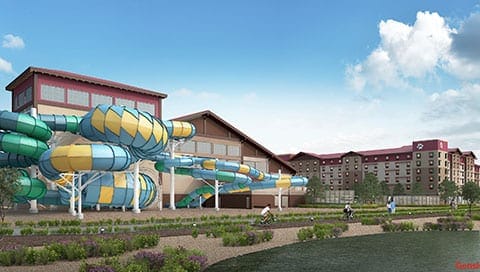 Great Wolf Lodge Arizona – The company famous for practically starting the trend of indoor water park resorts will open their newest location in the Scottsdale, Arizona area in 2019. The resort will feature an 85,000 sqft indoor temperature controlled water park attached to a resort with 350 suites.
The Kartrite Hotel & Indoor Waterpark – Opening in 2019 in Catskills New York, comes a new indoor water park resort from the creators of the Camelback Resort. This new nature themed resort features 324 suites and a two-acre indoor water park space designed by Aquatic Development Group. It is inspired by the architecture of the indoor water parks in Europe and will feature a barrel-shaped transparent Texlon roof that will allow sunlight inside year-round. Not only does this allow sunbathing at any time of the year, planned tropical plants inside can also thrive and create a unique indoor environment not seen at any other indoor water park in the US.
Dreamworks Water Park – Another huge indoor water park project is set to debut inside the American Dream mega-mall in New Jersey in 2019. A nearly 8-acre indoor water park will open under a giant glass dome and offer climate-controlled water fun all year-round. The water park will also be the first to be themed around the Dreamworks Animation characters.
Outdoor water parks in Orlando and Texas
Island H2O Live! – A new mini outdoor water park will open in Orlando late 2019. This is part of the new Margaritaville Resort Orlando complex. The new water park will offer over 20 new experiences for guests including drop slides, a lazy river, wave pool and much more. WhiteWater is behind the Boomerango, Open & Enclosed, Kids Slides, Super Bowl 30, Master Blaster + Boomerango Fusion, 6-Lane Mat Racer, Flatline Loop, Constrictor + Rattler Fusion.
Big Rivers Waterpark – It's been a few years in the making, but the long delayed Big Rivers Waterpark in Texas will finally open in Spring 2019, featuring a number of classic waterslide attractions for guests of all ages.
Big Rivers & Gator Bayou Aerial Update February 20, 2019

Big Rivers & Gator Bayou Aerial Update February 20, 2019******Recent rains have drained a lot of debris & dirt into the lazy river and wave pool, but we will be cleaning out this month in preparation for opening day!******If you haven't seen our opening day videos and photos from November, please visit our facebook page and Instagram page where we post more often. https://bit.ly/2DlBrKe https://bit.ly/2BNMV6uThis video will provide a more in-depth look at construction development and new slide additions.New slide additions include the COLORado River Racer which is our exciting mat racer where you can race against up to five friends, with each lane a different experience! These multi-lane aqua tubes spiral and twist alongside each other before making a swift 360-degree loop and diving to the finish line. Next to that we have our three new body slides Frio Falls (orange & yellow) where you spiral down a towering, coiling slide and plummet off a tower over six stories tall. Take a trip down Pecos Plunge (pink) and gain momentum before plunging a gut-wrenching seven stories high from a half-enclosed slide. And the Sabine Scream (green) lets you hurtle down an enclosed slide with a swift drop that will leave you breathless!Prepare to "Brave the Wave" as you and up to 3 other riders are engulfed by a massive current on the Storm Surge (blue, green & white) family raft ride & "Feel the Force" on Comal Crush (yellow & pink) a speedy raft with surprise drops and twisting turns. This is a great kid-friendly ride.The Gator Splash is the largest interactive play structure in Texas with 8 different slides and includes over 300 water play elements, multiple levels and sprayers. It's another waterpark in and of itself!Polliwog Puddle is perfect for our littlest guests to splash and play in the sprinklers, fountains and nozzles. Hatchling Hill let you glide and drift down our 6 different tot slides created with our younger guests in mind.Boca Chica Bay where you can experience the tallest waves in Houston, and stay cool at the best wave pool in town!Our Rio GRAND River is the largest lazy river in the Houston area and perfect place to relax and float with the flow.And don't forget about Gator Bayou which includes Wild Isle our floating activity course on Hidden Lake & our 7 story tall aerial adventure course Eagle Challenge & Racoon Run. Zip across the forest on Falcon's Flight or venture into our giant outdoor Mystic Forest Maze! Lots of fun things for the family including our petting zoo, pony rides and fishing! Be sure to check out our live gator exhibit as well!There's so much more to enjoy at Big Rivers Waterpark & Gator Bayou Adventure Park and we look forward to seeing everyone out this Spring!

Posted by Big Rivers Waterpark on Friday, 22 February 2019
International waters
It is also worth mentioning two new international water parks opening this year that should have a lot to offer.
For cruise ship fans, Royal Caribbean is expected to open their CocoCay Thrill Waterpark. It is a little bit of water park fun hidden away on a private Caribbean island, just for Royal Caribbean guests. It's another WhiteWater project.
Meanwhile, opening near the end of 2019 in Germany, I simply cannot fail to mention Rulantica, a huge new indoor water park coming to the Europa Park Resort. However, contrary to most indoor water parks, Rulantica promises to offer a complete themed water park experience unlike anything you might have seen before.