We may be in the middle of winter, but that doesn't mean we can't dream of warmer weather and summer water park fun. With that in mind, here is
Top new water park attractions
8) Mega Mayhem at Nashville Shores
ProSlide will supply Nashville Shores with a new slide creation that will be the biggest slide in the park when it opens this season. Guests will climb to the top of a 6-story tower to board a family-sized raft. The hybrid slide will feature two major elements. These are a tornado funnel element on the top half of the slide and then drop the raft down into a 4-story wall element near the end.
7) Venus Vortex at Lake Compounce
This Whitewater Manta ride at Lake Compounce is designed to look like the jaws of a house-sized Venus Fly Trap. Guests sitting in a three-passenger raft will slide down through twisted tunnels before dropping down into the giant half-pipe jaws of the Venus Vortex. They are then spilt out into an exit trough.
6) Mountain Bay Cliffs at Canada's Wonderland
This is perhaps the most unique new attraction on this list of top new water park attractions. In fact, it actually doesn't involve a waterslide at all. Canada's Wonderland will open Mountain Bay Cliffs in Summer 2020, with the creation of a tall platform next to a deep pool, themed to look like actual cliff walls.
Brave guests can travel up pathways to various heights on the cliff wall and take a leap-of-faith off the edge, with the tallest jump standing 7.5 meters (25 feet) above the water.
5) Boogie Board Racers at Carowinds
WhiteWater will provide this new Whizzard six-lane mat-racer slide for the Carolina Harbor water park at Carowinds in Summer 2020. Unlike typical mat racers, this one features a turn as well as an enclosed spiral section in mid-slide. By the time the racers hit the finish line, they will have completed the longest mat racing waterslide in the South East.
See also: The top 13 extreme coasters for 2020
4) South Bay Shores at California's Great America
Next on our list of top new water park attractions is the former Boomerang Bay water park inside California's Great America. This water park will be expanded in 2020 and renamed South Bay Shores. The planned upgrade will include six new waterslides, new and upgraded food and merchandise locations, new premium cabanas and a new sandy beach play area.
New slides will include Shark Reef Plunge (Four new slides that start off with a near-vertical plunge from a trap-door pod), Feeding Frenzy (Enclosed tube slide with a giant bowl at the bottom) and Barracuda (a high-speed tube slide with a constrictor spiral and a steep plunge at the end).
3) Cheetah Chase at Holiday World
Holiday World will add a unique new slide to their Splashin' Safari water park in 2020. The park is already famous for its water coaster slides: Wildebeest (2010) and Mammoth (2012). Now they are at it again with the debut of Cheetah Chase, a pair of racing/duelling RocketBLAST slides from ProSlide.
The attraction features a side-by-side launch experience to begin the race, before separating to set up for a fly-by face-off element. It then returns to duelling action with a race to the finish line.
2) Kalahari Resorts Texas
Kalahari will make waves once again with the opening of its newest resort in Round Rock, Texas in late 2020. Set to open in November, it will feature both indoor and outdoor water park fun sections.
It will also be home to Tom Foolerys, an indoor adventure attraction. This will offer small rides, a ropes course, climbing wall, indoor zip line, bowling, laser tag, mini-golf and about 250 video games.
1) DreamWorks Water Park at American Dream
The final entry on our list of top new water park attractions is located at the recently-opened mega-mall in New Jersey. American Dream is expected to open its new DreamWorks Animation themed indoor water park in the very near future.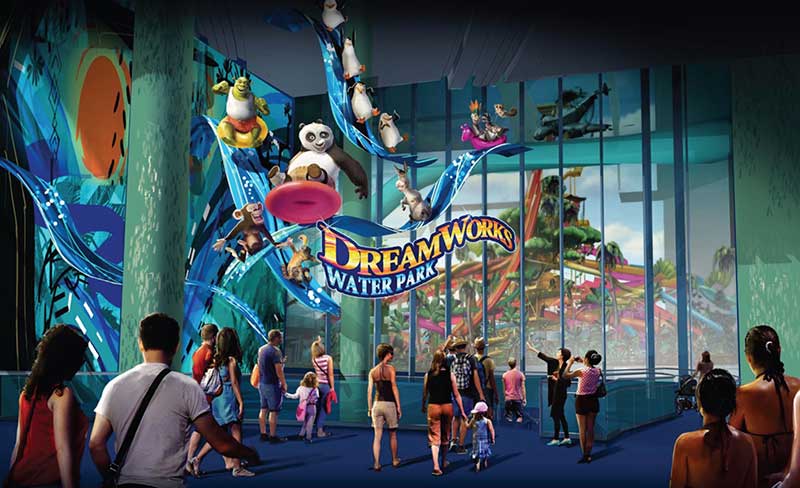 The indoor water park is said to feature 15 creations from ProSlide. This includes an 8-lane OctopusKrakenRACER slide, a pair of FreeFall speed slides that will drop you 50 feet at 70º and a Tornado 60 slide with six-passenger rafts. It will also be home to the HydroMagnetic Rocket slide. This should be the largest indoor water coaster in the world when it opens.
Other attractions include a Madagascar themed water slide tower and a Kung-Fu Panda themed children's play complex. 80-foot Shrek and Donkey character balloons will hang from the ceiling.