Hosted by Disney's Coronado Springs Resort in Orlando, Florida, the World Waterpark Association (WWA) Symposium and Trade Show took place from 7 – 10 October 2019, bringing together leaders in the industry.
by Kerry Martin, Martin Aquatic Design & Engineering
The WWA Symposium and Trade Show made its return to Walt Disney World Resort after a gap of 10 years. The host city did not disappoint, highlighting new attractions at old favourites, as well as brand new hometown waterparks. The WWA Board Chair Damien Latham encouraged attendees to go out with their families and explore the many offerings that Orlando has to offer while staying in town for the show. He said, "As my wife reminds me, 'there's no use in creating the dream—you have to live the dream too.'"
Perhaps the biggest theme of the show was the spirit of collaboration in the industry. It highlighted the launch of innovative new technologies, the growth of waterparks worldwide, and the proliferation of new suppliers to the industry.
Over 1,800 owners, operators, developers, suppliers and designers travelled to the event from 23 countries and 6 continents. This year's show also welcomed more than 300 first-time attendees.
During the opening session at the WWA Symposium, Rick Hunter, President of ProSlide Technology, which was also the Diamond Sponsor of the show, commended the operators that are developing their parks with the best attractions from different manufacturers. He noted the new projects on the boards and how many attractions are actually park additions. "That means we're all working together to make great parks," said Hunter.
Other sponsors included WhiteWater and Polin Waterparks, (Both Platinum); PGAV Destinations, Aquatic Development Group, WWA Insurance by Haas & Wilkerson, Launch Logic, WTI, Neuman Group, Van Stone Conveyor, Neptune-Benson Evoqua, and EDSA (All Gold Sponsors).
Education and professional development
"The WWA Show has always been the intersection for all things waterpark-related," said Aleatha Ezra, Director of Park Member Development, World Waterpark Association. "We were excited to see so many waterpark professionals from all over the world come together to learn and share challenges and successes in order to make the industry safer and more impactful in the lives of the guests which we serve."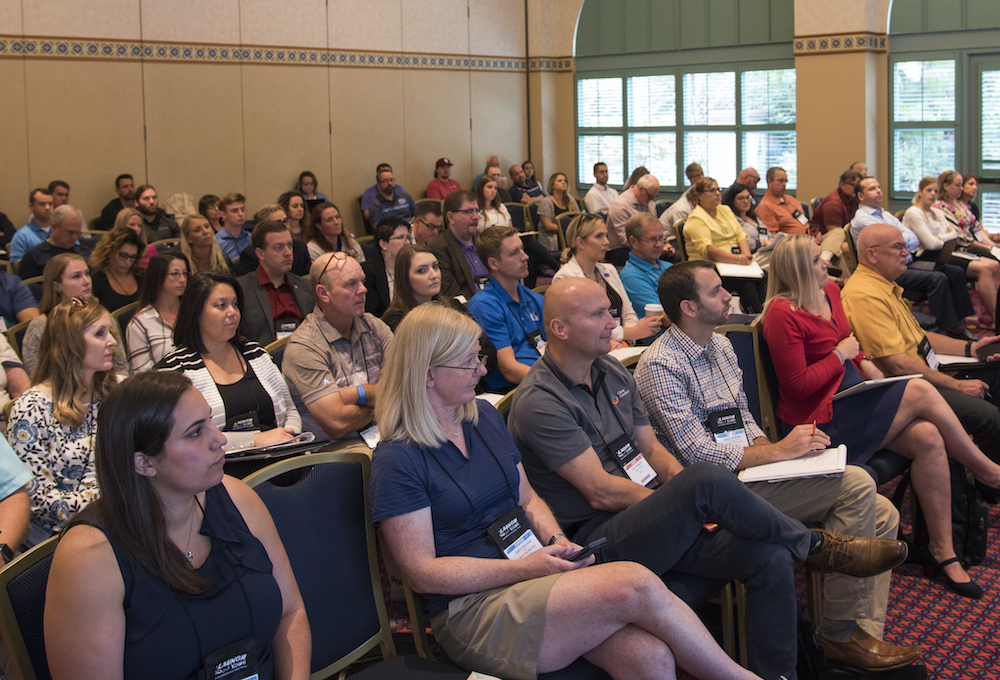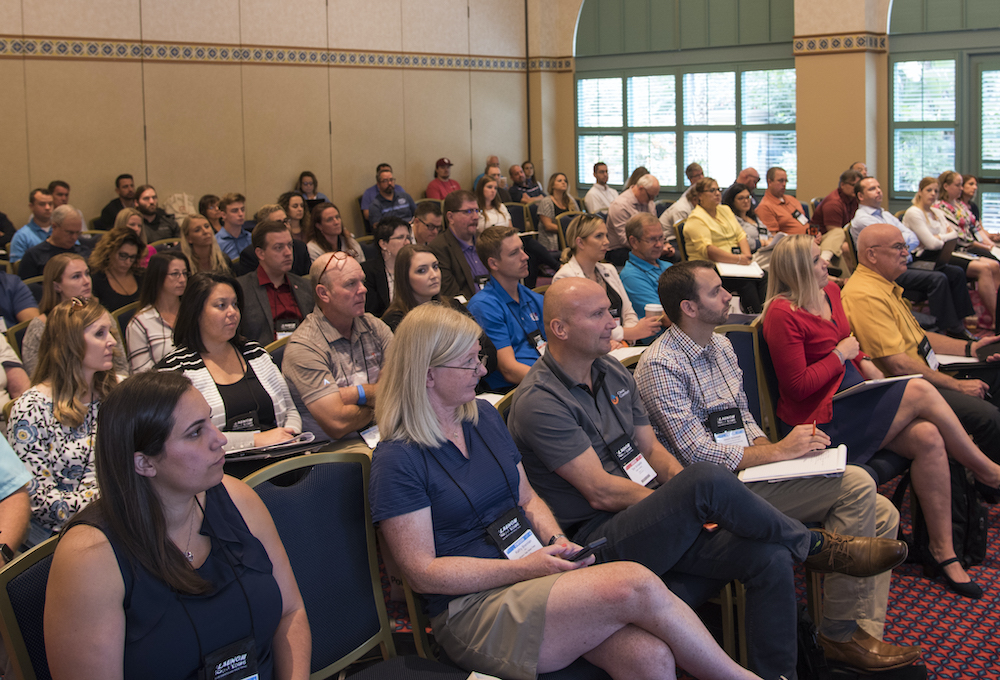 Industry experts
The event featured several quality educational events, with over 100 speakers sharing insights on topics such as new innovations in waterpark operations, HR, leadership, legal liabilities, customer service, maintenance, and more.
To highlight a growing trend for accessibility, representatives from SeaWorld Aquatica Orlando presented a session called "Accommodating and Understanding Guests with Autism & Other Cognitive Disorders." This touched on the training considerations as well as parkwide operations that can help better prepare park owners and promote improved company morale.
Keynote speeches
The two keynote speeches at this year's WWA Symposium and Trade show offered innovative approaches to hiring and customer service. Firstly, Eric Chester, a workforce researcher and author spoke about labour shortage issues and explored best practice in finding and keeping exceptional employees.
"Waterpark owners and operators must work very hard to sharpen their recruiting skills to the same degree they place on their marketing efforts," said Chester. "As an employer, you must be relentless in improving your workplace culture so you can organically attract and retain the best and brightest job candidates."
Next Jessica Bound, a customer experience consultant, shared insights on making a brand stand out and making the guest experience meaningful. "You are in the customer perception business; their perception is your reality. Your entire team needs to understand the day in the life of a customer in order to serve with true empathy and compassion," said Bound.
"Many say customer service is common sense, and for the most part, they are right. Yet delightful, memorable customer service is so uncommon. You must put standards in place to hold everyone accountable for every experience, every time."
Leading Edge Awards: the year's best parks
The Opening Session also celebrated the individuals and projects that made a splash over the past year. Some amazing waterparks and attractions were honoured as Leading Edge Award winners.
Among the winners was The Kartrite Hotel & Indoor Waterpark in the Catskill Mountains in upstate New York. Its design features 10 iconic ProSlide Technology attractions including the world's first indoor RallyRACER mat racer.
Another indoor waterpark that earned an award was The Wave Coventry, opening Oct. 21. Owned by the City Council of Coventry, UK, The Wave Coventry was designed by Polin Waterparks. The park squeezes into the tight footprint allowed by restrictions at this historic project site. Three slide-packed floors are complemented by the UK's largest wave pool and a fun interactive play experience by Vortex Aquatic Structures.
Thrilling new waterparks
For their work on the Royal Caribbean International (RCI) private island, Perfect Day at CocoCay, and its marquee "Thrill Waterpark," the collaborative team of RCI, Martin Aquatic Design & Engineering, and WhiteWater earned a Leading Edge Award from WWA.
Thrill Waterpark opened in May 2019 exclusively for RCI cruise guests as part of the island's $250 million transformation. Featuring 13 WhiteWater slides—including the tallest waterslide in North America—Thrill Waterpark has become the ultimate challenge for thrill-seekers everywhere.
As the most buzzworthy new waterpark among the local Central Florida crowd, Island H2O Live! garnered a Leading Edge Award for its innovative design techniques. The 16.9-acre park features unique personalisation technology developed by WhiteWater called Vantage.
Vantage allows guests to obtain useful information such as ride wait times and earn rewards for things such as concessions throughout the park. They can also enjoy a custom parkgoer experience through photo ops, playlists, and social media connection.
New technologies on display at WWA Symposium & Trade Show
The trade show floor gave attendees the chance to mingle and connect to different suppliers. Thanks to the large force of exhibitors, there was something new around every corner. In front and on display, Proslide Technology's booth included a visual model of the company's brand-new installation at Texas' Splashway Waterpark and Campground, the Dueling PIPEline BLAST/FlyingSAUCER.
There was over 100,000-square-feet of combined exhibit space at this year's show. More than 225 companies showcased new products and services in more than 380 booths.
Behind the scenes networking events
The WWA Symposium not only honoured Island H2O Live! with its award, but it also hosted a special after-hours party at the new Kissimmee-based park. Here, attendees had the opportunity to tour the site and experiment with the new innovative systems. It also served as a preview to how the waterpark hosts a newly-announced weekend event called Current Saturdays. This is marketed as the ultra nighttime pool party for adults 18 and up.
The Annual Reunion Party took place at Disney's Typhoon Lagoon, the most-visited waterpark in the U.S. This evening reception gave everyone a chance to network with fellow attendees on the first night. Typhoon Lagoon also opened up its gates on Friday afternoon to close out the show. There was a family picnic as well as an opportunity to experience the rides firsthand.
Magical partners
"Working with a partner like Disney allowed us to deliver on all the things our attendees expect from us, but with even more 'magic,'" said Rick Root, WWA President. "We saw impressive attendance in our educational programs, in the support from our sponsors and in the turnout to our fantastic networking events."
This year's show felt like a grand salute to the industry. However, the attendees were already buzzing about next year's show. WWA will certainly be pulling out all the stops as the organization celebrates its 40th year. The WWA Symposium and Trade Show 2020 will take place in Las Vegas on 6 – 9 October.
Top image left to right: Phil Hayles, ProSlide Technology, Bryan Megrath, Rapids Waterpark and Rick Hunter, ProSlide Technology, catch up with each other in the ProSlide Technology booth. Courtesy of Joseph Leute Photography and the World Waterpark Association.