Blooloop spoke to Dr Brian Davis, President and CEO at the attraction. He discusses Georgia Aquarium Expansion 2020, and the challenges facing the most misunderstood species in the ocean – sharks.
Georgia Aquarium Expansion 2020 is a major addition to the largest aquarium in the Western hemisphere. It will enhance the guest experience and inspire conservation efforts. The plans feature floor to ceiling acrylic windows. This means the saltwater gallery will bring people up close with these beautiful, maligned animals.
Lead designer on the project is PGAV Destinations, the St. Louis-based firm specialising in the planning and design of unique destinations.
Dr Brian Davis first joined the Georgia Aquarium team before its founding in 2003. Initially, he held the role of Director of Education. He later served as the Aquarium's Vice President of Education.
He previously served as President and CEO of the Maritime Aquarium at Norwalk. Here, he oversaw the enhancement of the Aquarium's footprint. He has also held teaching and administrative roles in Cobb County's school system.
He began his career in the aquarium and zoo realm 28 years ago, developing educational curriculum at New York aquarium. Davis then went on to continue that work at Zoo Atlanta. Then, he moved on to become a teacher and an assistant principal.
A passion for marine life
"My interest in relation to the ocean started a very long time ago when I was a kid," he says. "We used to spend the summer at the beach. The ocean and marine life in general always fascinated me.
"Right before I went to college, there was a massive dolphin stranding event. A lot of dolphins off the coast of New Jersey had lost their lives. So, I was passionate to make sure that that didn't happen again.
"I went to school to get my degree in environmental sciences with a focus on marine biology. My point of entry was around working to make sure dolphins had healthy water. That extended to educating people about animals in general. And looking at better methods for being able to coexist."
Dr Brian Davis and Georgia Aquarium
In 2003, Dr Brian Davis joined the Georgia Aquarium team. He has been part of the aquarium's journey, in a variety of forms, for the last 16 years.
"Over that period, I went back to teaching for a little while. Then came back to Georgia Aquarium. After that, I ran an aquarium in Connecticut for a little while. Then returned to Georgia Aquarium again."
A factor that has always drawn him to Georgia Aquarium is its distance from the water.
"We are about five hours from the coast," he says. "We have an incredible population of people here. Many are from under-served communities. They may have never had the opportunity to connect with animals that live in the ocean."
"So, we provide something truly unique for those individuals. We educate and connect with them. Working for them to gain an appreciation. It is that part I truly love: knowing that we can play that role for people that would not be connected otherwise."
When it opened, Georgia Aquarium was the biggest aquarium in the world.
He says: "We were home to whale sharks, beluga, and coral reef ecosystems. Now we have dolphins, sea lions, seals and a whole range of fish from freshwater ecosystems to cold water environments. We also have some of the truly majestic animals. For example, jellyfish. manta rays and whale sharks."
"I still have the opportunity to be able to marvel at what we have. I love the ability to learn from the animals that we have here at the aquarium."
"The aquarium is a means for connecting," says Davis. "Any day can get a little hairy, or a little busy, or a little hectic. And then you just walk out on the floor and listen to guests. I listen to how they connect and what they want to know. And what we are doing is allowing them to see animals they would never otherwise get the opportunity to see."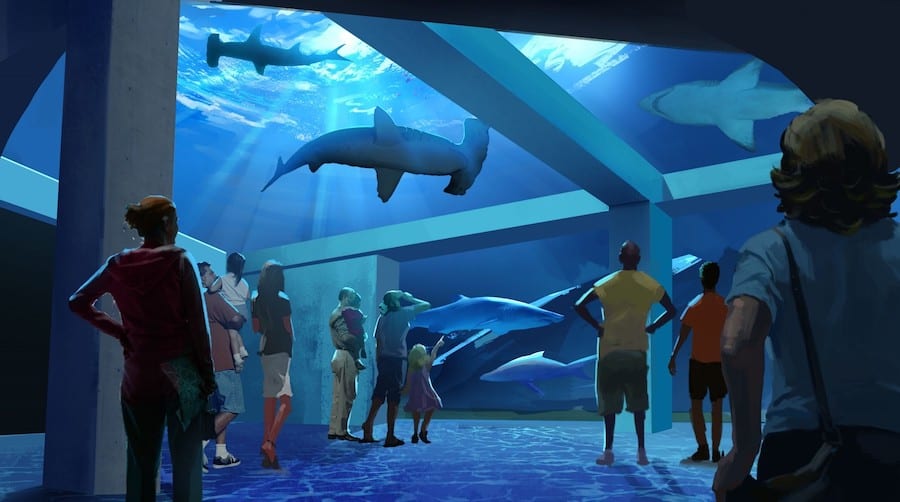 "It's incredible. We have north of 11 million gallons of water here, and we create an amazing environment. In order to be able to do that, there are technological marvels throughout the facility. These help us to be able to recreate these freshwater and marine ecosystems.
"We see about 2.8 million guests in any given year. And we also see 200,000 school students, through education programmes. The impact is great. We know the responsibility that we have is super high. So, we try and make sure that our guests really take away amazing messages."
Georgia Aquarium Expansion 2020
Georgia Aquarium Expansion 2020 will challenge the damaging mythology that persists around sharks.
"We thought about the exhibits and the messages that we need to get out about the ocean. And we felt like we needed to have our guests gain a better understanding of sharks. Because misconceptions tend to supersede people's understanding of them. And of their value in the ecosystem."
"How could we demystify those misconceptions? And then how could we ensure our guests gain a healthy appreciation and respect for sharks?"
Learning more about sharks
The aim of the Georgia Aquarium Expansion is not to absolve people's fears of sharks completely, says Davis:
"But there's a level of appreciation and respect that we need to have for sharks. It is our goal to make sure that our guests truly get that full understanding. A perfect example: Sharks don't surf. They don't like surfboards; they don't like the taste of surfboards, they don't go out looking for surfboards.
"But they do like seals. And when they see an individual, possibly on a surfboard, in a black wetsuit across the water, they're not making a distinction. To a shark, that's not someone surfing: it's a seal. It might look slightly odd, but it's still a seal."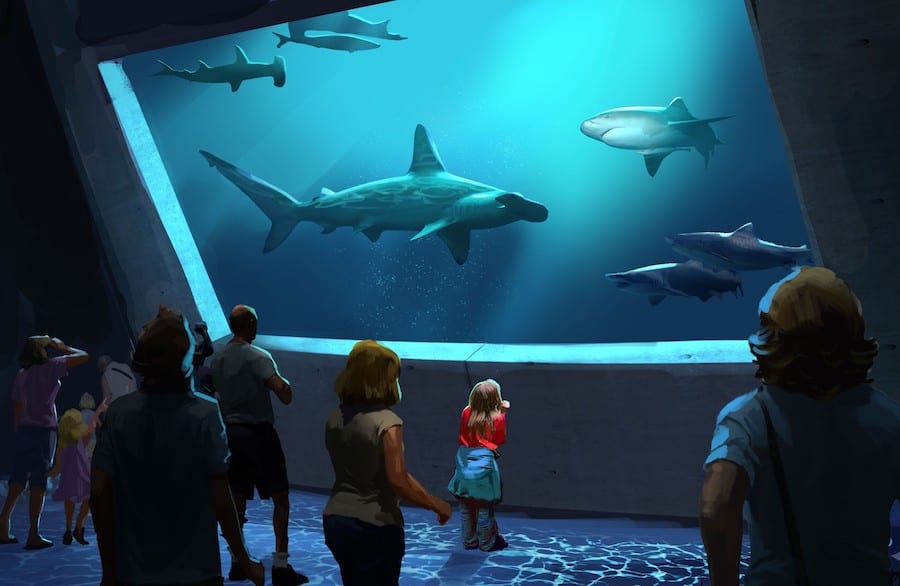 "Sharks are not out there looking for people. There is a very reasonable explanation for why they may go for someone on a surfboard. It's because they look like a primary food source.
"So, it's a matter of helping our guests understand those critical components; to understand the sharks' perspective. It is no different from how we talk about the jellies and the issues in relation to sea turtles. Sea turtles don't know plastic bags, but they do know jellyfish."
Sending the right message
Georgia Aquarium is rolling out a new marketing campaign. This encourages people to gain a better understanding before moving to judgement.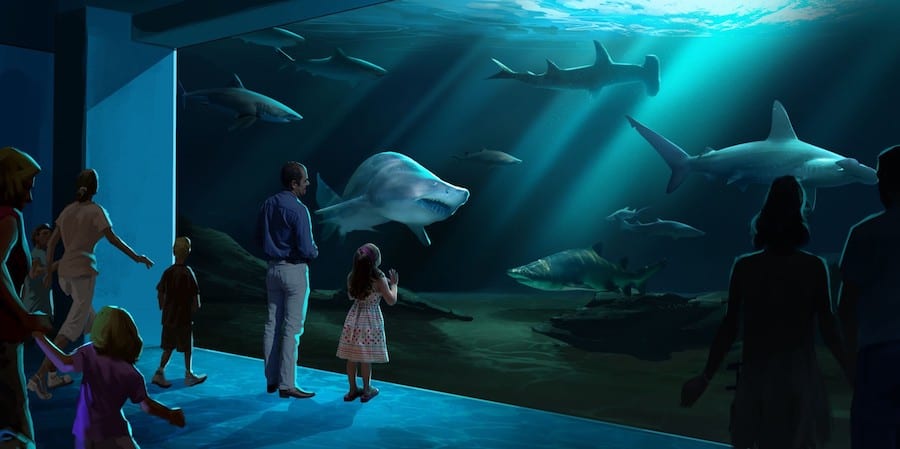 Referencing New York Aquarium's cutting-edge shark exhibit, Davis says:
"I spend a lot of time having conversations with Jon [Forrest Dohlin] at New York Aquarium. We are in two very different marketplaces. But we've really talked a lot about making sure that we continue to consistently get out similar messaging.
"I love that exhibit. It's incredible."
However, engaging people with the problems facing the oceans today without leaving them feeling hopeless can be a balancing act.
"We have been battling that for a little while," says Davis. "Early in the industry, it was a big deal. You don't want people so beaten up by the time they leave the facility that they walk away feeling hopeless. It's key that they don't feel that this task is monumental and there's nothing they can do.
"So one of the things that we really work to do is give many small opportunities throughout the aquarium. These serve as entry points for engagement."
Georgia Aquarium and the fight against plastic
For example, this might be in relation to plastic, as Davis explains:
"We talk about plastics overall, and about taking plastics out of the ocean. At Georgia Aquarium, we are trying to lead by example by not having straws or plastic lids. We weave some of the bigger messages into the presentations we do with the dolphins and sea lions.
"We also make sure that before any kind of encounter opportunity where our guests are interacting with one of the animals, they go through a class where they learn about the research and conservation issues that are facing that particular species. This helps them to understand what they may be able to do on an individual level."
"The great thing about these smaller audiences is that the message can be driven in a little deeper. Right now, we are figuring out methods for being able to preserve ocean spaces and waterways. This is to allow animals opportunities for reproduction in the natural environment.
"We are always trying to learn more and more. Our research team is out there now doing incredible work with the whale shark. We relay that learning to our guests."
One action that Georgia Aquarium has taken in relation to this is unique. Some years ago, Dr Brian Davis identified a significant time lag between new information from research being confirmed, and that information reaching the guests on the floor.
"As a result, we developed a content management team here. So that we could streamline that process. As we were receiving the updated research and the data, they were compiling it. Then they took it through a streamlined process so we could get it to our guests as quickly as possible."
"We are trying now to tie those messages with events happening in the natural world. We are showing some of the successes we're seeing, explaining that we want more.
"Those tend to resonate with our guests very differently. At that point it is a case of 'OK: how do I become a part of the continued solutions?' as opposed to, 'The task is way too overwhelming for me to find an inappropriate entry point.'"
Conservation and protection of the larger sea mammals that naturally range over a huge area, is, Davis says, a matter of partnerships:
"We partner with other institutions and organizations. This allows us to find collective strategies to have the greatest impact."
"For example, we do that with Alaska Sealife Center with some of the belugas. We also work with SANCCOB [The Southern African Foundation for the Conservation of Coastal Birds] for animals like penguins. We may not be able to do all the work directly, but we can share information and provide support. The ocean is a shared neighbourhood, and, as such, it takes a fair amount of collaboration.
"Partnerships are critically important to us. We're always looking for continued partnership opportunities to expand our impact."
Davis remains optimistic about the future of the oceans.
"I couldn't exist in any other way," he says. "I've been helping people better understand oceans, helping kids make better decisions about the future, driving some of their decision making, motivating them that they can impact change, for a long time."
View this post on Instagram
"Right now, I think there is a new level of growing respect about the health of the ocean and of our natural waterways. As well as of the environment in general.
"I think there is a strong contingency that holds us accountable. They ask the questions: what are we doing? Are we walking the walk? Are we doing what we're supposed to be doing? I feel great when our guests want to know. And if they find some area where we're not measuring up, we're willing to be put to the test on it.
"We are always trying to figure out ways that we can be a better organization. As well as being better stewards of the environment. So I am optimistic about the future. We're going to get this right."
"People are making different choices from a consumer side," says Davis. "They are saying: 'Well, I'm not going to do that, or this may cost a little more, but I'm going to choose to go this route. Because it has a lesser impact on the environment.'
"Four or five years ago, if I ever forgot my reusable bag, I would go into the supermarket and ask for a brown paper bag. The people there would look at me like I had eight heads or something.
"It just happened to me again this weekend. I had forgotten my reusable bag, so I asked for a paper one, and the answer was: 'Absolutely. How many do you need? You're into saving the sea turtles, huh?' Little advances like that keep me extremely motivated."
Georgia Aquarium: looking to the future
Georgia Aquarium Expansion 2020 is due to open in November.
"We have a fair amount of information that we will release before opening the exhibit," says Dr Brian Davis. "We really want our guests to have a healthy respect for the full range of species that they may see in the ocean. Some that they are familiar with, and some that they may be less familiar with.
"We want to work to demystify these magnificent animals. Sharks are facing an uphill battle globally, because of the negative perceptions associated with them. We are super committed to helping people learn, and to making sure that we can get the shark populations around the globe back to a healthier state."