Julie Packard is CEO and co-founder of the Monterey Bay Aquarium, one of the world's great visitor attractions. Here she outlines her own career, and how the aquarium is tackling "the mother of all environmental threats".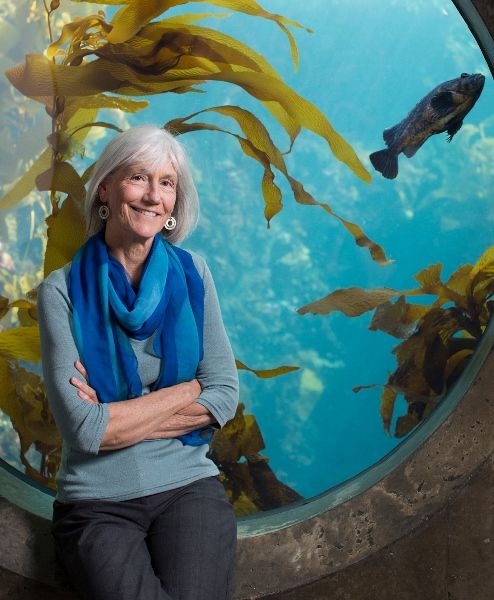 Julie Packard is CEO and co-founder of Monterey Bay Aquarium and a committed conservationist. she is clear that aquariums have a pivotal role to play in safeguarding the future of the world's oceans.
"I think it's easy for people to feel overwhelmed by the scale of the environmental crisis, " she says.
"But, everyone can have a part in driving change – and tangible change is happening."
Julie Packard spoke to Blooloop about Monterey Bay Aquarium, the marine crisis and the need for aquariums worldwide to rally the public to the cause of conservation.
An Ecosystem Approach
Monterey Bay Aquarium was founded in California in the 1970s. It the nation's first major public aquarium dedicated to interpreting the marine life of a single region.
Since then, it has been increasingly interpreting that region in a global context. It has pioneered innovative exhibits and education initiatives. It has grown, under Packard's leadership, into one of the nation's leading ocean conservation organisations.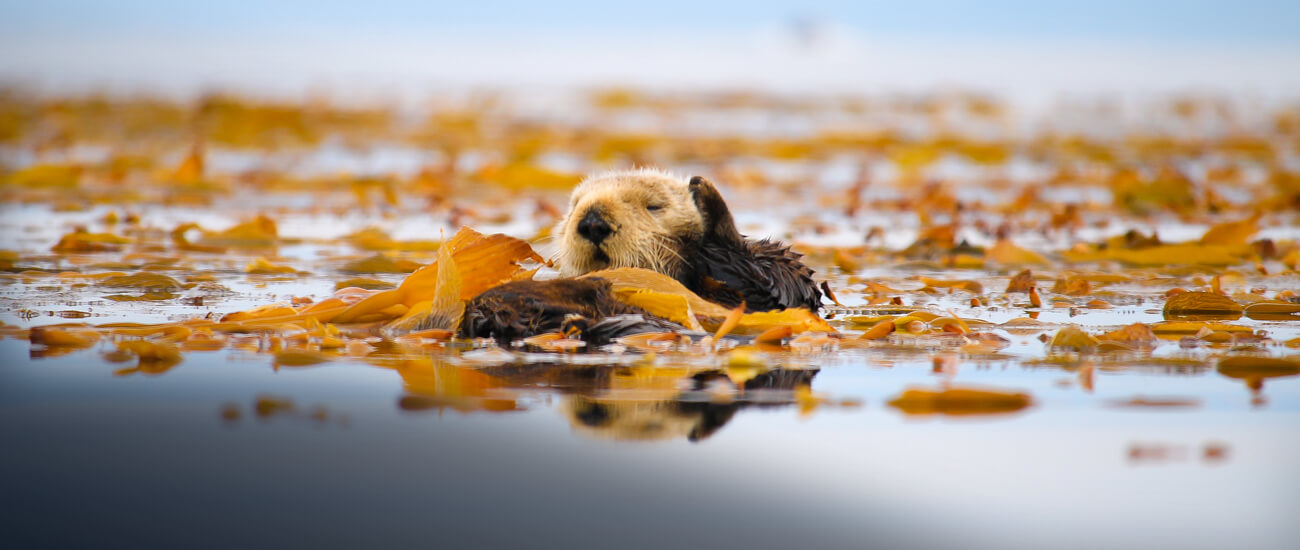 See also: Dr Jenny Gray reflects on her time as President of the World Association of Zoos and Aquariums  / Pacific Visions at California's Aquarium of the Pacific / The conservation efforts of Steinhart Aquarium
Packard describes the aquarium's visitor journey as an 'outdoor-indoor' experience:
"Essentially, we wanted to present the life of Monterey Bay with an ecosystem approach. We wanted to present natural assemblages as you would see them if you were out scuba diving in the bay.
"We also wanted to connect people with the ocean. Many aquariums are sort of a black box experience, you don't have any connection with the real ocean."
"Some of our best exhibits are off our decks. There you can see sea otters and whales and all sorts of marine life in the wild, not inside the aquarium."
Julie Packard, Marine Biologist
This holistic approach is intended to give visitors a clearer understanding of how ocean creatures and plants co-exist in their natural environment. In short, to save a single species, you need to save them all.
"The ocean is connected, " says Packard. "Many of the animals and all the ocean systems are connected to the broader Pacific."
Julie Packard is a marine biologist by profession – specifically a marine algae zoologist.
"My interest in conservation began early in life growing up in central California in a family that valued science and spent a lot of time outdoors."
The David and Lucile Packard Foundation
In the 1960s, her father (then CEO of Hewlett Packard) decided, together with her mother, to create a family foundation. Today, it is one of the largest environmental grant makers in the US. In 1998, the David and Lucile Packard Foundation was awarded the prestigious Audubon Medal for Conservation.
Julie Packard found herself on the foundation's board in her twenties. She was working alongside family members on funding critical conservation and environmental needs in the US and beyond.
"This place was a centre of amazing biological diversity both on land and in our coastal marine environment."
She specialised in marine algal ecology at the University of California Santa Cruz and became involved with teaching and research, taking her Masters degree there:
"… all located here on Monterey Bay."
Creating an immersive experience
In the 1970s, her sister, Nancy Burnett (also a marine biologist) and some colleagues came up with the idea of creating a public aquarium in Monterey Bay to share the stories of its diverse marine life with the public.
"They enlisted my engagement early on, and we set about the feasibility studies to see if a public aquarium built here could operate on a self-sustaining basis with the capital costs put up by the Packard foundation to establish it."
All the elements were present: an ideal ocean-side site that had once been the largest cannery on Cannery Road in the 1930s; a town that had become a tourist destination.
"We had the idea of creating an immersive experience that showed people what the ocean is really like, not just fish and marine mammals: it's mainly a lot of other life forms."
Interactive Experiences
The founding team wanted to take advantage of the newer interpretive techniques of the time that were already being used in science museums: hands-on, interactive experiences which would encourage people to think and explore. This tradition of interpretive exhibits has continued to this day.
"We have a long programme of changing exhibits and special exhibitions over time. There is a wonderful exhibition at the moment around cephalopods – a perfect topic for us because it requires a lot of husbandry innovation – these are fascinating animals that no-one knows anything about.
"We collaborated with our sister research institution, the Monterey Bay Aquarium Research Institute, to bring to the public live for the first time ever the deep sea octopus which has led to a lot of public awareness about what the ocean is really all about."
The need for aquariums to involve and immerse the public is something Julie Packard feels is pivotal for safeguarding the future of the oceans.
"We have pushed the envelope on the concept of an aquarium as a conservation organisation. This is because of the founders and the underpinning culture of our institution. Also, because my personal passion and commitment is around building a constituency that knows and cares about the ocean, and that's when we take action on its behalf.
"I think it's easy for people to feel overwhelmed by the scale of the environmental crisis, " she says.
Julie Packard: "Keep Pressing Forward"
"My philosophy when it comes to conservation is that one has to keep pressing forward. We should keep doing all we can because, for me, that's the only choice. We want to say we've done all we can to mitigate the changes that lie ahead.
"The aquarium has a major commitment to communicate about ocean conservation. But also to do as much as we can to motivate people to think. To think about their own lives and the action they can take. We can highlight the ocean-friendly choices they can make.
If we take our mission seriously we need to hold ourselves accountable for making progress on it."
"Over the past decade, we've added much more interpretation around a focused set of conservation issues and action that the public can take around ocean sustainability."
"We also focus on the conservation issues facing the amazing animals in our collection. For example, we are the only aquarium in North America that has bluefin and yellowfin tunas on exhibit. These are amazing animals, but also hugely valuable in commercial trade. They are therefore very seriously threatened with commercial if not biological extinction."
Aquariums – A Trusted Information Source
There are initiatives around the use of plastic. They focus on its ecological impact and the measures that can be taken to reduce that impact.
Plastic pollution – plastic trash and microbeads – is a huge conservation issue too. Everyone has been horrified at the gigantic floating plastic garbage heap in the Pacific gyre.
There are some promising moves to reduce the flow of plastics at least from developed countries. These include initiatives such as stringent recycling programmes and a ban on the production of single-use plastics. However, it remains a problem in the mega-cities of developing countries where there is no waste collection.
"We work directly to advocate for laws against the use of single-use plastic, " says Julie Packard.
The effectiveness of programmes is measured with the tracking of metrics. The results are encouraging. Over 85% of visitors confirm they have both learned something new and are motivated to take action.
"But, I think generally, when it comes to environmental issues, the public is overloaded with problems and information. What they're looking for is a trusted information source and guidance on the most important actions to take."
"And, that's where I believe aquariums have a very important role to play.
"We are getting more involved not only in doing conservation work at our institutions by research work, but in policy work at the national level, engaging members and the public in conservation action."
Seafood Watch
Monterey Bay Aquarium's innovative Seafood Watch programme, developed working with partners, has created a whole system of rating and ranking of the global seafood supply against sustainability. It has established a common set of sustainability standards that businesses can refer to. Big buyers can also utilise it to ensure suppliers comply.
There is, furthermore, a consumer awareness programme across North America. This encourages consumers to make informed choices and push for change at restaurants and shops.
"Humanity's most basic relationship with the ocean is as a source of food and commerce.  When there were fewer people on the planet that worked out."
Today, industrial scale fishing and the technology we employ is depleting the oceans and threatening the survival of species. The majority of our global fisheries are being fished at, or over, their sustainable capacity.
Cause for optimism
"A lot of work has been done to turn that around. I am optimistic about our ability to do that. In fact, we've already seen some big successes. In the US we had a lot of fisheries in US waters that were at a critical state and closed due to overfishing. They are now on a sustainable path. It's taken a couple of decades to get there, but they're all either recovered or on the road to recovery.
"In California, and along the whole Pacific coast, we had a massive closure of the Groundfish fishery for many years. Now people are back fishing on a sustainable regime."
Nevertheless:
"Here in the US we export 80% of what we catch and import 80% of what we eat, so it's a complex thing to unravel."
Pollution – a global issue
"In developed countries, waste water systems are contributing to nutrient build-up and pollution problems in coastal waters. But agriculture remains a huge problem due to fertiliser run-off, " says Packard.
This is a problem worldwide. As yet, it remains a problem without a solution and needs much more attention. It is causing profound alteration of coastal waters and contributing to hazardous algal blooms, toxic algae and dead zones.
"It's far from solved, " agrees Julie Packard. "It's going to require a lot more public will to come up with new techniques for how we apply fertilisers and contain the run-off."
In the developing world, the waste water treatment mechanisms are unsophisticated. This remains a major issue where bays and coastal areas are polluted. A case in point is the Olympic  swimmers. They faced a toxic combination of human sewage and pollution when they took to the Rio waters.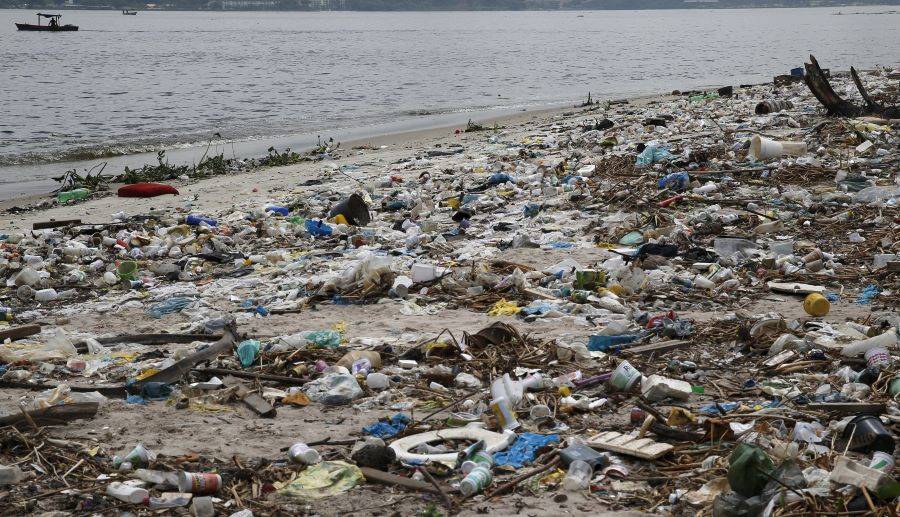 (Above: Pollution in Rio courtesy REUTERS/Sergio Moraes)
Climate change and ocean acidification
"And, then, there is the mother of all environmental threats to the ocean and all life on Earth. This is global climate change and the impact of greenhouse gases not only on warming. But even more importantly, on ocean acidification, a real existential threat to a lot of life in the oceans, and one more reason why we need to take stronger action and to curb the greenhouse gas emissions to which we are all contributing, " says Packard.
"So often, it takes a crisis before people wake up and make the hard decisions. And there are many more decisions ahead.
"For many, the impacts have been a case of 'out of sight, out of mind'.
"I think as small island nations and islands in the Arctic are making plans now to move their entire communities to a safer haven from sea level rise; as we see an increasing number of storms and unusual weather patterns threatening human safety and property; as these issues become real I think, over the past year, we have seen some promising moves forward, though global politics rules when it comes to which nations are willing to make the first move.
"We need to keep that momentum going when it comes to global agreements and commitments."
Keeping the public informed and engaged is key
"California is an area with a population that is willing to engage in environmental protection. We are a leadership state in the US when it comes to environmental laws and regulations. We're a leader when it comes to public funding for our parks and protected areas. Also, increasingly, we are a leader in new tools and techniques for protecting marine waters off the coast here.
"So, we have a lot of opportunity to extend people's care about the environment to include the largest part of the environment – which is oceans."
"We're very excited about an initiative here in the U.S to take that to the next level that was launched last year. This is the Aquarium Conservation Partnership. A consortium of seventeen major US aquariums have agreed. They will collaborate on establishing a common set of ocean priority issues that we want to work on that we want the public – tens of millions of people – to rally around. And, that's a really exciting initiative."
Julie Packard: "There's a Lot More Work to Do"
Further plans include a big expansion of programmes and facilities for students and teachers. This includes the construction of a $30 million Centre for Ocean Education and Leadership.
"We're going to continue innovating with new exhibits. Over the next years we will be developing our next generation deep sea exhibition. This is just starting development around the theme of raising awareness, and deepening public awareness of the ocean and its systems. Also of what's there to protect and restore."
"The environmental movement was originally driven by concern about the health of our terrestrial environment. So it's really only been in the last 25 or 30 years that we've extended that concern to the sea, " says Packard.
"There's a lot more work to do."
All images kind courtesy Monterey Bay Aquarium unless otherwise stated.