Elsa MacDonald is national marketing director for SeaQuest Interactive Aquariums. This brand is expanding across the malls of the US. It is responsible for branding, managing marketing and promotional output, developing the SeaQuest non-profit, and coordinating community integration.
Elsa spoke with Blooloop about the young brand's ethos, mission, conservation messaging and philanthropy.
"SeaQuest is really more than an interactive aquarium. What we do is give families an opportunity to experience five continents of the planet, represented by hundreds of species. They do this without having to leave their community.
"The thought process is that we are bringing in animals that people would not otherwise be exposed to. We are building an awareness for the need for conservation. We are doing this by bonding and understanding the challenges animals face in their own habitats. This is really helping to preserve the areas where these animals originate from."
She adds: "It's a lot about providing an excellent experience around the earth, around the animals, and having that awesome interaction that makes people really care. Until people really see these creatures, they don't understand and appreciate them. They see that they are very cool and we need them and we want them in our environment."
Features, functions and education
A focus on the issues facing the oceans is part of the SeaQuest messaging. Macdonald adds:
"One of the great features that we are bringing into the facility in Littleton, Colorado is an exhibit on aquaculture. In this we really advocate the benefits of sustainable fish farming. We also teach about how overfishing is hurting our world, and how there are better ways.
The core function of the SeaQuest facilities is primarily educational and concerned with spreading that conservation message. However, it is achieved, Macdonald explains, through edutainment:
"We bring the educational components and combine them with all the fun that you typically don't get from an aquarium: you can go beyond the glass, touch, feel, feed and really bond with a lot of different types of animals when you go through a SeaQuest."
Animal welfare at SeaQuest
There is no conflict between animal welfare and the need to be entertaining. In most communities, conservation and animal welfare are the aspects people find fascinating.
MacDonald says: "There are a lot of people in the communities where we operate who love animals and are passionate about the environment. They want their kids to have that experience, so in that regard it's pretty simple.
On the occasions where we have activists identifying that animals belong in the wilds, our message always remains consistent – we always put our animals first. Our team members are really well-qualified to take care of their needs, and we have veterinarians that come in to make sure that our animals are happy and healthy. In that regard we do a great job of ensuring that we are providing the right environment and care for the animals, so that when our consumers come in we can provide that great experience for everyone."
SeaQuest aquariums are located in malls. "Because of our size we will never have dolphins or those types of animals at our facilities."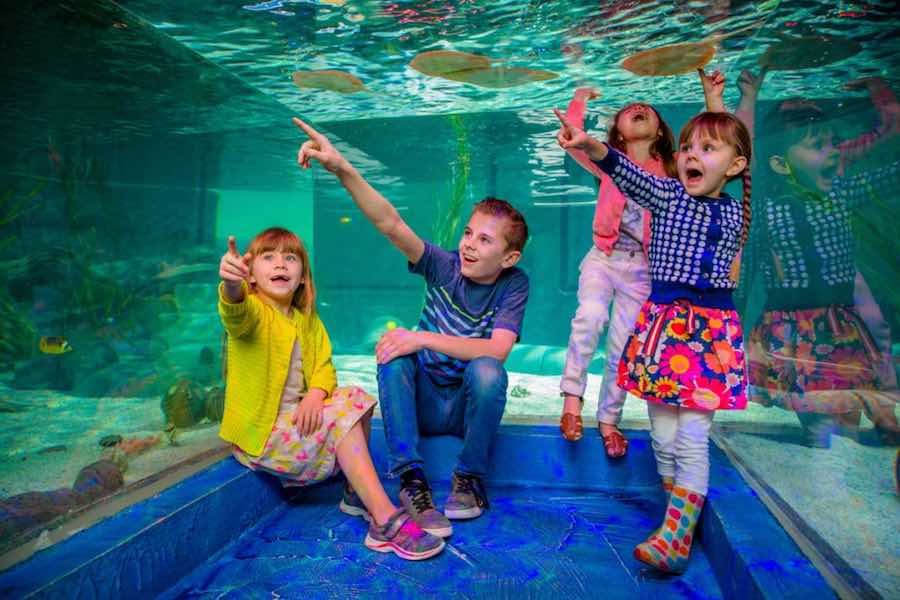 The mall evolution
SeaQuest began in 2016 with the construction of two facilities. "We opened in Layton, Utah and in Las Vegas, Nevada in 2017, so have been operational for a little more than a full year now at both of those locations. Since then we have expanded into Fort Worth, Texas. We are now opening a facility in Littleton, Colorado, and have one following right behind it in Folsom California."
The premise behind SeaQuest's expansion is simple. It lies in the fact many malls and shopping centres are adopting the shop, eat, play concept. SeaQuest brings an additional, different level of activity into that concept.
"So now you are out at the mall, and you can say, 'Hey, why don't we go and feed the sharks? Why don't we go and touch the stingrays? Wouldn't it be awesome to go sit in the bird aviaries and have a dozen birds land on our head and our shoulders as we feed them?'
SeaQuest fits the mall model
That type of experience is not something that you would expect, really, because in a lot of places you are not able to interact with the animals.
However, in that mall environment we find that we have got pretty much the target market that we were going after. Malls are located in very accessible locations, and they typically have very good parking. It makes it a very simple proposition for a family. They can say, 'Hey, let's go to the mall. We can go to SeaQuest, grab lunch and do a bit of shopping,' – and there is your day.
And so that is the concept of partnering with these malls that are seeking more opportunities to bring the play component to their customers; we fit in really nicely with that model."
Swift expansions across the US
In terms of expansion, SeaQuest is about to announce eight additional facilities. This includes the one in California set to open in September:
"So we are expending all across the US, and are really excited by the welcome that we are getting from a lot of the retailers and the communities that we are moving into. There have also been talks about expanding internationally, and we would definitely consider it. Right now our plans for expansion include only malls in the US. However, there are a lot of great markets internationally. There is definitely a lot of opportunity to bring this model to other communities around the world."
From the business perspective, the company uses digital marketing to get its message across. For ticketing and point of sales, there is an online platform.
"We sell annual passports. These allow guests to come in for 365 days. They do this at the cost of a family of four attending maybe two, two and a half times".
Technology plays an important part in visitor experience
Technology is incorporated into the visitor experience and learning initiatives at the aquariums.
"In terms of our facilities, we do have some VR components that we have brought in. This includes an amazing interactive sand table where a holographic image is projected onto the sand. Based on how you move the sand around, it shows you how environmentally that area would be affected. If, for example, you make a high peak in the sand, you may end up with snow caps and a lake at the bottom. We also have water tables at some of our facilities. While we are looking at ways to be a little bit more technology focused, it is really about experiencing the animals."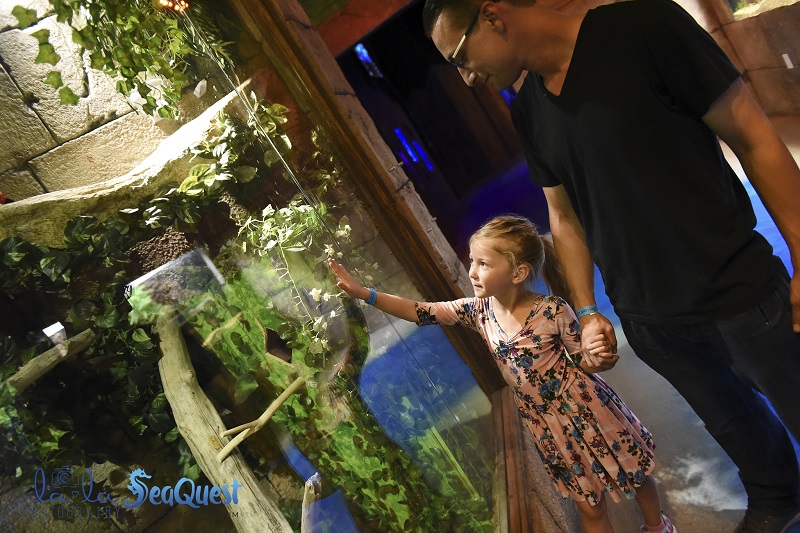 Nevertheless, she says, everybody does tend to seek out technology as a matter of course.
"So we do have some ocean VR 3-D experiences that are pretty fun.
Dinosaurs and science
We do offer our enhanced, age-specific STEM centered field trip adventures for children of all ages."
Younger children can take a virtual trip back in time to meet and learn about the dinosaurs. They can become junior palaeontologists or play games inspired by veterinary medicine.
Older children can experience hands-on activities based on scientific reasoning skills. They can explore vertebrates and invertebrates and interact with moon jellies and birds. They can also learn about conservation and human impacts on the environment.
The aquariums are home to aviaries of parrots as well as aquatic animals. Teens will experience live bird demonstrations and will learn about animal psychology, and symbiotic relationships demonstrated at the aquarium.
SeaQuest Cares
Expanding and growing the company remains a primary objective. However, there is a philanthropic face to the fast-moving company. MacDonald clarifies: "We stand behind our SeaQuest Cares initiative, and the value that we bring as a partner to the community."
Foster children from all states have free access to SeaQuest Interactive Aquariums. The company partners with community based organizations in the areas where it operates to support local needs. SeaQuest Cares supports a variety of causes throughout the year.
She adds: "In all of our facilities, certified teachers are always free any time of the year. We also have program for foster children who can come into the facility at no cost. We partner with a lot of facilities. These include St Jude's Ranch, the American Cancer Society, the Ronald Mc Donald house and Boy and Girl Scouts. It's a whole bunch of organisations. They all really bring children the benefit of being able to experience what SeaQuest is regardless of income issues."
Supporting the community
That, she stresses, is a strong component of the SeaQuest Interactive Aquarium identity.
She says:
"I really think that differentiates us. We have that strong goal of making sure that we are part of the community. For example, in Las Vegas at the time of the shooting, we had had a blood drive at SeaQuest the day before. We gave away tickets to those people donating. And all the litres of blood that were collected were utilised for the victims.
We are really excited to participate in those types of events. And also many others that support the well-being of our kids, and of the communities where we operate."