National Geographic Encounter: Ocean Odyssey offers an unprecedented immersive virtual experience, combining cutting-edge digital technology with a wealth of scientific knowledge.
National Geographic Encounter is produced, developed, and managed by New York City-based entertainment developer SPE Partners, under license from National Geographic. SPE Partners has engaged a creative team that includes Falcon's Treehouse, Kraftwerk Living Technologies, Adirondack Studios, Pixomondo, Mirada Studios, and composer David Kahne.
The ground-breaking experience opened on October 6th 2017 in Times Square, New York City. Blooloop talked about it with Lisa Truitt of SPE Partners, Jennifer Zika of Kraftwerk Living Technologies and David Shaefer of Falcon's Treehouse.
Oceans in crisis is a "large motivator"
Lisa Truitt (left) is Chief Creative Officer and Managing Partner of SPE Partners.  She has over 25 years of experience at National Geographic. Truitt was responsible for National Geographic's theatrical distribution business.  In addition, she managed  production of its nonfiction theatrical film. These included giant-screen, 3-D, 4-D and feature documentaries.
She was the executive in charge of DEEPSEA CHALLENGE, a joint scientific expedition to conduct deep-ocean research and exploration. Truitt has spent time in some of the most remote locations on Earth. These include Outer Mongolia, the savannahs of Kenya, Zimbabwe and South Africa. She has camped for lengthy periods on the Arctic sea ice. She has also penetrated the heart of the Gobi desert and the depths of the Amazon rainforest.
Truitt says that the oceans being in crisis is a large motivator for this project.
"I came from the oceans, in a way," she says.  "When I was just out of college I took a year off and did an underwater scholarship programme. I was scuba diving and working with photographers and film-makers. I came to filmmaking for National Geographic that way. The ocean was one of my first loves. It's therefore wonderful to be back, doing something that can both entertain people and raise awareness."
A "new kind of storytelling"
The team used photo-real animation and interactivity to develop a combination of science, entertainment and immersive cinema.
Truitt explains that SPE Partners came to her while she was covering immersive media at National Geographic. "I was running a department there called Cinema Ventures, which made, produced, funded, financed, developed, produced, distributed and marketed Imax films, planetarium films, 3D films, and some feature films," she says.  "They brought this to me about five years ago and I fell in love with the core of this idea.
"At the kernel of everything we're doing is the creation of a new kind of storytelling. It allows people to step into the story, to walk through it, by pulling together different kinds of technology. I talked it up around NatGeo and generated enthusiasm among the executive ranks. I then spearheaded the deal with National Geographic to brand and take on this project."
A year and a half later, Truitt left National Geographic and joined SPE as the fourth partner and Chief Creative Officer.
"I don't really feel like I left NatGeo, because I'm still working with the brand," she says. "I'm just finding new ways to tell stories with that kind of content."
The evolution of the Ocean Odyssey concept
"We wanted to open with a topic," says Truitt. "We knew that in creating a virtual, walk-through world of National Geographic there were a number of topics we could take on. Oceans felt like they had mass appeal to a lot of people.  We could bring people to the ocean in a way that they were never going to be able to experience in their real life.
"One of our guiding principles was we had to be able to take you somewhere you couldn't go any other way."
The innovative experience uses video mapping, 8K photo-real animation, huge projection screens, immersive sound and interactive real-time audience tracking.  It enables guests to explore the ocean, virtually interacting with sea lions, rays and dolphins. Visitors encounter humpback whales, Humboldt squids and great white sharks in a way that would be impossible in real life.
A giant dome finale
"We built the rooms you walk through around a storyline," says Truitt. "You step into the shallow waters off the coast of the Solomon Islands and the South Pacific as the sun is setting. You drift across the Pacific Ocean during the course of the night, arriving on the west coast of North America as dawn returns. That's the storyline that underpins the scenes we've pieced together using all kinds of different technologies."
She explains that the immersive portion of the experience culminates in a giant dome finale. "We have 8K, 60 frame per second, 3D media in a dome.  The viewers are elevated so they're really surrounded. There's absolutely crystal-clear projection, and photo-real animation, in the middle of a bait ball, with all kinds of predators coming in to feed.
"I'm not aware of a more immersive media experience."
A post-show digital ocean playground
Having made their journey through the Pacific, roaming a digital undersea world and interacting with its animals, guests then 'resurface' and enter the second part of the experience. Here they learn more about the creatures and environment they have just encountered, and about ocean conservation and scientific research.
"After you come up for air, you surface into our post-show, a digital ocean playground," says Truitt. "Here we introduce guests to the human beings who allowed us to create this experience.  These are the photographers, explorers and scientists of National Geographic who are passionate about these places and animals. Their passion inspired us, and their passion also drives them to care for the ocean.
"We hear crazy stories of all these National Geographic explorers – of what it's like to work in the ocean, to dive with the Humboldt squid with its 30,000 teeth, and so forth."
This area is a large open space featuring a broad array of interactive technology.
"There's a lot of room for free exploration," says Truitt. "You can learn about any animal.  There are touch-screens and holograms you can play and interact with, where you can see inside the stomach of a shark, whale, squid or dolphin. And there's a game you can play where you inherit a very dirty piece of ocean, and we ask you questions. If you get the questions right, you bring the ocean back to life."
The wall / wave of social media
There is also a social media wall with nine monitors where guests can pledge to be part of protecting the oceans.
"I spent so much of my career in immersive media that I brought with me from that world the knowledge that people learn better by experiencing than by hearing," says Truitt. "Experiences are processed in the emotional parts of your brain, rather than in the cognitive.  You remember emotions more deeply.
"We wanted to give people an emotional experience, and for it to be fun and entertaining. By watching animals swim around you in the dark of the Pacific Ocean, you learn a lot without having to be told.
"If you want more information, it's all there, in that post-show area.  However we keep it fun, and you can dive into it as much or as little as you want.  We don't want to force-feed people spinach, we want to give them candy."
Innovative technology drives the experience
Ticketing is timed.  Groups of 25 people at a time are let in every five minutes.  "We want this to be a sort of reverse virtual reality," says Truitt. "You're having a similar kind of immersive experience, but it's communal, and social.  You're with a group of people, and you don't have a headset on. That communal side was really important to us."
Innovative technology has been used at every stage to make the experience as immersive as possible. "We're using a huge assortment of technology," says Truitt. "We tried to pull every different tool we could, so we have photo-real, very high resolution, high frame rate animation sprinkled throughout.  Everything is designed specifically for our spaces. We have lots of edge-blended, multi-projector spaces, with sophisticated sound systems so we can mix sound directionally. We're using mirrors, fog screens, and real –time audience tracking technology, so that you can interact with the content in several rooms.
It's all photo-real.  "There's one room where you can play with a sea lion.  There are dozens of ways in which it might react to you, and it reacts in real-time.
"We're still installing everything, but that's one scene that's further along, so we have people coming along and playing with the sea lions now. It feels real. People feel like they're with a real sea lion, with its big brown eyes."
Falcon's, Kraftwerk and Adirondack Studios part of an incredible creative team
"We love our team," says Truitt. "Falcon's came on board early to work with us on the creative design. We pulled a huge room of people together for a three-day creative charrette that had us and our vision, and Nat Geo and Falcon's and some scientists. We had a writer, a Broadway dramatist, and lots of creative minds in the room.  This team came up with the kernel of our vision."
SPE worked with Falcon's to get the initial concepting down.  They then brought in Kraftwerk, one of the leading companies in the field of professional audio-visual system integration, to cover the technical design.
"We're working with Adirondack Studios on the scenic design and its fabrication," says Truitt.  "Our composer is David Kahne. He has worked with every musical name you can think of, and won a bunch of Grammys. He got really excited about this idea, and he's pulled sounds from various nature libraries around the world.  While there's some music in the scenes, many have just this unbelievably spine-tingling mix of animal sounds swirling around."
Every detail is vetted by a National Geographic research team
"As far as media is concerned, a couple of scenes have been done by Mirada, a storytelling company," says Truitt.  "Our photo-real animation is created by international visual effects company Pixomondo. Then there are the writing teams, and dozens of scientists.
"Every piece, every texture, every colour, every behaviour is vetted by a research team led by our NatGeo friends."
The project's Chief Scientific Advisor is marine biologist, Professor and National Geographic Emerging Explorer David Gruber, who specializes in bioluminescent and biofluorescent marine animals. He has conducted research at the City University of New York and the American Museum of Natural History. He has also travelled to the western province of the Solomon Islands and beyond, discovering new biofluorescent creatures.
A new way of storytelling
"David Gruber has vetted everything," says Truitt. "His primary area of study is night time on the coral reef. What he's found is that most of the animals on the coral reef fluoresce, so we have a room based on his research which has interactive floors and interactive walls. It's quite stunning."
Truitt is rightfully proud of the team. "We have a huge team," she says.  "Every single one of them is brilliant. Bringing them all together and combining them with this vision to create a new kind of entertainment, a new way of storytelling, has been really fun."
The next step is to bring Encounter: Ocean Odyssey to locations across the world. "We are actively exploring real estate now in similar cities around the world," says Truitt. "They need to have big populations and be big tourist draws, so there are enough bodies to justify the quite large investment."
Kraftwerk Living Technologies – masters of technical design
Kraftwerk Living Technologies is one of the world's leaders in the field of professional audio-visual system integration.  They combine and synchronize high-quality technologies (audio, video, lighting, media control and special effects) to create individually tailored, state-of-the-art concepts and solutions for various applications.  Jennifer Zika of Kraftwerk details the technical design process from its inception.
"SPE had a very clear vision and wanted a collaborative process from the start," says Zika. "They brought in Kraftwerk Living Technologies at the very early phase of their creative charrette.  They wanted all kinds of creative minds at the table so they could arrive at a vision that was truly unique and innovative."
While the story drives creativity, technology supports it.  It was crucial to consider both content, technology – and feasibility – from the very start.
"That vision was always driving all the teams forward," says Zika. "We made adaptations and optimizations in order to make things even better or larger – to allow for the best possible quality. Overall, the technical design was already very clear and thought through from inception on. SPE pushed us to constantly make things better and to push boundaries."
Overcoming challenges with the latest technology
"We created several test mock-ups, to see early on how the technology supports the media," says Zika. "The characteristics of the unique location, as well as the project team, required additional changes in the technological design.  We found different solutions better suited to the space available. We also discovered newer, better technologies being introduced to the market, which were then adopted into the technical design."
There were plenty of challenges.  "There were a number of challenging technical feats realized throughout this project. These included a unique blending of video mapping, 8K photo-realistic animation, mega projection screens, immersive spatial soundscapes, interactive "real-time" audience tracking and a giant dome finale… just to name a few.
"Using the latest technology, while at the same time integrating it as unobtrusively as possible was a challenging yet exciting and crucial part of our work," Zika continues. "SPE wanted visitors to feel as free as being in the ocean, without awareness of the special technology making everything possible. We have worked very closely with the scenery builders and animators and selected the equipment very careful so as to integrate it seamlessly."
The unique requirements of the dome
"The dome is unique in its make and application," says Zika. "With regards to installation, it had to fit into the building to the exact millimeter, to be able to reach the maximum possible size. The guests are standing on an elevated platform in the middle of the dome. This means they have extremely short viewing distances."
This limited the possibilities for positioning the projectors.  "SPE had a very clear vision about the dome finale," says Zika. "It required an incredibly complex, high-resolution multi-projector projection system. This was necessary to reach every spot of the dome without generating any shadows of people.  The pixels had to be kept small enough to allow for a photo realistic image despite short viewing distances.
"All projectors used are based on the latest laser light technology and high-resolution video servers," says Zika. "They play the content with a resolution of up to 8K and at high frame rates."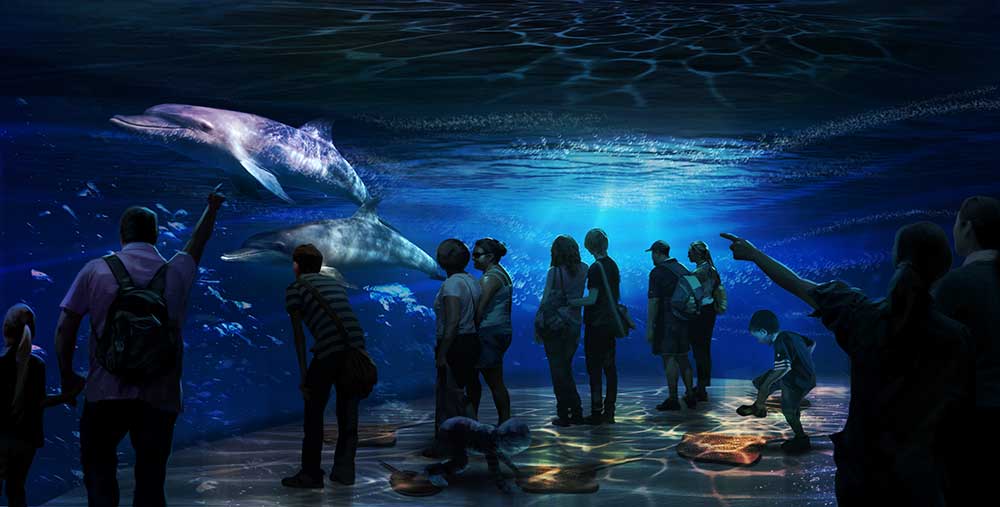 With regards to the sound experience, SPE brought in David Kahne, a highly regarded composer and producer.  "He has created a truly amazing soundscape, which required a fully digital and interconnected audio system," says Zika.  "We've created a special highlight with him – an immersive 3D audio system with a total of 40 loud speakers. It pulls the guests right into the amazing sounds of the open ocean.
"While all scenes excite with the visuals, some even allow for interactivity. State-of-the-art motion tracking is used to let the visitors be part of the experience."
A true blue-sky ideation phase
David Schaefer is Vice President of Falcon's Treehouse. This is a division of Falcon's Creative group. It comprises a family of design and experiential storytelling experts. Their master planning, attraction design and special venue development deliver immersive adventures that challenge the limits of reality.
"SPE Partners' vision was ambitious from the start," says Schaefer.  "They wanted to create an experience that pushed the limits of existing technology and create an ocean-themed experience with no live animals.  
"Furthermore, they envisioned utilizing technology in an innovative way in order for guests to get lost in the ocean within one of the most highly visited locations in the world – Times Square."
He credits SPE with bringing together such an innovative and creative team for the project.
"During the concept development, SPE brought in creative voices from many different disciplines and perspectives.  They encouraged all of us to think creatively and to evolve a truly revolutionary experience.
"It was a true blue-sky ideation phase that evolved into the experience that is set to open next month."
Technology makes the experience unique 
"It was our responsibility to find the best solutions to bring the sea creatures to life," says Schaefer. "This evolved into creating various interactive scenes throughout the experience.  These involved large-scale projection screens, interactivity, projection mapping, holograms and other special effects. The technological element is also what makes this experience unique, because it allows visitors to interact with photo-real animated animals and be immersed in their worlds.
The Times Square location meant that the Falcon's design team, architects and construction team were challenged with the existing facility parameters.  However they were able to maintain focus on the finer details and big picture goals of the project. "Working within unique spatial requirements happens quite often in our day to day. However, it often results in some incredible guest experiences," says Schaefer.
Bringing to life the iconic National Geographic brand 
"Falcon's was thrilled to play a key role in creating a truly immersive and technology focused experience with a profound story of ocean conservation and scientific research," concludes Schaefer. "We were even more pleased to help bring to life the iconic National Geographic brand. We're incredibly proud of our team and the final experience opening next month."
National Geographic Encounter: Ocean Odyssey is a walk-through experience that lasts approximately 90 minutes.  It may not be suitable for children under six.
A portion of the proceeds from tickets supports the National Geographic Society's non-profit work in conservation, exploration, research, and education.