We caught up with the Zoo's President and CEO, Jeffrey P. Bonner, Ph.D to discuss recent developments at the Zoo, the importance of its conservation efforts and the value of "affective transformation".
Dr. Bonner is a past chair of the Association of Zoos and Aquariums and serves on numerous boards, including the Conservation Breeding Specialist Group, BioSTL Coalition and the Academy of Science of St. Louis.
Formerly President of the Indianapolis Zoo , he trained as an anthropologist and received his Ph.D. from Columbia University in 1982. He is a recipient of the National Research Service Award, is a Fulbright Scholar, Burgess Fellow, Traveling Fellow and President's Fellow.
You trained as an anthropologist.
Yes, I was one of (renowned cultural anthropologist) Margaret Mead's last students. I learned a lot about animals and people, how they interact. Not a bad background for a zoo person.
Tell us about your early career.
During my time at graduate school, I had worked at the American Museum of Natural History part time to supplement the scholarships. I found that I really enjoyed the museum environment.  I had really thought I was going to be a university professor, and I taught at the University of Michigan for 2 years. After that I came to what was then the St. Louis Museum of Science and Natural History.
At the time science centres were not as common as they are round the world now, and I had a wonderful time and built a fabulous new facility there.  I was recruited away to become the first president of the then 5-year-old Indianapolis Zoo and then came here to St. Louis.  It will be 11 years in April.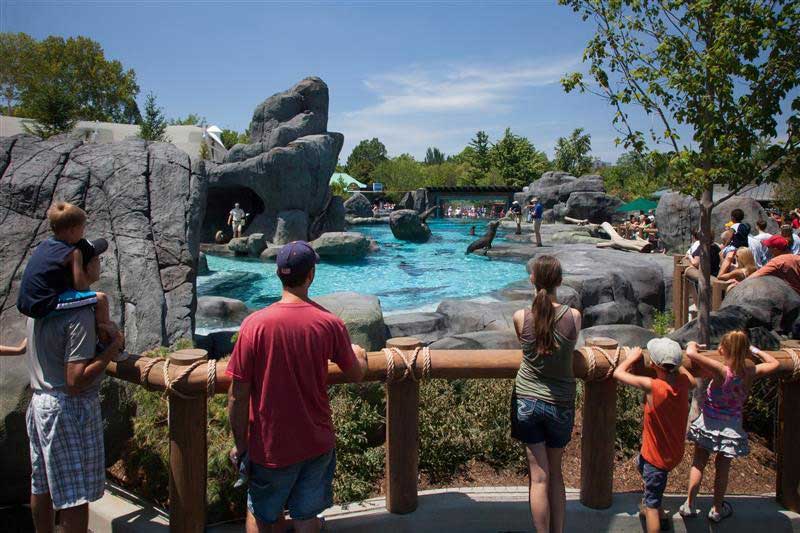 Have you always had an interest in wildlife?
Yes, a lifelong interest.  I was not a child who suffered from nature deficit disorder!  I was in the woods all the time and my summers were spent on a small farm where we had bison and Texas longhorns, and we would fish and do all that stuff. I was really more of an outdoors orientated person from the very beginning. 
I remember a trip in the first grade to the Belle Isle Aquarium .  I was given some big rubber gloves and picked up an electric eel. I put it in a metal framework and the eel discharged electricity and lit light bulbs.  I just thought that was wonderful! I don't know if that's why I wound up working in zoos.  I could just as easily have become an electrical engineer or an eel monger!
When you joined Saint Louis Zoo did you face a particular challenge?
Coming to an institution that has tremendous capacity for field conservation and a wonderful internal research programme and getting to grow those, giving them more focus and expanding them was a challenge. However, this was what I really came here to do, and it's something that I've enjoyed immensely.
How has your anthropology background informed your understanding of the Zoo's visitors?
Partly as an anthropologist and partly from my years in a science centre, I have an interest in really exploring and understanding what happens with informal learning and how that becomes formal learning.  I don't know the extent to which you can actually get to people's hearts through classroom learning. To me, this kind of learning is like teaching a child to play basketball by having that child  read a book. The best way is surely to have a basketball and get on a basketball court;  that's how you learn.  Sure, it might at some point be relevant to go to a book and learn about the rules and strategies of basketball, but fundamentally it's about playing basketball. 
My feeling about science was that teaching science only from a book was a rather bizarre approach. The fact that we don't use "sciencing"  as a verb  is an indication that there is a mindset that is completely counter to what I think is the best way to explore that world.
Here at the zoo one of the things we're developing and one of the things I'm most excited about as we look to the future is really exploring informal learning and giving it a lot more definition.
So what you were doing at the science centre, making it more immersive and interactive is feeding through to your experience at the Zoo?
Yes, even where it could be considered didactic. For example, we had a first person interpretation theatre built around an alien who organised the presentation but even there people voted and in doing so interacted.  That was really the goal of the science centre and here at the zoo we talk about connecting people to animals.
That's what I consider to be affective transformation.  You can have transformational learning, it can happen in a classroom but it can just as easily or probably more easily happen in a zoo, a garden or an aquarium.
A metaphor for me is that something happens, and that something results in taking file folders that were in your head, noting the information and putting that information back into a different set of file folders with new labels. From that point on you see everything differently retrospectively, and furthermore, as you encounter new experiences in your life, you categorize them in completely different ways. I believe this can happen quite suddenly.
Last year saw record attendance at the Saint Louis Zoo. What were key factors?
In all candour, weather.  When the horrible heat hit here in St Louis in mid-June it was actually at the same time that we opened this fabulous new Sea Lion Sound exhibit with the incredible underwater viewing.  We'd only seen this in one other place, Colchester Zoo in the UK.  We built a walk-through, transparent tunnel into the sea lion habitat – the first in North America –  and the effect is truly stunning. 
So with the hot weather arriving just as this new exhibit opened instead of our attendance plummeting it stayed what we projected it to be.  It should have declined dramatically in the intense heat, but it did not.  So those were the two things that really contributed – the weather and we had a great exhibit.
I understand you are keen to promote local produce and partners.
We have an advantage here in that Peckham Guyton Albers & Viets, Inc. (PGAV Destinations, zoo and aquarium design firm) are local. They have created zoo exhibits for 30 years all over the world so we might have wound up with them even if they were in Baltimore! Obviously there are some things like acrylic, life support systems and rockwork – for which there might only be a couple of companies in the world that do the specific kind that we need – but otherwise we've had a real local focus.
Our desire to connect locally and regionally is not just for commercial activity though; it is more of an all–encompassing idea.  We do some really fascinating conservation work here, both basic research and conservation education.  We had two very important conservation programmes in our state.
The first was with the Ozark hellbenders (a species of giant salamander) which was a huge success for us.  We were the first institution in the world to breed them and we are getting ready to do some releases. The second was our work with the American burying beetle.  We've been doing breeding and reintroduction here in Missouri.
Any plans for the Medline Forest Park Hospital Property?
That's what we're working on now.  There are a lot of possibilities ranging from zoo support to actual conservation work with smaller species, frogs, birds —- things that we could do that I think urban zoos do a very, very good job with. The new property cound provide space for  a major attraction or parking; we  may be moving staff over.
There are an awful lot of possibilities. We will very likely, almost undoubtedly include some commercial development which will be new for us, by which I mean a hotel or major restaurant or a combination of the two.
Tell us about your "Fence to field" philosophy.
We are seeing our zoo research programmes really evolving towards having tremendous significance for field conservation. I always remind people that virtually all we know about wildlife disease and medicine was discovered in zoos and not by field vets and certainly not at universities.
I was speaking with Dr. Karen DeMatteo  the other day, she's one of our research associates who does work on bush dogs  in South America.  The collars that she used to track (the bush dogs) were designed here at the zoo. It may seem like a pedestrian device, but it has allowed extraordinary research that has helped us garner information that's critical. Our translocation techniques are going to be aided by what we've learned here.
We are also learning more about assisted reproduction in the wild and even reintroduction for genetic reasons; there are just so many things that we can do that really nobody else can do.
Research and conservation aside, linking the zoo to what happens right outside the Zoo's fence and intof Forest Park and beyond that is vital.  Citizen conservation is very important to us, for example our annual "BioBlitz" where we look in the park to try and find out how many different species of everything we can find in a 24-hour period – that is great citizen science.
The educational dimension is a way of linking people here at the zoo to things that happen in the world outside of the zoo.  I've argued that this philosophy should extend to everything that we do whether it's research, commerce or what we sell in the gift shops.  Ultimately we really need to shift the orientation of our activities, core and ancillary, more towards field conservation.
How do you prioritise conservation programs?
We have the WildCare Institute which comprises of 12 major centres. These support research and conservation activities for critically endangered species and habitats across the globe. We have an exit strategy for every one of those 12 major projects. In fact, we've been able to declare victory in a couple of cases and move on which is very, very gratifying because rarely can you say that was a clear win for both the environment and for the people who live there.
Is there a shift from species to system conservation?
Yes, we're seeing it, but with the BINGOs (big nongovernmental organisations), I think that you will see it more. I think that it's then going to fall increasingly to the zoo, aquarium and botanical garden communities to shoulder the burden for species conservation. 
I have no problem with the bigger conservation organisations tackling more global problems, like global warming or any of the other areas/issues.  I think that's wonderful, but that means an awful lot of work for zoos, aquariums and botanical gardens.
Is the future bleak for amphibians?
It is a good news/bad news situation. We have made huge progress over the last four or five years, but there's also an enormous amount of work left, too. I think that we're now much more aware of the trajectory of extinction so we're much smarter about what species have to be brought into human care.
I think we could keep ahead of the curve if over the next year or two, at least in North America, each zoo or aquarium agree to focus  efforts on one local species in each institution and one species overseas. That would mean for AZA members some 450 odd species. We are making progress, but there's an awful long way to go.
What developments give you cause for optimism?
I see zoos moving in the right direction. I see young up and coming directors, Steve Burns (Executive Director, Zoo Boise) for example, who are pushing the entire community towards conservation and making measurable progress, and that's heartening. Projects we're working on have achieved some notable successes. In Armenia, there are three national parks, and this development was driven by the Saint Louis Zoo working with Armenia's equivalent of the secretary of the interior.
We have been working in Punta San Juan (home of the largest breeding colony of Humboldt penguins in Peru) for a long time, and Dr Patricia Majluf, who's a conservation fellow of Saint Louis Zoo, was successful in getting 32 marine reserves established. This covers virtually all of the important coastal areas in Peru, and we continue to make tremendous progress in sustaining the underpinning for that marine ecosystem, which is the sardine and anchovy school fish.
Getting people where we work in northern Kenya to hold the Grévy's zebra in tremendous regard and to become overt conservationists was a wonderful achievement. The Masai were always great conservationists because they didn't kill animals other than lions and their own cattle so they were already defacto conservationists. Now they're overt conservationists, and that's marvellous.
Here at the zoo, we have people contributing to conservation initiatives of very uncharismatic animals. Contributions for the programs conserving hellbenders and burying beetles, are greater than for lemurs and Grévy's zebras! This is counterintuitive, but it shows to me that people are really getting it.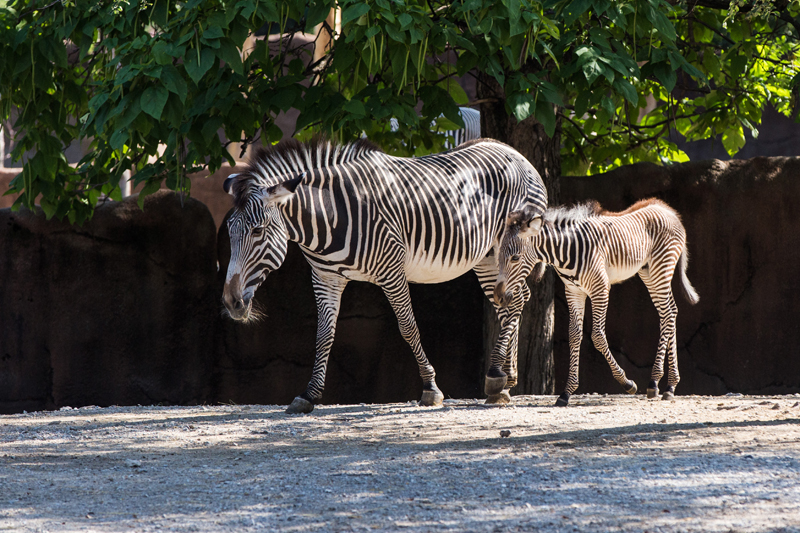 How do you relax?
Increasingly there isn't a lot of opportunity to be not at work but actually about 3 years ago I decided that I would learn to play the guitar. Tragically I have no innate talent, but I have learned to play the guitar often, if not well. Virtually every day I'm home, that's one of the things I do to relax.
I don't tend to do as much outdoors stuff as I would like, but my wife and I have a cabin in the Adirondacks, a beautiful chain of mountains in the very northern part of New York. We enjoy kayaking and hiking there. We decided that for the rest of our natural lives we'll take all of our vacations there.