He spoke to Blooloop about his innovative vision for the popular, AZA-accredited attraction.
Before joining Toronto Zoo, Dolf DeJong was Vice President and General Manager at the Vancouver Aquarium Marine Science Centre (VAMSC). Here, he was responsible for the re-accreditation of the site. DeJong also worked on the development and building of the new Walrus and Stellar Sea Lion exhibits, as well as significant animal life support upgrades.
DeJong describes himself as "One of the last of the generation of free-range kids."
"I had phenomenal parents who spent a lot of time kicking me outside," he says. "I spent a lot of time out with my friends, cycling around, building tree forts and exploring in the forest. So, I always enjoyed being outdoors."
Dolf DeJong's early career
"One of the first places I fell in love with the outdoors is a place called Presqu'ile Park. That's where I eventually ended up working."
DeJong was Natural Heritage Education Leader at Presqu'ile Provincial Park from 1999 – 2001:
"That really started my journey, which has a simple thesis: where to find the most amazing places to help connect people to the natural world. Whether in parks or conservation areas or gardens or aquariums and zoos. And to protect them for future generations. It's been a pretty fun little run."
He also visited Toronto Zoo as a child.
"It's the zoo I went to when I was growing up: I'm from the Toronto area. My cover letter talked about seeing my first tiger in grade three, and suddenly understanding the size, the scale, the colour. All those ideas that had been academic up to that point became real for me. That was, what: 35 years ago."
Toronto Zoo opened in 1974. "It was this amazing, architecturally iconic place, with all of these incredible animal species," says DeJong.
"I can't say I knew initially that I would end up working in a zoo. But as I got older and my journey took me across the country and abroad, I always wanted to come home. I thought I'd end up in a wildlife or conservation education role."
In fact, he had the opportunity to apply for the CEO position: "I was tremendously fortunate that the board chose me."
Explaining his strategy for initiating change, he says:
"I made a commitment in those early days. I told my senior team their most important job was to stop me from making decisions before I knew better. We did one-on-ones with virtually every full-time staff member. We did fireside chats with groups of 20 people, and we asked two questions:
"What does a world-class zoo look like to you? And what does a world-class zoo culture internally look like to you?"
"I have a 'hundred days' binder that still sits on my desk with all that feedback," says DeJong. "I spent a lot of time talking about my first hundred days, which became my first 200 days.
"We are a huge site: over 700 acres. We have almost 300 permanent staff, 400 part-time staff, and almost 500 volunteers. I had my ideas, but I wanted to know where our team felt we needed to go, where our team felt we were strong."
"And then we started loading that up. We've embarked on a strategic planning process with the zoo advisors. We have been writing that over the past year. And we have been leaning into the public consultation piece to test those ideas. The plan will be in place at the end of the year.
"However, I didn't feel we had the luxury of waiting for that to be done before we moved forward."
Restructuring Toronto Zoo
An organisational review threw up some changes that needed to be made swiftly.
"Two things jumped out at me. Firstly, a need to restructure our zoo to bring it up to date," says DeJong "So we made pretty drastic changes to how we were laid out, and people in core roles.
"We also leaned in to what we felt was a soft part of our season: the winter. The number one question I kept getting was, are you guys open in the winter? It was amazing, because I asked the team, 'when did we start opening in the winter?' In fact, we never closed. Though the narrative in our community was that we closed in the winter."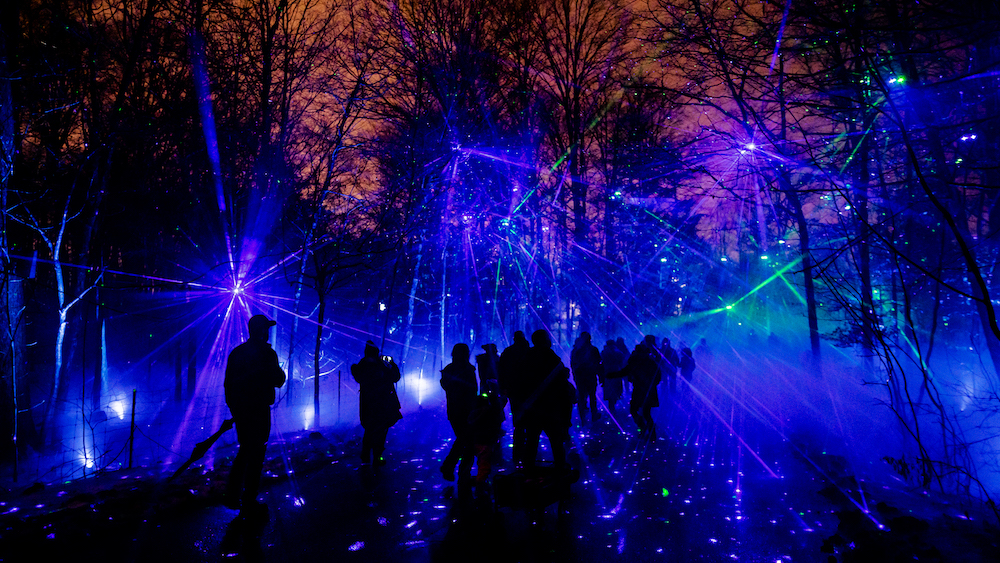 "One recommendation was the holiday light show. We looked at that, and the team did a huge amount of work. They put out a Request for Proposal (RFP), and we received some submissions, one of which was from Moment Factory."
The result is an immersive Lumina Night Walk experience. This consists of interactive displays, scenography, video projection and music. It tells a story unique to the Zoo. One that aims to inspire guests to enact positive change in their relationship with animals and the environment.
"We decided to select a winter and off-season program that is really mission-based," says DeJong.
"It's this idea that we're a hundred years in the future, and we have made the changes we needed to protect wild spaces and wild animals. People go on a journey, where we are in that future, and they learn about the steps we took to get there."
"It is a trail of a kilometre plus which takes around an hour. It's us changing the narrative of what people can expect from their Toronto Zoo."
Revealing the hidden side of Toronto Zoo
The other key project the zoo team has really got behind is, DeJong says, written at the top of his whiteboard.
"It is this: 'How do we make our hidden zoo go extinct?' We are in the species conservation business. But we have something that needs to go away here. It is this notion of' behind the scenes' and 'behind the curtain'.
"Our team has opened up the doors. They have brought in new wild encounters where we bring people behind the scenes. So, they get to see what our keepers see. They get to feed the animals, they get to experience what it's like to work in a place like Toronto zoo."
"We are also applying it to programming, to social media. Our keepers are now gathering amazing content for us. We are able to tell the life history stories of a lot of the animals in our care."
Toronto Zoo is also live streaming procedures from its wildlife health centre. From playing a phenomenal game of catch-up under DeJong's aegis, Toronto Zoo is already beginning to set new standards for others.
"We are just so proud of the work that we do here at our zoo," adds DeJong.
Conservation and sustainability
DeJong turns to conservation initiatives and species survival strategies:
"We've had a really interesting first year. A lot of great work has been going on for decades here at the Toronto Zoo. It has nothing to do with me, and I can take zero credit for it.
"A few years ago we had a bison born from frozen sperm. The material had been kept in our cryogenic freezer since 1980. And it produced a viable calf.
"The team has been doing incredible work with genetic material, working with the University of Saskatchewan to develop techniques to clean it of tuberculosis and brucellosis, to make sure we have clean animals. And ultimately, working with partners, we're looking to reintroduce them into the wild."
"Having that expertise, being able to have a surrogate herd here at the zoo of a Canadian and North American species that was hunted to the brink of extinction, is truly exciting work."
That work is being applied to other animals too.
"We now have over 50 species in our frozen zoo. We're looking at how we can contribute, on-site and in the wild other amazing Canadian success stories. For example, there are about 300 Vancouver Island Marmots left on the planet. 138 of them have come through our breeding program here."
"This past summer we had to have quite a prolonged discussion with our friends at Parks Canada about where they wanted to locate a welcome centre. We were doing incredibly important work that nobody knew about. They thought they were just building a welcome centre beside a barn.
"We had Canada's most endangered mammal right there. We know we are aligned in terms of values and that they wouldn't want to impact that negatively.
"So, we were able to use that as an opportunity to talk about those marmots, and our work with black-footed ferrets, a Prairie species, and loggerhead shrikes, which also breed in that centre."
Rouge National Urban Park education and welcome centre
In August 2019, the Minister of Environment and Climate Change and Minister responsible for Parks Canada, Catherine McKenna, along with Dolf DeJong, announced a landmark agreement regarding the location of the future Rouge National Urban Park education and welcome centre.
The agreement ensures that visitor experiences at the Rouge will be enhanced while supporting the Zoo's endangered species breeding facilities.
Another success story for this endangered species breeding programme is the Blanding's turtles.
"Ten years ago we counted seven Blanding's turtles in the Rouge Valley, where our zoo is located," says DeJong. "We've released 280 of them in the past five years. There is actually hope now for a different kind of future for this species, thanks to the work of the Toronto zoo.
"I am tremendously proud of that work, and we're looking for ways to invest more in it."
A good modern zoo, DeJong says, has a dual focus:
"An accredited modern zoo is this wonderful interface. It is using its expertise to help animals in the wild, and in building the public's awareness.
"One of my real concerns is that environmentalism and conservation, in some cases, has become a little bit elitist. Zoos are these wonderful places where everybody can get together surrounding something they're passionate about. And something which they agree on: animals and their wellbeing."
"They can all enjoy it. They can all be part of getting some tools to actually get out there and affect that change.
"We are doing some great work. We're re-doing our orangutan habitat. The key storyline there is habitat loss and connection to palm oil. We explore the role people can play in making daily choices to help orangutans on the other side of the planet.
"We are also working on redoing our collection plan. So, we have a straight-line relationship between the animals we have in our care and their purpose: what their job is at the zoo. It might be a public engagement issue, a research issue, a conservation issue."
Education is a pillar of Toronto Zoo.
"It is core to what we are about," says DeJong. "A little under 10% of our guests are students coming in for guided and self-guided tours. That's an important piece of our future."
The zoo has adopted an enquiry-based learning model where children can explore, led by their curiosity to building an understanding.
"'Nature deficit disorder' is becoming prevalent, particularly in increasingly urban populations. We have kids who have never seen common animals, let alone exotics. We've been spending a lot of work on that.
"We now have our own high school on site. For the summer, we bring in a class of grade 11 biology students who embed at the zoo for a lengthy period. Additionally, we are accredited by our provincial government. Essentially, our manager of education is the principal. We believe in providing a combination of experiences as well as regular school programs."
"We have sleepovers in our Savannah, so we can be accessible, and make sure kids are getting a glimpse of what's going on in that broader natural world. It gives them a resource that they can consult as they grow.
"We want to be part of a long-term relationship with them, not just a transaction. It's not just about coming to the zoo for a day; we want to help them on their conservation journey."
"We play a huge role in helping people develop their conservation-minded identity, along with our partners in education in the schools and gardens, museums and libraries."
DeJong looks to the future
DeJong describes himself as a "ruthless optimist". He says: "I wouldn't be able to get up and do what I do every day without that.
"There is no question that nature and diversity of species are under siege. Our key role is making sure that people are aware. That they're not paralyzed or frightened away; that they're not disenfranchised."
"So we engage their interest and give them some tools so they can take steps to effect positive change. I believe conservation is a team sport, and we need more players. It needs to be inclusive.
"Ultimately, we're going to need big policy shifts from governments and multinational organizations. But that only comes from starting on the ground. We have 1.2 million guests who have declared they have an interest in animals. We want to make sure they're using that interest to help."
Individual accountability
Individual accountability is, DeJong feels, key:
"We have to take steps. We have to start on this journey and to commit. Animals in the natural world need us to do that.
"It is too easy to shrug our shoulders and say, 'Yes, the 10 biggest rivers in the Far East put in more ocean pollution than anything we do here'. Or, 'They're opening a new coal-fired power plant every day somewhere else.'"
"That is an early off-ramp. We need to hold people – I'll call it gently accountable- for their role. And to give them the tools to help remedy some of these issues."
It is, he says, important for good zoos to be leaders, putting forth best practices, demonstrating key values and showing what 'good' looks like:
"One of my key values is this idea of four cares. We wake up every day and there are four things we care about.
"First, we care about animals. Those animals here in our care, or nearby, near our house, might need our help. Wherever possible, we're going to provide that. Secondly, we care about our staff and our volunteers; they are the core agents of change that show up every day. They are what I call our real activists."
"Next, we care about our guests. Because they're the ones who are going to amplify our message and get it out in the community. So we have the mass to start having an impact.
"And the last piece we care about is our community. We look at those four cares when we're assessing programmes. We need to be checking all four of those boxes in day to day life, to be on the list of folks who have good zoos."
"We are going to keep doing all we can. Where animals are in harm's way, we're going to try to provide support. It is going to be a long road."
Toronto Zoo – setting the standard
"In North America, only 10% of zoos and aquariums are accredited by the AZA or CAZA," says DeJong. "We need to be setting a high standard, working closely with government. Standards should also keep evolving."
Right now, we're musing about what it would look like to be the most technologically advanced zoo in the world in 10 years
"In addition to this, we need to be questioning our own practices. We must make sure that we can legitimately stand amongst the leaders, and say, 'Yes, we're doing the right things for the right reasons.'"
Under DeJong's leadership, the zoo has aspirations that go beyond the strategic plan.
"Right now, we're musing about what it would look like to be the most technologically advanced zoo in the world in 10 years. What would it mean to look into big data and machine learning and artificial intelligence to improve our ability to manage and monitor animal welfare and wellbeing?
"How do we bridge that to our guests?"
Using technology to connect people and animals
"Everybody wants to talk about wifi and apps. But let's talk about real-time connections between animal wellbeing. Can you see the meal that our nutrition team prepared for animal X today in real-time?
"Can you see how their last workup looked like with the veterinarians? And how do we bring all of this together to really improve animal wellbeing, guest experience, and our ability to reach out in the community?
"That is one of the aspirational pieces that we are testing through the strategic planning process. I'm really excited to see where it might take us."
In pursuit of this ground-breaking goal, DeJong has brought in partners from across the community. This includes tech innovation think-tank and hub MaRS Discovery District.
"MaRS Discovery District is one of the major players. We're also working closely with our university and college partners. We are trying to celebrate the most important parts of what we do as a zoo, as guardians who have looked after the animals so well.
"But we also want to bring in new ideas and technologies in a responsible way. Firstly, to give us the data to back up what we know, in some cases. And also to give us new tools to question and rethink. To make sure we can stand with those leaders and be able to substantiate what we do, why we do it, and how we know."
All images kind courtesy of Toronto Zoo.