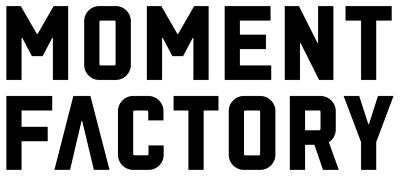 Moment Factory is a multimedia studio specializing in the conception and production of immersive environments.
We combine video, lighting, architecture, sound and special effects to create a remarkable visitor experience. Since our inception in 2001, Moment Factory has created more than 400 shows and destinations across the world.
We use an integrated process, blending multidisciplinary talents and fields of expertise. This allows us to deliver ambitious turnkey projects.
We bring people together through our shows and destinations. They are pioneering forms of entertainment that offer the world new experiences. Whether at a concert, a flagship store or across an urban square, we aim to inspire a sense of collective wonder and connection.
In our shows, we explore innovative storytelling. We create uniquely compelling multimedia worlds that turn passing moments into once-in-a-lifetime experiences. We create signature shows, themed entertainment, concerts, ceremonies and more
For our destinations, we are inspired by the meaning and identity of the site, creating permanent and versatile multimedia infrastructures tailored to the client's needs. We work within parks, arenas, resorts, casinos, retail spaces and more.
We have three departments: content, interactive and scenography.
For content,  we create visuals that inhabit the space fully. We take concepts and ideas and turn them into stunning images that pack an emotional punch, bringing stories to life.
The interactive department provides a portal that takes visitors deeper into the experience. Innovation leads to surprising exchanges between visitors and the environment, giving them a stake in the action.
Through our scenography team, we create magical experiences that engage physically through multimedia environments. They are crafted to work in tandem with the site and context.