Cod Steaks, an award-winning Bristol-based creative design and build team, has worked with Yorkshire Wildlife Park to create Evolution, a brand new themed restaurant and bar at the Yorkshire Hive.
This dining experience will open this week as COVID restrictions ease in the UK, and features two different themed lands as well as a full-sized shipwreck bar. The new addition at the Hive represents a fit-out of over £1 million, creating a unique mixed media environment.
Presenting Evolution at The Hive
The restaurant is themed on The Beagle, the ship which took Charles Darwin on his journey to discover the origin of species. Guests will be taken on a journey to an island inhabited by animals from throughout history.
Cod Steaks is responsible for creating the restaurant backdrop, with jungle ferns, ancient statues and a deserted temple. Meanwhile, Technically Creative, the immersive experience expert, created AV projections and special effects. Guests will even come across animatronic dinosaurs and dragons, and on Friday and Saturday nights and school holidays can also enjoy Evolution Live! where the ship's crew comes to life for an immersive experience.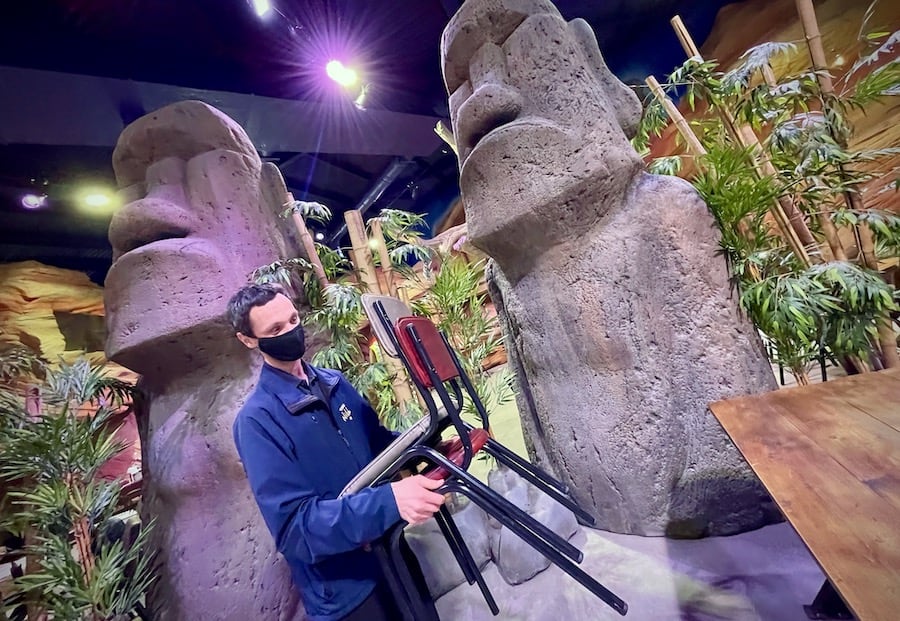 "Evolution is a magical place that will amaze and delight everyone, and we can't wait to share it with our visitors," says John Minion, CEO of Yorkshire Wildlife Park. "We wanted to create something special that reflects that was exciting and relevant to the natural world and something that has simply not been seen before.
"This is the feature restaurant in the Yorkshire Hive which is the free to enter leisure destination before the entrance of Yorkshire Wildlife Park. Everyone has worked incredibly hard on this and the result is amazing."
Themed food and drink
In addition to the immersive surroundings, guests can choose themed food and drink to match the two themed areas, Jurassic Jungle and the Magical Caves of the Lost Kingdom.
"Diners will experience a different story depending on the themed area that they are going to dine in. In the future this will allow us to change and update the story as the Beagle visits more places," says Mark Pyrah, Development Director at Cod Steaks.
"A mixed media development of this scale in a restaurant has not been seen in the UK and we are proud to have brought this special place to reality."
Cod Steaks is the creative specialist behind The Pirates! animation for Aardman Productions and has worked on visitor attraction, museum, exhibition, theme park, feature film and animation projects around the world.