Work begins this month on a major new attraction in St. Louis, Missouri – the St. Louis Aquarium at Union Station. It will form part of a $160 million family entertainment complex at the city's National Historic Landmark train station.
Part of the redevelopment of the iconic station in downtown St. Louis, the 120,000-square-foot aquarium will be designed by St. Louis-based architects PGAV destinations and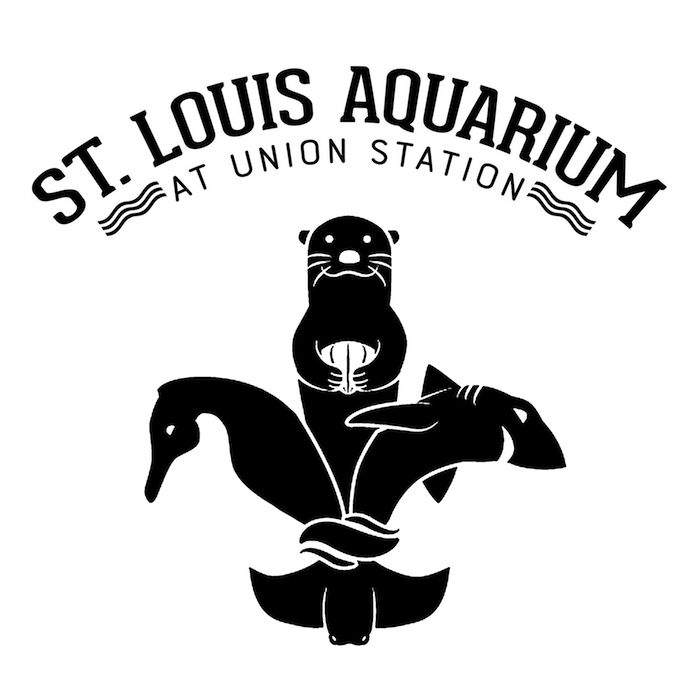 operated by aquarium and zoo specialists the zoOceanarium Group. 
The owner of St. Louis Union Station, Lodging Hospitality Management (LHM), revealed at a news conference on Thursday that St. Louis-based McCarthy Building Companies, Inc. will build the aquarium. Construction will start by the end of the month and be completed in Summer 2019.
The transformation of the National Historic Landmark train station, which first opened in 1894, will include the addition of an observation wheel together with an outdoor entertainment park. 
A true destination hotel & entertainment complex
Bob O'Loughlin is Chairman/CEO of Lodging Hospitality Management (LHM). He said, "We're very excited to have the nation's top construction and design firms working with us on this project. The fact that both McCarthy and PGAV Destinations are based in St. Louis means that they appreciate the value of Union Station's history and its importance to our community.
"St. Louis Union Station is being recreated for the future. We've received a great reception to the first phase of our project remaking the hotel spaces and the Grand Hall and we know the opening of the St. Louis Aquarium and Wheel in 2019 will make Union Station a true destination hotel and entertainment complex. Additionally, partnering with zoOceanarium Group as the operator of the aquarium brings a high level of professionalism to the project that will be appreciated by everyone who visits the new attraction."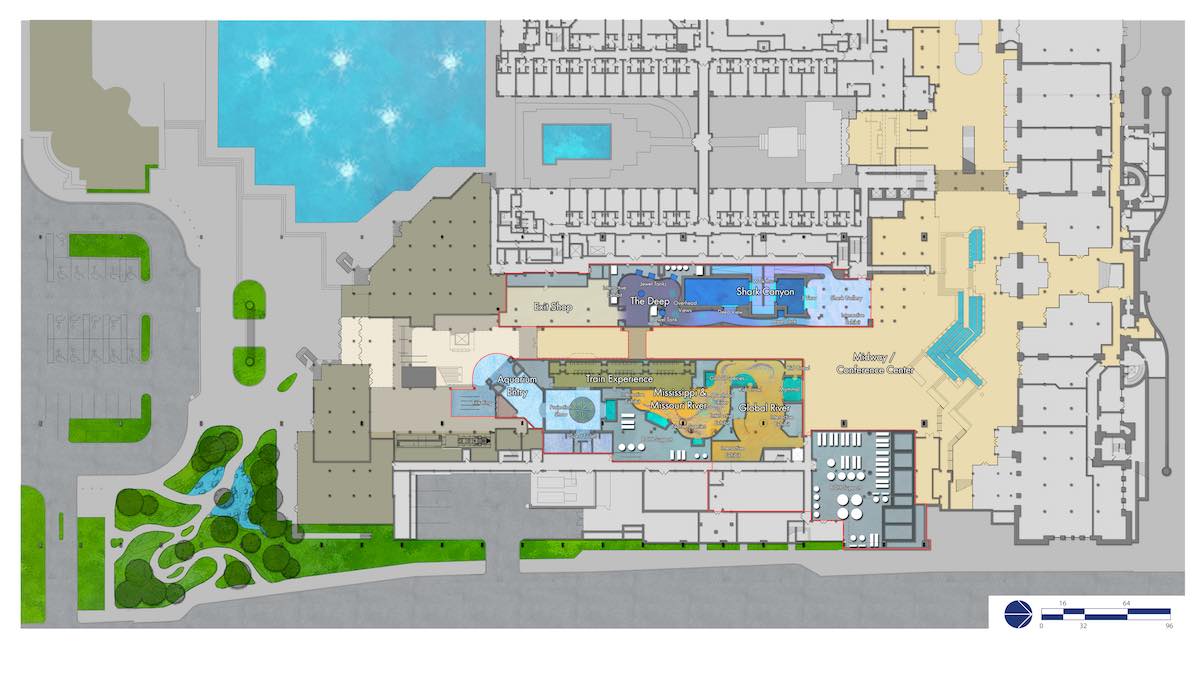 The St. Louis Aquarium at Union Station will be based in the former mall area within St. Louis Union Station. Entrance will be via the station's south plaza.
The aquarium will feature 1,300,000 gallons of water with tanks and exhibits home to thousands of freshwater and marine animals. In addition to creating an exciting new leisure destination in the city, the project will create 500 jobs during its construction phase. Furthermore, once operating it will bring 100 permant jobs to the downtown area.
Building St. Louis Aquarium at Union Station
St. Louis Aquarium at Union Station will be built by local firm McCarthy. The 150 ye
ar old company is the oldest privately held national construction company in the US. It is ranked the 15th largest domestic general contractor (ENR May 2017) and is 100 percent employee owned.
Ryan Freeman is VP Operations at McCarthy. He said, "We want to thank LHM for their investment in our community. Everyone at McCarthy and staff who will work on the project are all very excited. The St. Louis Aquarium at Union Station is an important and challenging project for the region.  Building this aquarium, which is an extremely complex construction, inside of the historic train shed is unique in its array of complexities.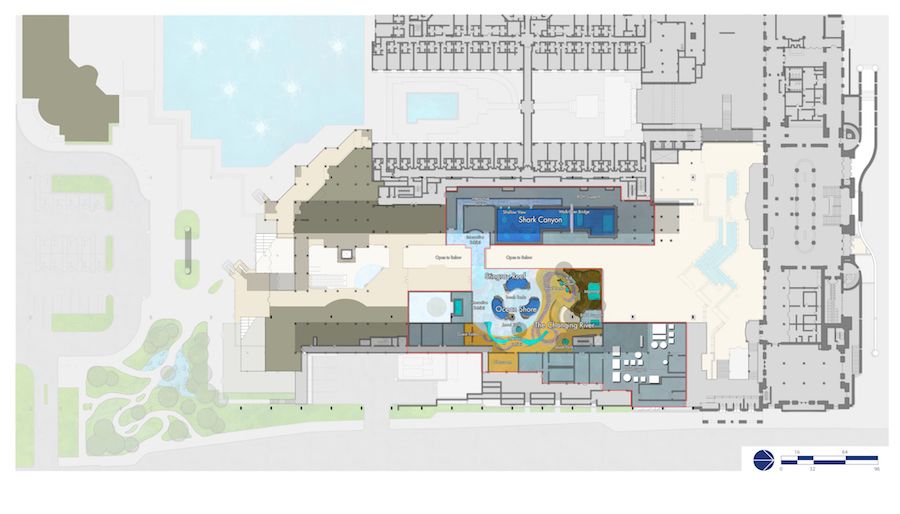 "Having been headquartered here for the past 100 years, we've been able to build some of the most challenging projects around the region and we're pleased to be a part of adding this exciting new landmark. Our team is focused on delivering a quality aquarium experience that will delight and enchant visitors while ensuring the optimum aquatic environment where fish will live and thrive.  
"As St. Louis is our hometown, this project has special significance because not only will we build it – we will be bringing our own families to visit the aquarium when it is finished; there is a special sense of pride that goes along with that."
Highly interactive and immersive
The zoOceanarium Group is a world leader in the field of animal care and welfare, working closely with aquariums and zoos worldwide. It is involved with numerous wildlife and conservation bodies, including the World Association of Zoos and Aquariums (WAZA) and the Association of Zoos and Aquariums (AZA). It is also a corporate sponsor of conservation non-profit Species360.
"Guests will be thrilled by this new aquarium, which will feature amazing animals and an experience that is not only fun, but inspiring," said Chris Davis, Managing Partner for zoOceanarium Group LLC.
"We are excited to partner with LHM in developing this next generation of wildlife education and entertainment experience. It is sure to be a national attraction. The St. Louis Aquarium at Union Station is a highly interactive and immersive experience, connecting guests of all ages to nature in ways that respect the animals.  The welfare of every animal is our priority."
The St Louis Aquarium at Union Station will open 365 days a year and expects to attract a million visitors in its first year. It will also seek accreditation from the Association of Zoos and Aquariums (AZA).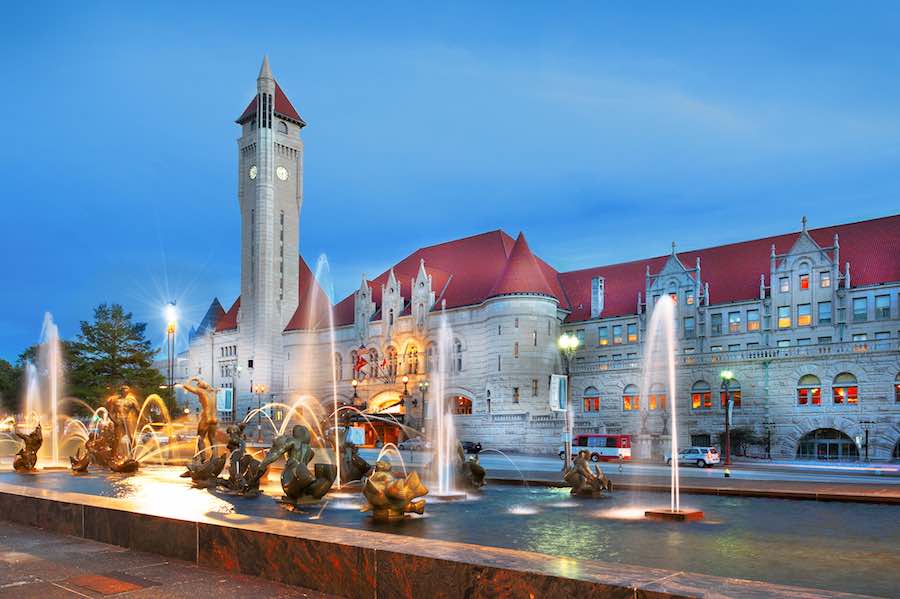 PGAV design St. Louis Aquarium at Union Station
The aquarium is designed by leading attraction planner PGAV Destinations, which is based in St. Louis. The firm has worked with many leading aquariums and zoos across the world. These include South Carolina Aquarium, Georgia Aquarium and SeaWorld. It also designed the  exhibits Sea Lion Sound, Polar Bear Point, Penguin & Puffin Coast and the new Grizzly Ridge at St. Louis Zoo.
"We like to think outside the box, dream big and bring our clients' hopes and dreams into reality," said PGAV Destinations' lead aquarium designer Emily Howard, Vice President. "The aquarium will be something unique to our city and Union Station's spectacular architecture and environment will make this project even more special."
Alongside St. Louis Aquarium at Union Station will be the previously announced St Louis Wheel. This new iconic attraction will also operate every day of the year. It should give 500,000 visitors a year an unrivalled view of the St. Louis skyline.
Other phases of the entertainment complex at St. Louis Union Station include the Fire & Light Show at the Lake (already open) together with a new boardwalk and enhancements to the St. Louis Union Station Hotel.