TripAdvisor and its subsidiary, Viator, will no longer sell tickets to, or directly generate revenue from, attractions or experiences where cetaceans are captive and put on public display.
The company's decision comes after similar moves from Qantas, British Airways Holidays and Virgin Holidays.
Any commercial facility that breeds or imports whales and dolphins for public display will be banned from sale on TripAdvisor and Viator.
Products currently on sale and found to breach the new rules will be removed from the site over the next few months. The policy will be fully in place by the end of 2019.
"The extensive evidence presented to us by the experts was compelling," said Dermot Halpin, President, TripAdvisor Experiences and Rentals.
'Cetaceans do not thrive in captive environments'
"Whales and dolphins do not thrive in limited captive environments, and we hope to see a future where they live as they should – free and in the wild.
"We believe the current generation of whales and dolphins in captivity should be the last, and we look forward to seeing this position adopted more widely throughout the travel industry."
The policy will not apply to seaside sanctuaries that provide care for cetaceans already in captivity, or to facilities that are in the process of developing sanctuary environments for captive animals.
Seaside sanctuaries must follow a no-breeding policy, must not train their animals to perform in shows or performances, and must prohibit all physical interaction between guests and animals.
Halpin added that seaside sanctuaries "need more backing from the tourism industry".
TripAdvisor policy won't apply to seaside sanctuaries
Conservation groups and animal welfare experts welcomed the commitment, with Dr Naomi Rose, Marine Mammal Scientist, Animal Welfare Institute, saying: "TripAdvisor is on the right side of history.
"Whales and dolphins cannot thrive in captivity and enlightened tourists no longer tolerate exploiting these intelligent and socially complex marine predators for human entertainment."
"TripAdvisor's ethical decision moves cetaceans closer to a day when their captivity has ended and they have returned to their ocean homes," said Tracy Reiman, Executive Vice President, PETA.
TripAdvisor has been using Merlin Entertainments' SEA LIFE Trust Beluga Whale Sanctuary as a great example of sea sanctuaries. 
The facility is home to two formerly captive beluga whales, Little Grey and Little White (pictured above), who came from an aquarium in China.
TripAdvisor praises Merlin Entertainments' SEA LIFE Trust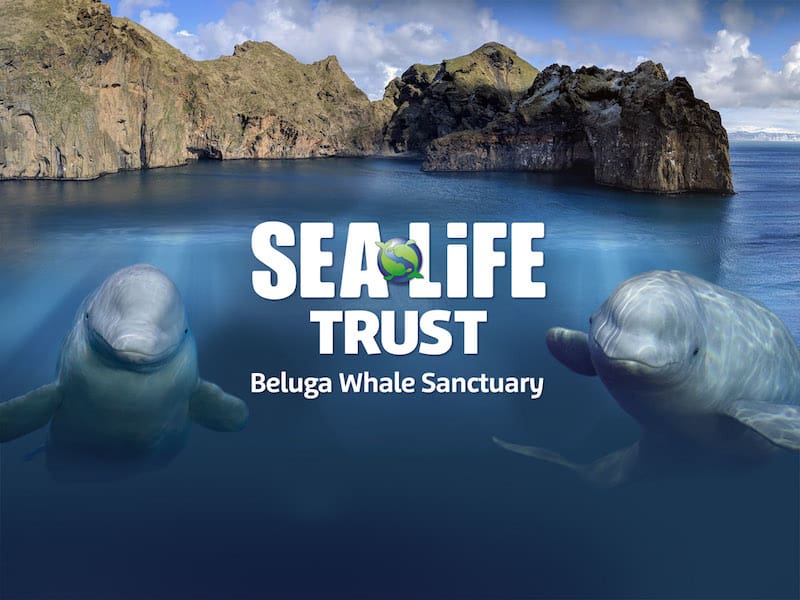 In response to the decision, Andy Bool, Head of SEA LIFE Trust, said it "represents a hopeful new future for captive cetaceans".
"The SEA LIFE Trust Beluga Whale Sanctuary is the world's first open water sanctuary and the first dedicated sanctuary for beluga whales previously performing in captivity and unable to return to the wild."
He added that the sanctuary has space for more belugas, and said "there is a significant change in public perception of how these animals should be cared for". 
"Our overarching vision is that by demonstrating the potential for open water sanctuaries we will inspire others to consider a different future for the cetaceans in their care."
Images: SEA LIFE Trust/Tesni Ward