Aardman made its debut in the attractions business with the dark ride Wallace & Gromit's Thrill-O-Matic at Blackpool Pleasure Beach. But it is another of its IPs – Shaun the Sheep – that is allowing the UK animation studio to knit a diverse network of attractions around the world.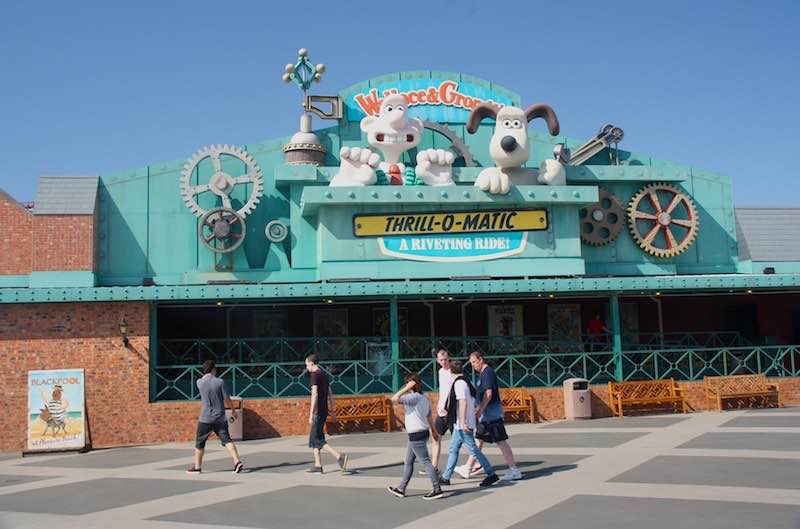 Since Thrill-O-Matic's launch in 2013, Aardman has created three internationally touring Shaun the Sheep stage shows. In 2015, Fåret Shaun Land opened at southern Sweden's Skånes Djurpark. In Japan there are five Shaun the Sheep farm themed play parks and two cafés. Shaun continues to star in Aardman's Grand Experience at Land's End in Cornwall, England. Further Shaun the Sheep attractions will be announced within the coming months, including a new opening in Japan.
In the UK, Wallace & Gromit have won the hearts of many fans. Though Shaun the Sheep has bred more attractions and found a wider international following, he owes his existence to the 'claymation' characters (an eccentric English inventor and his pet dog) created by Aardman founder Nick Park.
"Shaun evolved from the Wallace & Gromit short film, A Close Shave," says Aardman's Senior Manager of Attractions & Live Experiences, Ngaio Harding-Hill. "It has been 10 years since Shaun the Sheep launched on TV. In that time we have created 150 episodes. We have The Farmer's Llamas, which launched in 2015/16, and the Shaun movie released in 2015. We also have the second Shaun feature film in production, which we will release next year, and we will continue making TV content."
A career in events and exhibitions
Ngaio Harding-Hill's journey with Aardman started in 1999. She joined the animation firm as assistant to one of the owners, co-founder David Sproxton. Previously, while living in Canada, she had worked on corporate events and exhibitions for an organisation called the Design Exchange. After a career break when her children were small, she returned to the role at Aardman as a maternity cover. When that ended, she moved into the broadcasting department. She consulted across 50 episodes of Shaun the Sheep, 21 episodes of Champion Sheep and 15 episodes created for the Nintendo Wii.
"It was a really busy time, and I was developing my story skills throughout," she says. Harding-Hill now sits in the Aardman rights department, supporting the team with the development of stage show scripts and concepts. One of those projects was a Shaun the Sheep stage show in the Middle East in 2014.
"Generally, throughout my career, I have had an association with events and exhibitions," says Harding-Hill. "This area has grown hugely over the four years that I've been in the role at Aardman."
Aardman's theme park plans
Might Aardman progress from designing themed lands and play areas to developing a full theme park?
"The broad answer is yes, we would be delighted to do an Aardman theme park," says Harding-Hill.
Discussions with The London Resort continue. In the meantime, the company is having conversations regarding an Aardman family entertainment centre (FEC) concept.
"We have a lot of interest in that from the Far East, particularly in China," says Harding-Hill. She describes the concept as "a studio experience within an FEC."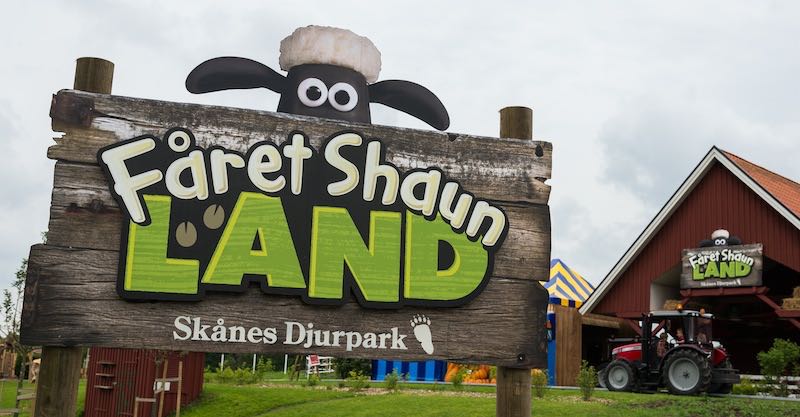 The Senior Manager of Attractions & Live Experiences knows only too well the benefits of incorporating a popular intellectual property (IP) into a park or attraction.
"Skånes Djurpark were always very enthusiastic about partnering with the Shaun the Sheep brand," she says. "Yet they were still surprised by just how much added value partnering with IP brought them."
Part of that value comes from the way in which Harding-Hill and her team work with attraction partners such as Skånes. Their aim is to create a narrative that marries the values of the brand with values and ambitions of the park. In the case of Skånes, which is an animal park, there were obvious synergies.
"Rather than having a generic 'this is how you create a Shaun the Sheep attraction within your park' formula, we go on the journey together. Year on year, we are adding new elements, whether that is live experiences like last year when Timmy [the sheep] came to the park, or the bigger, more infrastructure-based kind of developments which will be the second phase that we go into next year. It's not a case of visiting once and knowing what you're going to get. It's a really multifaceted, multi-dimensional experience that evolves."
Ewe-niversal appeal
Shaun the Sheep effortlessly appeals to a global audience. He speaks a universal language of humanity through his brilliantly anthropomorphised antics. There is a kind of sophistication to the humour. It strives to appeal to adults as well as children so can be watched by the whole family and enjoyed on multiple levels.
"Essentially, Shaun the Sheep is about a family," says Harding-Hill. "You have the farmer, the slightly distracted, myopic, oblivious parent. There's Bitzer, who is the older sibling who tries to keep control but is always slightly on the back foot. Then there is Shaun, as the kind of smart 11-year-old who, if he saw a red button, would have to press it. He's the brains, to a great extent; he is the risk taker. And then there are the rest of the flock, the adventure mates, the members of the family and the community that come along for the ride."
"The fact that the animations have no vocabulary gives the brand great international appeal," says Harding-Hill. "The language doesn't become a barrier, and the humour isn't reliant on language. Those family characteristics are immediately recognisable wherever you go."
And, of course, Shaun the Sheep is very funny.
According to Harding-Hill: "A lot of fan mail comes from grandparents who come across Shaun while they're looking after their grandchildren, but immediately tap into that slapstick tradition and have their own relationship with the characters and the content."
Aardman's other characters
Created in 1977, but still popular, Morph was one of Aardman's earliest creations. The very simple but expressive character featured in various art-related children's television programmes from the BBC featuring the late Tony Hart. He would go on to pave the way for a succession of stop-motion clay animation characters that followed.
"Morph is fantastic, and has a very loyal following," notes Harding-Hill. "Wallace & Gromit is incredibly successful in certain territories. But, because the sense of humour is so eccentrically British, there are other places – the US, for example – where the irony just doesn't work. Shaun is by far our most successful brand internationally. He plays in 170 countries worldwide. He travels very well."
An adaptable IP for the attractions industry
Whilst there is a intentionally primitive look to many of Aardman's animations, the ways in which they are now being packaged for audiences in the attractions industry is anything but old-fashioned. Harding-Hill reveals that Aardman has developed some Shaun the Sheep augmented reality (AR) elements for use with in-park trails or interactions. The company has also had some early conversations regarding possible 4D or virtual reality (VR) attractions featuring the character.
"Shaun is quite an adaptable brand," says Harding-Hill. "For instance, there is an episode in which aliens come onto the farm. We've had genies too. You can really take him into other dimensions in a way that wouldn't be possible with, say, Wallace & Gromit. That limitlessness is what makes Shaun a really attractive brand for experimenting with new technology."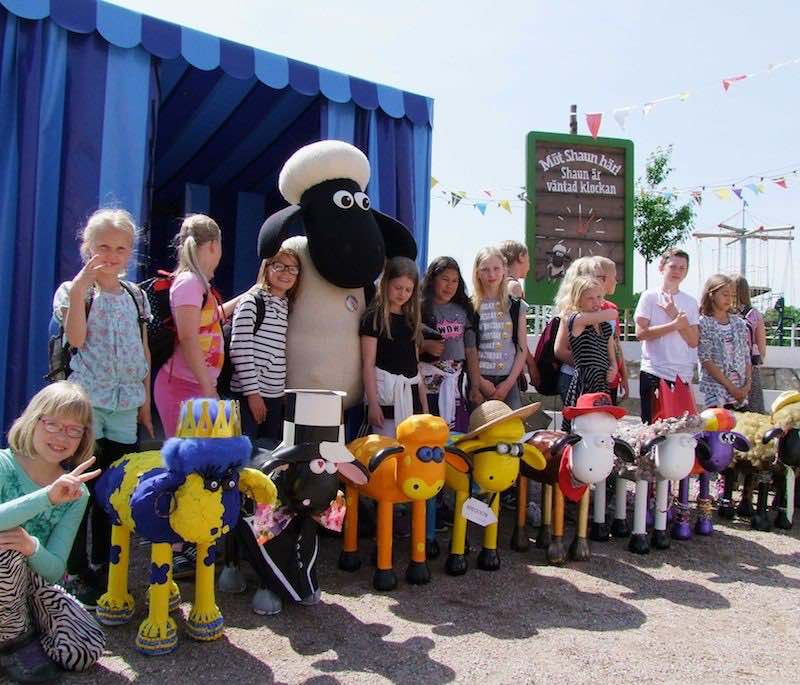 Shaun's the Sheep's reach
Attraction owners wanting confirmation of Shaun the Sheep's appeal should take note of his busy schedule:
• Shaun the Sheep is screened regularly on CBBC in the UK and aired on TV in a further 170 territories worldwide.
• A second Shaun the Sheep Movie is in production and set for international release in late 2019.
• A DVD featuring 10 episodes voted by fans as part of Shaun the Sheep's 10th anniversary is available in key global territories.
• Two new Shaun the Sheep TV games, Connect Fur and Ice Cream Baa, are now available on Virgin Media and Amazon Fire sticks.
• A promotion with Whitbread sees Shaun the Sheep takeovers and activities in Beefeater, Table Table and Whitbread Inns across the UK.
• Model-making workshops will be held at key British and Irish family festivals this spring/summer.
• And of course Shaun the Sheep continues to entertain families at attractions in the UK, Sweden and Japan.
All images courtesy Aardman Animation. Background image: Fåret Shaun Land at Skånes Djurpark, Sweden