Directed by Olympic opening ceremony veteran, Steve Boyd and featuring a 1,500-strong cast, Kynren is the UK's biggest, boldest open-air show.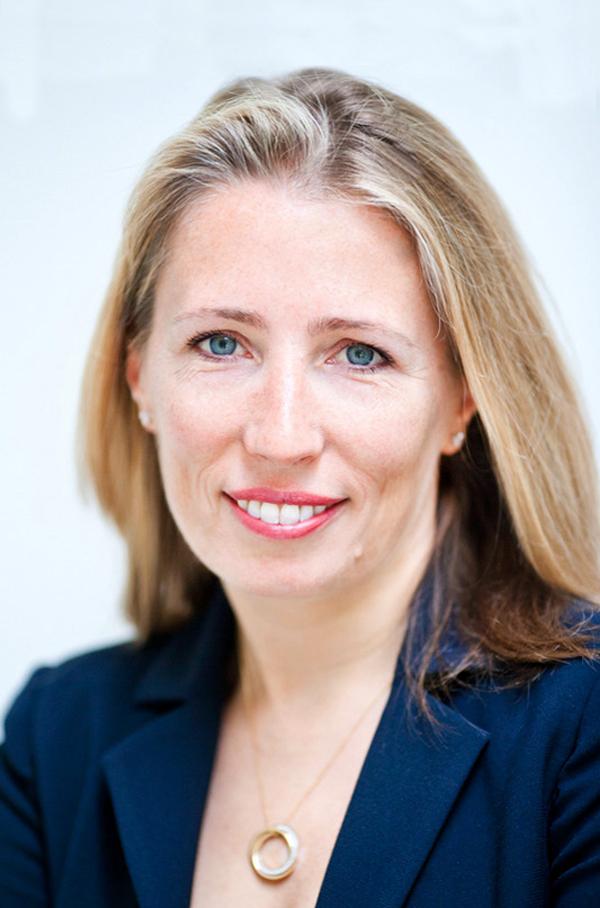 Bringing to life 2000 years of British history against the backdrop of Aukland Castle in County Durham, the epic adventure is now in its second season. This year's string of performances boasts added humour, new scenes, upgraded special effects and more.
'It's bigger, better, brighter,' confirms Anne-Isabelle Daulon, CEO of Eleven Arches – the charity that produces Kynren.
Originally developed in collaboration with French theme park, Puy Du Fou, this season the show has developed it's own unique character.
Daulon spoke to Blooloop about the show that is attracting thousands to the North East and inspiring not just the viewers but an entire community.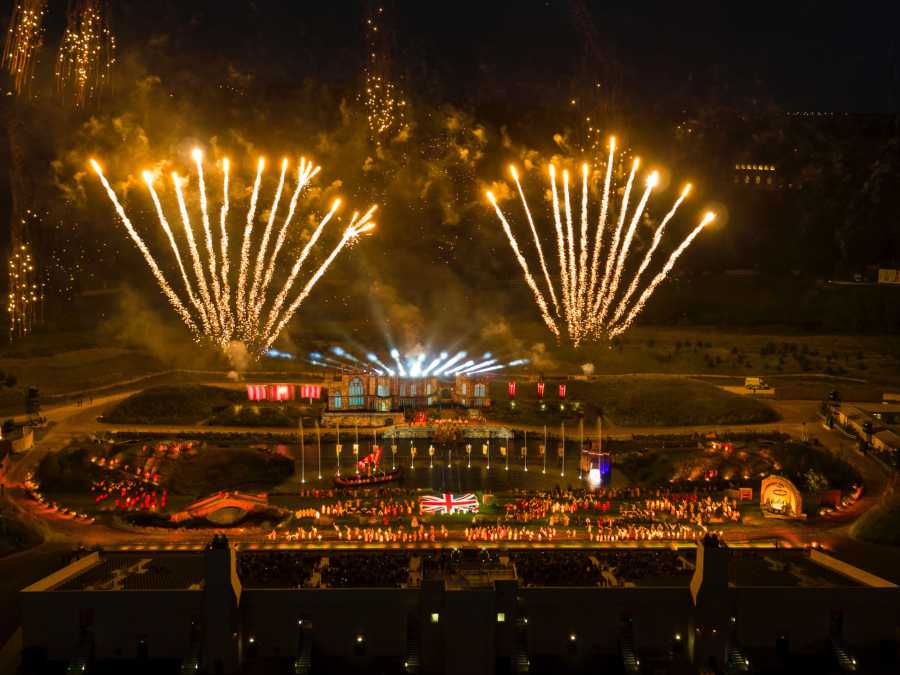 Appreciative crowds every night
She is understandably upbeat. Reviews on Tripadvisor are 95% positive, bettering last year's very creditable 91%.
"It is what we are shooting for but you never know if you actually will achieve that," she says. "We have had very appreciative crowds every night, that is also great. We can feel the warmth of the audience."
Daulon's background is in investment banking.
"Working on the equity market allowed me to spend lots of time on business models for companies based in the US – I've been on the stock market for over 11 years – looking at investing in consumer companies.
"When I left, I started my own interior design firm, so I had aching feet for an entrepreneurial venture, which led to where I am now."
Eleven Arches is one of two charities (the other is the Aukland Castle Trust) established by philanthropist and investment manager, Jonathan Ruffer. His aim is to transform Bishop Aukland into an international tourist destination, thus attracting investment and empowering the local community.
A meeting of mind and soul
Ruffer was already aware of Puy Du Fou. The theme park had immediately struck a chord; a concept that began with a tangible piece of heritage – in Puy Du Fou's case a ruined renaissance castle – which inspired a desire to tell the story of the local region. Daulon, born in France and living in England, seemed the ideal person to bring the two together.
"I was coming at it not just from a professional angle, but able to bridge the cultural gap and try to work with the French team at Puy Du Fou," explains Daulon. "So, that was incredibly helpful, being able to work with people of various nationalities, as it takes a little bit to understand where people are coming from."
The multi-award winning park, Puy Du Fou, founded by Philippe de Villiers in the 1970s, is renowned for its spectacular live performances. Known as Cinéscénie, the shows feature huge casts, pyrotechnics and cutting-edge special effects.
"At the very beginning of the project in 2013, we did feasibility studies together after we had met, and after Jonathan had met the son (Nicolas de Villiers) of the founder. It was a meeting of mind and soul between the two for them.
"What was motivating them was very much the love of their region."
"They had not created or not wanted to create for ANY other reason – which was very interesting. Not many ventures and organisations start on that basis. There was that emotional connection which was further consolidated when we looked at their model to see what we could take out to create something wonderful in the North East."
Puy Du Fou's DNA
Daulon says Puy Du Fou's most important contribution was their artistic expertise.
"There is no doubt, for anyone who has seen Puy Du Fou, we have their DNA. But, it was important from the onset to understand that there would be a transfer of knowledge that would allow Eleven Arches to pursue its own journey. It had to be based and anchored in the North East."
"We worked hand in hand with Puy Du Fou to give birth to Kynren in the first season until completion, then we had to grow like a toddler or a teenager, trying to accommodate our DNA and own identity" says Daulon.
"We may work with them in the future on other ventures if and when we grow, and we do more."
By becoming more independent from Puy Du Fou, and bringing in Steve Boyd as creative director, Kynren is taking on its own character:
"We think the best comparison is that we are their child. There is a moment when you look like your father or your mother, but rarely do you have the same personality. You have traits that are common, but the package is a standalone individual.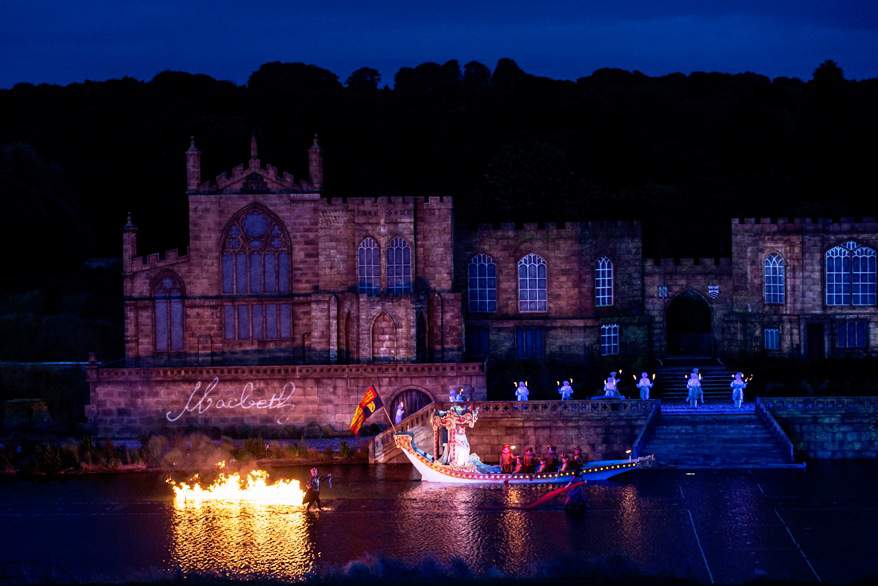 "We are very proud to have been given the creative advice that is Puy Du Fou's signature, and we are trying to develop our own personality that our visitors will admire.
"The volunteers have a view on what they want to see, what they feel about what they do, traits of humour that we want to take into account."
New voices include Kevin Whately
In response, the dialogue has been changed this year along with a number of other enhancements to enrich the experience.
"We are very keen on creating better storytelling; adding some of that humour. We have new scenes. We have Viking attacks and new characters like Boudica. No character has massive presence in terms of times on stage, they all add up to a better sense of understanding the periods and eras. We have new voices. Kevin Whately is the old Arthur which adds gravitas and a massive wink to the North which we are very proud about."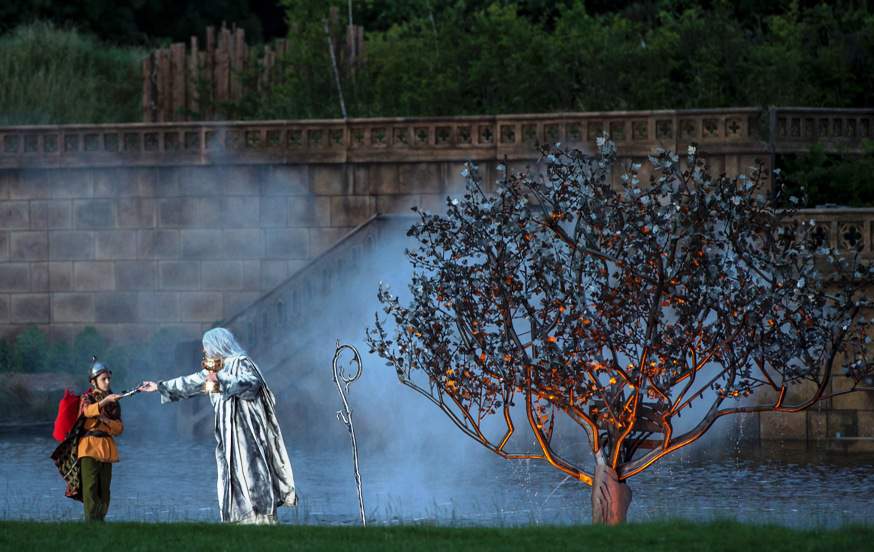 "We've got new special effects, new choreography. Lots of layers, snow for our Christmas tree moment – weather dependent! We have a new lighting equipment that allows us to light the stage differently.
"We have also transformed the show in terms of size. It is double the cast, on stage we have more people.
"What we have created is more emotion, with all these added layers, and a better flow."
"We used to operate as a night flow, the later we started the better, but this was not needed from an artistic perspective. We wanted to make the most of the long nights in the North and we wanted to make sure we weren't dependent on that. So, we have a clever and new lighting design which allows us to go from daylight to night. Half the show is in daylight and half is in night. It is accepted, acknowledged and embraced."
"Everyone that has seen it has said they didn't think they could make it better and it is."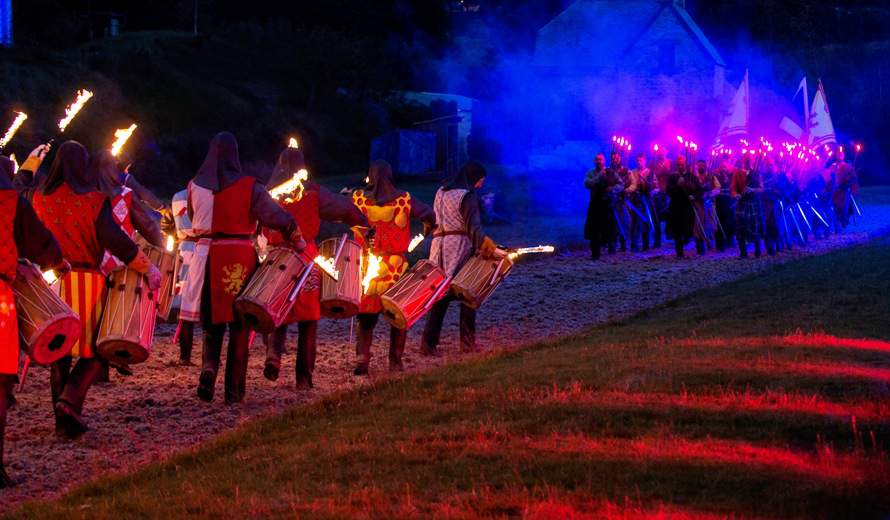 Last year's show attracted 100,000 viewers
Daulon remains justly proud of last year's show which attracted over 100,000 people to Bishop Auckland, 25,000 of whom were from outside the region. But, inevitably there were things the team wanted to improve.
"When we finished the season, we had a list of more than 400 items, some big, some small, and most of them found their way into the new show. We have more animals, more cast, more effects, more pyrotechnics, we have changed the finale pyrotechnics. It's been a very exciting year. We can't contain ourselves in terms of our ideas."
"More animals, more cast, more effects, more pyrotechnics."
Giving the whole team, including the army of volunteers, that sense of ownership is key to the success of Kynren both now and into the future. The number of people giving their time freely to the show runs into the hundreds and the project would be impossible without them.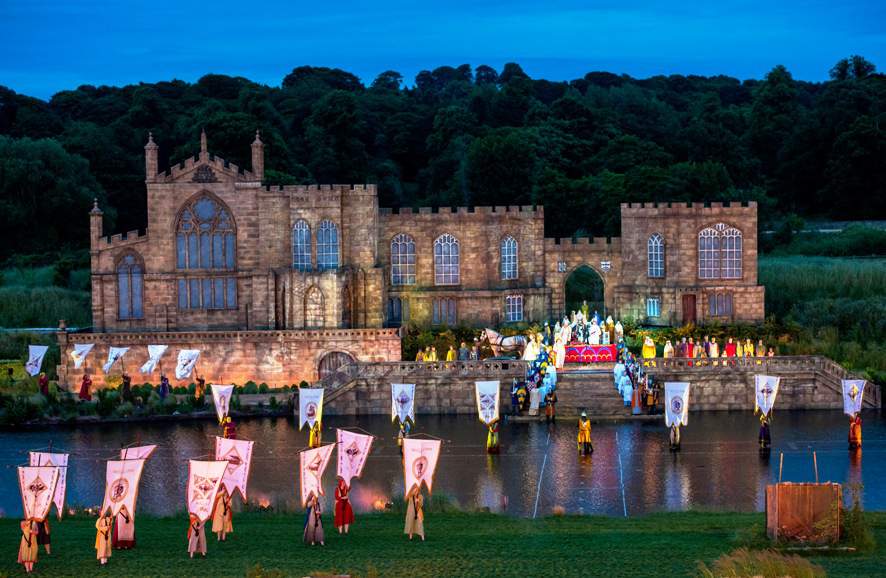 The community is at the heart of the project
"The community is at the heart of the project, it is only existing because the community is involved," stresses Daulon.
What is clear is that the inclusive nature of the project has had a striking effect on not just those directly involved, but in the community as a whole.
"This is what we have seen at the town and catchment area level: we have created a positive attitude and people are now believing and having faith in something developing. That is tangible.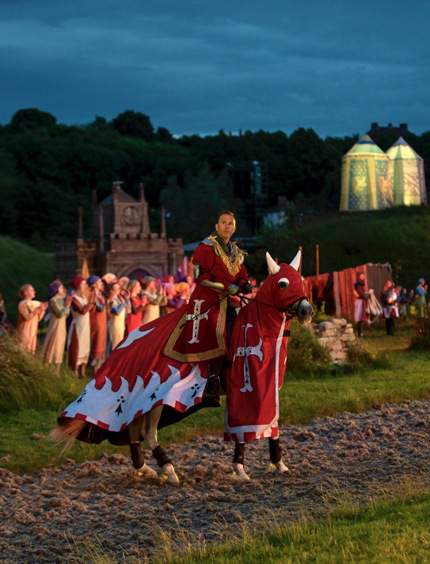 "People are smiling to each other, talking more to each other and are very proud of what they do. We hear this from our volunteers when they have done an assessment of their experience and how they feel the town has changed.
"Last week, I was at a town meeting in Bishop Auckland and I was amazed at the number of additional projects that are popping up from people who have been involved at local level for years. They were saying the volunteer ethos is really something that is now part of Bishop Auckland – before they would never have found people to help out with certain projects.
"For example, one school and community needed three bus drivers and they found them, volunteered for free because they wanted to help. Another gentleman in the group said, 'you know that this is on the back of Kynren'. Now, people don't think twice they want to be involved at community level'.
Changing people's lives
"And, at an individual level, people will tell you how it has changed their life. The sense of pride and massive achievement but, more importantly, it is the intangible reward they have from having found friends. The links in the various teams are incredible. To see that blossom in the context of Kynren is amazing. To see these people feeling so high on that experience at the end of the night, that actually it is a reward, explaining why they put so much hard work in the project without even counting (the time).
"There is more community spirit than there was before."
"Sometimes, people forget that volunteers are giving the gift of their time. The minute you introduce a tangible reward, it is no longer volunteering. The amount of effort that goes into the project in hours is directly linked with the reward that each individual gets. We have stories where Kynren has changed their lives – from having social lives they didn't have before, from giving them the boost and confidence they haven't had before, and something to do on a Saturday night."
Feelgood factor
According to Daulon, in some cases it is even bringing families closer, with three generations getting involved together. The feelgood stories just keep on coming:
"We had one individual on our first response team who wasn't really clear on his education path. He didn't feel there was much on the table for him, and was waiting for something to happen. He started to volunteer and this year he is still volunteering for us in the first response team. But, now, he also works for our medical supplier, touring the country to fill a position for them and start training to be a first responder- which is an incredible story. His whole professional life has been altered by an opportunity he was given now.
"You see the number of people coming, and the impact on the local economy, but you forget the individual stories and there are thousands."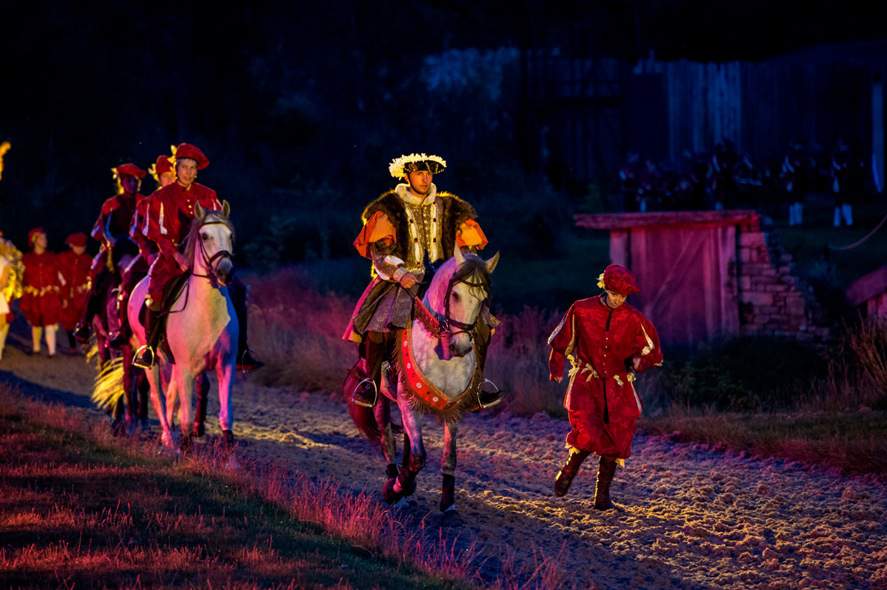 Harnessing the good will of local people
Surely everyone is clamouring to be part of the show?
"It never is that easy," says Daulon. "The issue is not people saying I am interested – hundreds are interested. It is trying to harness the good will of people and have them in teams where we know they will thrive."
"Kynren is a big commitment – there are weeknights, weekends, it becomes part of your life."
"The level of commitment means that people need to understand what you will get out of it and what you will experience during the season, the highlights of months of work. Whilst we get hundreds who are coming through the door wanting to be part of it, there are also many who can't see it being part of their life.
"It always takes time for the volunteers to settle. It is interesting in big organisations or big gigs like the Olympics, where people volunteer in thousands, the attrition rate is about 35% for each stage. From the moment where someone walks in the door and says I'm interested, to the next stage at the first event, to the moment they finish the overall cycle. In our case it is much lower – 20%. We have a very strong core, but it's about growing in sympathy with the rest."
"This year was difficult to grow as we grew so quickly that we had to be very careful not to create a shock to the system. It is difficult to incorporate 35% new people and have them start from scratch all over again. The challenge will get easier with time. By then, we will have the one-to-one mentoring culture. It can only get easier!"
The Olympic legacy: volunteers as ambassadors
Has the Olympics helped to pave the way with its volunteer model for events and attractions. Does Daulon predict that others will take it up?
"I think what the Olympics did was show the power of volunteers to be incredible ambassadors. It is more apparent in the production world, but it's always been there. I wouldn't say at volunteer level its has set a precedent, but it helped us as an artistic format. It is difficult to explain what Kynren is even now, but it is difficult to explain what Puy Du Fou was as well – we needed people to buy into it and there just wasn't anything to compare it to. We said it was on the sort of scale and artistic format of the Olympics."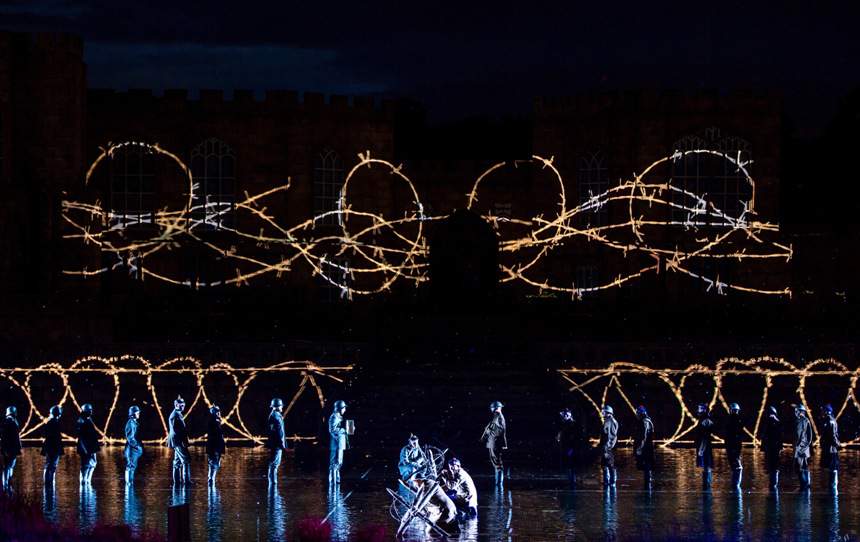 To help people grasp the vision, Daulon used the example of the 2012 opening ceremony where rural England made way for the industrial revolution.
"Obviously there was no one in the industrial revolution making Olympic rings, but it was that poetry behind it," she says. "So, this was helpful to compare it with what we were trying to do. The 2012 effect, at the same time as the Jubilee, was a very high time of national pride which had emerged after the Blair years.
"I think that 20 years before we would have no chance to ride on this wave of national pride. The Kynren participants were primed to celebrate the history of the nation, so this was incredibly helpful."
Keeping it local
The cost of creating the original show runs into tens of millions. This year's operational budget was set at £4 million, which Daulon says is being funded out of the previous year's profits and charitable donations.
Much of that money is ploughed back into the local economy since many of the show's suppliers are local companies.
"The money that was spent for this year, was spent with our local provider in security, horseshoe makers; the feed for the animals was purchased a couple of miles away. The landscape company that was making improvements this year on the site is the same that created the landscaping in the first place. Everything is local.
"Yes, we may have our composer who is based in Switzerland and Hollywood, or the person who did the soundtrack mixing is UK-based. It is just like any other UK production. But, we are here to stay in the locality."
"We have a dense network of local people working with us."
"We tend to make sure we have a small radius of suppliers to allow a relationship to build over many years and have that reactivity that you need. One of our very sophisticated hydraulics systems recently experienced a technical problem and the person who looks after this system lives 5 miles away.
"So, we have been very lucky to have time to really map and find people working locally on the project to have a local anchor that we need. I cannot wait for someone to send me an engineer in three weeks time from wherever in the world."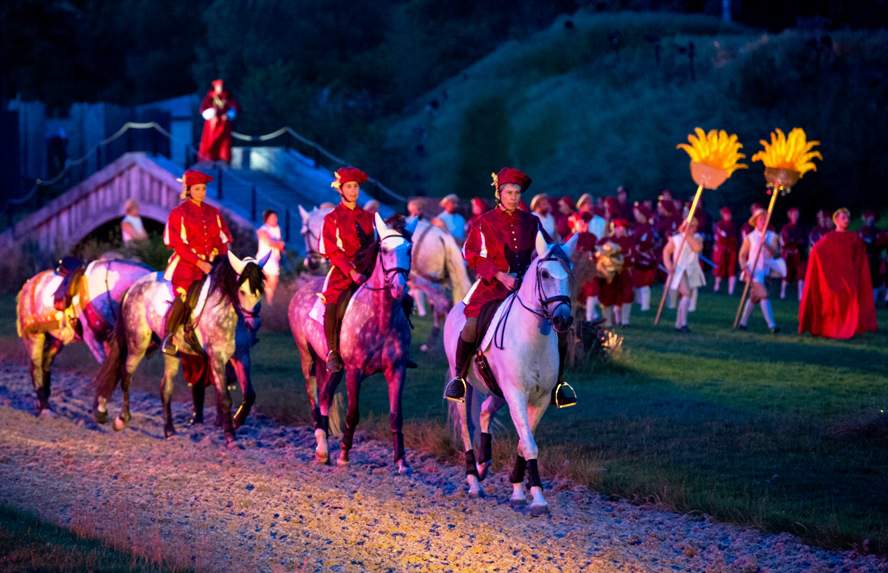 The road ahead
Going forward, would you ever plan on taking Kynren on the road, or to another part of the world?
Daulon's response is unequivocal:
"No, simply because of the infrastructure. Our set is not a stage, we don't arrive with a couple of frames and projectors to set up – there is so much. There is so much to transport which is why it cost £35 million in the first place. You don't transport Kynren. I'm sure someone can do another version somewhere else, but Kynren is at the foot of Auckland Castle and that is it.
"Kynren was created here and is here to stay."
Anne-Isabelle Daulon will be speaking at blooloopLIVE UK 2017 on October 6th. Find out more here.