The group has become synonymous with the concept of retailtainment – combining retail with high class attractions for over 30 years.
Triple Five is well-known for their two North American malls – the West Edmonton Mall® in Alberta and Mall of America® in Minnesota. These malls are so large, with such a variety of entertainment on offer, that visitors spend an average of 2.5 days on a stay. At 40 million visitors a year, Mall of American is the most popular attraction in the US.
The group also owns American Dream™, under construction on the outskirts of New York City in New Jersey, and plans to challenge Orlando by developing another American Dream™ in Miami.
Blooloop spoke to Don Ghermezian (left), President of Triple Five, about how this family-led group is not only surviving, but thriving, in a tough retail climate. He also shared his predictions for the future of retail, and answered the question everyone has been asking – when will American Dream open?
Combining Retail with Entertainment for Decades
The tough economic climate is making many retailers rethink their strategies. Internet shopping is pulling customers away from the traditional high street and standard malls. Has this affected Triple Five's strategy? Ghermezian says not. "Our strategy was put into place 35-40 years ago," he says. "It was always about combining the right entertainment and attraction concepts with the right retail."
Our strategy was put into place 35-40 years ago
He points out that West Edmonton Mall was built 35 years ago, and was the first mall in the world to have an indoor theme park, an indoor water park, an aquarium, miniature golf course and an ice rink. "All that was put into West Edmonton Mall well before the current demise of shopping malls and retailers that we're seeing. What's happened in the last few years is that Asia and Europe have caught on that traditional stand-alone retail isn't really the best way to go. So, in China, Saudi Arabia and the Middle East, and elsewhere you're seeing these great developers incorporating these types of attractions into their centres."
A "More Powerful" Definition of Attractions and Leisure
Ghermezian proudly states that no developers have incorporated attractions into their centres to the extent that Triple Five have in the West Edmonton Mall, Mall of America and their new flagship project American Dream.
Our definition of attractions and leisure is far more powerful
"Most, if not all, developers just add more restaurants or bowling concepts when they talk about adding leisure components," he says. "Our definition of attractions and leisure is far more powerful. Restaurants and bowling and arcades are the least of it. In fact they aren't even items I would consider to be attraction-based. Instead, we think in terms of creating the largest indoor theme park in North America, and the largest indoor waterpark in North America.
"We're always travelling as a family. We look out for the newest, coolest, hottest concepts. We ask ourselves, 'Can we do that? How could we bring that into our centres?'"
An Opening Date for American Dream?
American Dream is Triple Five's much-anticipated flagship development in New Jersey. The giant mall, billed as 'The World's Best Market' is located less than five miles from the Lincoln Tunnel, a 20 minute train ride from NYC's Penn Station, and a short distance from three New York Metropolitan International airports.
Over 50 percent of the project is entertainment and experiential leisure
Over 450 retailers and restaurants will combine in a blend of global retail. However the retail side is not only matched but surpassed by the attractions. The Nickelodeon Universe Theme Park will include over 300,000 square feet of family entertainment. The world's largest indoor DreamWorks Waterpark will extend to over 225,000 square feet. Other attractions include Big Snow America™ Indoor Ski Slope, the first indoor ski and snowboard park in the Western hemisphere, incorporating 180,000 square feet. In addition, there will be a Cirque du Soleil performing arts theatre, an NHL sized ice rink, a SEALIFE and LEGOLAND Discovery Center, cinemas and miniature golf.
However the project has been troubled with delays. The question everyone is asking is, 'When will American Dream open?'
Ghermezian has the answer. "November 2018," he says. "We are over 75 percent fully leased now, which is an incredible number, considering the challenging retail environment.
"American Dream in New Jersey will be our flagship model," Ghermezian says. "Over 50 percent of the project is entertainment and experiential leisure. We are not as heavily dependent on retail as all the other retail environments or shopping centres in the country."
The Vital Importance of IP
Having a firm attractions base is clearly vital, but how important is it for attractions to have a recognised IP attached to them?
for American Dream it wasn't enough for us to have a theme park and a water park that weren't branded
"I think it's hugely important," says Ghermezian. "When we first opened West Edmonton Mall we didn't have an IP associated with it and the centre has performed very, very well. However, in this day and age and especially in the New York/New Jersey market expectations are constantly being raised. Instant gratification is a key concept. So for American Dream it wasn't enough for us to have a theme park and a water park that weren't branded, that didn't have an IP. So we secured what I consider to be two of the best IPs in the world."
The first brand to come on board was DreamWorks. "Everyone loves the DreamWorks brand," says Ghermezian. "Having an entire water park branded around Shrek, Donkey and Kung Fu Panda resonates with our customer base. The brand also resonates with the tourists we plan on attracting into American Dream."
He anticipates 40 million visitors a year for American Dream, with over 20 million of those being tourists. Meanwhile Mall of America attracts almost 40 million visitors a year of which 16 million are tourists. West Edmonton tops has more than 30 million visitors a year of which 15 million are tourists.
"When you're on the world stage, you want to make sure you're presenting top class properties," he says. "For us, it was securing DreamWorks and Nickelodeon, which is our partner in our Nickelodeon Universe Theme Park in Mall of America." Nickelodeon are also on board for American Dream. "We've had a great experience and a great relationship with the Nickelodeon team so, when there was an opportunity to do another one, it was a natural fit for us."
Partnering with Leading Brands
Triple Five have extended their partnerships to include a carefully chosen selection of other world leading brands. "We have multiple IPs," says Ghermezian. "We have a performing arts theatre inside the project, and we partner there with Cirque du Soleil.
"There is also a LEGO Discovery Centre in the project and a SEA LIFE aquarium – both of those are by Merlin, a great UK brand."
Triple Five have also partnered with KidZania, innovative family entertainment centres that operate in two dozen worldwide locations.
"We signed the first KidZania in North America to the project. For us, it's not just about bringing in the attraction itself. It's about bringing in brands that we know will resonate well with, not only the New York or North American customer, but with international visitors as well."
Adding Sport Fuels Adrenalin in the Mall Mix
We've seen extreme sports coming into malls for some time. From indoor ski slopes to surf parks the mix of aspirational lifestyle activity, spectacle and product placement is attractive.
Ghermezian says it's all about adding interesting entertainment to the mix. "We signed a deal with SMAAASH for Mall of America. SMAAASH is a really cool concept. It's an indoor electronic go-kart racing track. Then they have several games which are all athletic based and proprietary to the SMAAASH brand."
"They've created these experiential games all based on different sports," says Ghermezian. "So you try to score on a goalie in soccer or hockey or a football-based game."
It doesn't stop there. "We're working on multiple deals that include climbing walls, trampoline parks, rope courses. Whenever we think it's the right opportunity with the right blend of entertainment/leisure/athletic, we're going after those brands."
Using Technology to Enhance the Customer Experience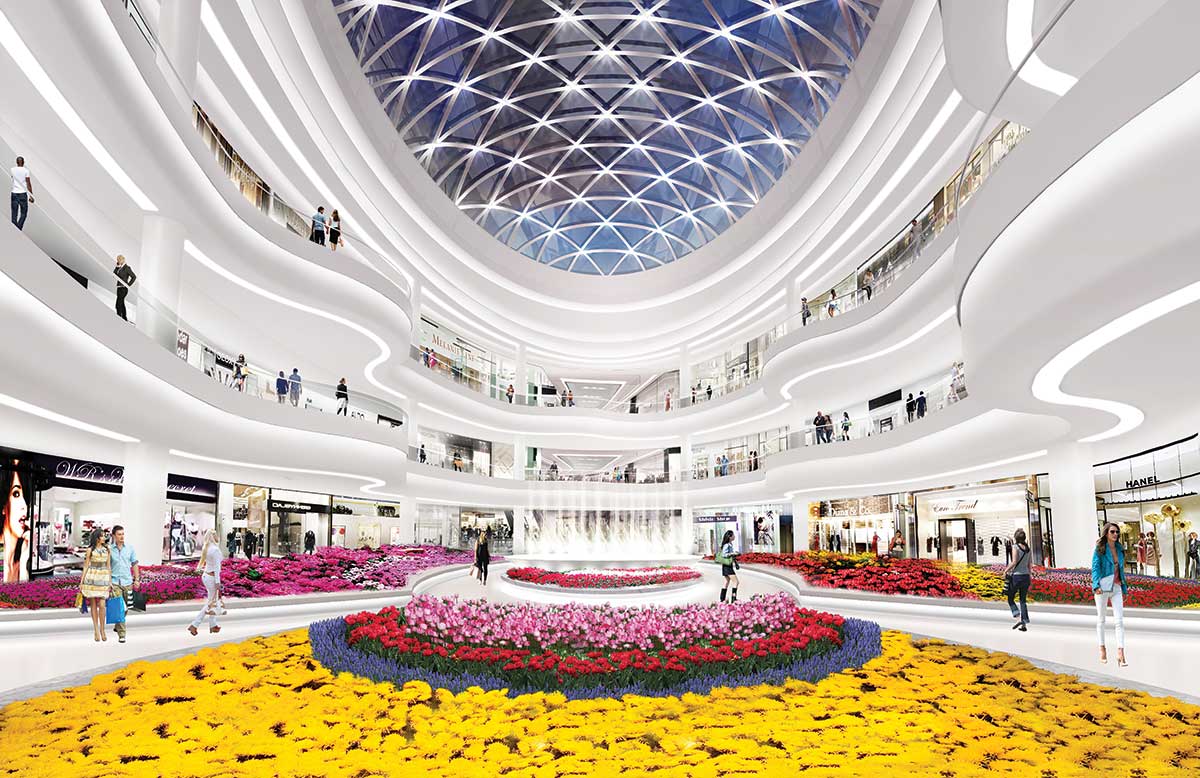 Triple Five are looking at multiple ways to enhance the customer experience with the latest technology.
"We also have a concierge service. You don't have to carry your bags with you. When you want to check out you use our American Dream app and hire a concierge. The concierge will go through the malls and stores, collecting your bags and delivering them to any one of three valets we have inside the centre. We offer home delivery within 20 miles of the property."
Ghermezian points out that there are a host of ways to engage the customer from a technology standpoint, from buying tickets before arrival to interesting cutting edge developments yet to be announced.
VR Key for American Dream
Ghermezian says that VR will certainly be a key part of American Dream. However he doesn't want to jump the gun.
the key is to make sure you have the best in the class
"VR concepts are popping up everywhere now," he says. "But the key is to make sure you have the best in the class. That's something we're really pushing on. This technology moves and changes so fast that, even 12 months from now, the world will be a very, very different place."
Triple Five are in negotiations and talking to several top VR groups. However Ghermezian says that final decisions will be left until American Dream is closer to opening. "VR is a very big component as we go forward inside our projects. We want to make sure that whoever we're partnering with, and whatever we're doing, is relevant by the time we open."
American Dream Miami to Challenge Orlando
The next project for Triple Five in North America will be to build American Dream Miami in Florida. The six million square foot development will allocate 1.5 million square feet for entertainment attractions, including an amusement park, an indoor ski slope, submarine rides and an enclosed water park.
"It's a few years down the line but we're going through the approval processes right now," says Ghermezian.
Triple Five anticipates 30 million visitors a year and sees American Dream Miami as an opportunity to attract visitors away from Orlando to Miami-Dade.
people have really woken up now – they realise that Triple Five has got it right
"We are the expert in this country in this exact field," says Ghermezian. The demise of retail has only served to bolster our own properties further because people have really woken up now – they realise that Triple Five has got it right. In fact, we had it right 40 years before anyone else had even thought of it."
Asia Rising – Navigating the Chinese Market
Will the coming years see Triple Five branching out overseas? Are we going to see Chinese Dream or Saudi Arabian Dream any time in the near future? "We have partners overseas, and we are working on multiple projects overseas right now with them," says Ghermezian. "For the most part they oversee the operations with help from us on the leasing and attractions side."
We have our hands pretty full with what's going on in North America
He says that Triple Five is mainly looking at the Asian market. "We don't get into markets that we don't understand," he says. "And we won't get into foreign markets without a partner that is able to help us navigate there. We have our hands pretty full with what's going on in North America. So we have made the decision that if we can enter into the right partnership and the right group, then we'd contemplate expansion. Right now it's only China we're looking at."
Average Visitor Stay More Than Two Days
Many theme parks are now looking to transform themselves into resorts, with a hotel and an extra gate, such as a waterpark, to extend visitor stays. How do hotels factor in Triple Five's recipe for success?
the average stay at Mall of America is over two and a half days, an incredible figure
"We have multiple hotels at all of our centres," says Ghermezian. "They all run at over 90 percent occupancy." He says that the average stay at Mall of America is over two and a half days, an incredible figure. "You can't physically see or do everything in one day," he says. "Even from non-tourists, from locals, the stays in our projects are double that of a traditional shopping mall."
He points out that in both the existing malls, in Edmonton and Minneapolis, thousands of hotel rooms have opened up with a two mile radius of the centres. "We've been a great feeder for those hotels, and they have been great for us too."
However Triple Five has also concentrated on its own hotels. "In the last five years, we opened up two new hotels of our own at Mall of America. Plus we already have JW Marriot and Radisson Blu there. In addition, we're just finalising a deal with a 5-star luxury hotel at Mall of America. Ultimately we want to have several hotels at all our centres. When we have the opportunity to add a hotel, we jump on it. The idea is 'get 'em here; keep 'em here!'"
Building Business – the Value of MAPIC
Trade shows are also a vital part of Triple Five's outreach. Ghermezian says that MAPIC, above all, is highly important. MAPIC, held in November in France, showcases the best of the international property market with over 2,100 retailers, 2,500 developers, 1,000 investors and other major industry players.
"Trade shows offer the opportunity to share ideas, to pick up new ideas," says Ghermezian. "You always want to know what is being built around the world and MAPIC has always been a good show for us."
Triple Five started participating in MAPIC when developing American Dream. "We've been able to attract a number of fantastic international retailers," continues Ghermezian. "The MAPIC conference in particular has become more and more of a valuable tool to us over the last two or three years. There are a lot of great retailers out there doing business and looking to expand to the United States.
The MAPIC conference in particular has become more and more of a valuable tool
"We want to make sure that we are at the front of all their minds when they're thinking of making that move over. We want them to view American Dream and Mall of America and West Edmonton Mall as potential locations when opening their first or second stores in the country. A great example of how we have been successful in that practice is Primark. Primark is a phenomenal UK-based retailer very much ahead of their time in their offering and their stores. We were one of the first deals Primark signed in North America. We met them at MAPIC for the first time."
Forecasting the Future of Retail
It's certainly a tough market out there for retail at the moment. How does Ghermezian see the future of retail mapping out? "Retail is always going to be important. It will absolutely 100 percent survive. However there is going to be a contraction. The retailers of the world just don't need thousands of stores in North America. There will always be a market for those products – just a little bit smaller in terms of their store count.
the United States is 'over-malled'. There are still several hundred malls that need to shut
"I think, quite frankly, that the United States is 'over-malled'. There are still several hundred malls that need to shut and that will shut in North America over the coming years. However there will always be the strong, true, AAA centres that have embraced the ideas that we put out there. They will always be successful. I think the demise of the B and C class centres is long overdue. Ultimately that will leave a smaller and stronger group. We plan to have four of our centres at the top of that group."
Working Together and Playing Together – the Role of Family in Triple Five
Triple Five is still very much a family business. The patriarch of the family, Jacob Ghermezian (Don Ghermezian's grandfather), moved from Iran to Canada with his wife and their four sons in 1964. The business soon expanded from rugs into real estate and construction. Triple Five, a private corporation, was founded in 1972. The conglomerate now encompasses not only retail, real estate and construction, but also has banking, energy, engineering, technology, nuclear engineering and biotechnology divisions.
"The Ghermezian business is very much a close family concern," says Don Ghermezian. "In our family there is no difference between cousins and brothers. It's that unique relationship that has allowed us to remain together. It's an important thing for the family but it also helps us flourish as a business.
"When we sit down to make a decision, my brother, my uncle, my cousin, are all there. We sit in a room and we brainstorm everything – big decisions, small decisions. When you put those minds together collectively, without egos, it's a huge plus. Everything we do looks to benefit the family as a whole. That closeness has not only kept us together in the business world but also in the private charity area."
We travel together as a family. We vacation together. So we work together and we play together.
"We travel together as a family," he says. "We vacation together. So we work together and we play together. You don't see a lot of families out there today that have that blend without infighting. Thankfully my family has avoided that kind of thing."
Family Values – Bringing Philanthropy into the Equation
"All families have arguments and fights. However, learning to curtail those and work harmoniously as one group teaches humility," says Ghermezian. "With humility comes charity. We realise that the money one has isn't necessarily because of your own intelligence. There is a whole group of people who are working towards it. Nobody takes the credit individually for one achievement – it's spread between all the family."
The family has been extremely philanthropic from Day One. We plan to continue that way as we expand the business.
Triple Five regularly donate to more than 200 charities, services, schools, associations and medical care and research organisations, both in North America and worldwide. Their philanthropic giving extends to millions of dollars annually.
Does this philanthropy come from being a family business? Is it a case of wanting to extend the sense of family out into the community? "Yes, 100 percent," says Ghermezian. "Our sense of family has naturally led us to an appreciation of God, of what He has done for our family. We've always wanted to give back to the communities that have helped us. The family has been extremely philanthropic from Day One. We plan to continue that way as we expand the business."
Images: Courtesy of Triple Five except Oasis Surf/American Wave Machines and Zero Latency VR