Flight School Studio, the storytelling studio specialising in emerging technologies, has worked with Poo-Pourri to create a new Giant Poo experience, currently touring the US.
Flight School Studio is pleased to have collaborated with Poo-Pourri, the original before-you-go toilet spray, on a unique immersive experience, designed to help people let go of toxic thoughts. The custom-built inflatable will be visiting 22 cities across the US to encourage attendees to free themselves of unhelpful thoughts.
The tour began in October at the Santa Monica Pier and will take the 30-foot-tall Giant Poo to over 22 cities across the country, including Portland, New York City, Boston, Austin, Chicago and Miami. The free experience will also visit Poo-Pourri's hometown of Dallas and is set to run until May 2020.
Let it go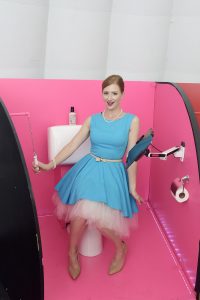 Poo-Pourri is the expert in taking the shame and stink out of letting go, and now the company wants to show people how to let go of a different kind of crap – toxic thoughts.
It's easy to let unhelpful, self-sabotaging thoughts take over and hold you back. Poo-Pourri believes that by letting this type of though go, people can gain peace and confidence.
"We take worry about bathroom odour off of the table. With our product you can confidently let it go," says Poo-Pourri Founder & CEO, Suzy Batiz. "Now, imagine if we could all let go of the other crap we hold in. The s*** that is toxic to our beings and takes up space and energy that could be used for better things. That is what Poo-Pourri is interested in."
The Giant Poo
The Giant Poo is a custom-made, double-walled structure created by Pneuhaus. It can stand up to natural elements and even includes heat and AC. Poo-Pourri worked with Flight School, as well as Omnispace 360, projection and immersive experience specialists, to create a fully customized animated immersive experience.
"It's wild to watch so many masters of their crafts come together, collaborate and each do things they've never done before. It's the best feeling to turn that-can't-be-done into we-just-freaking-did-that," says Poo-Pourri SVP of Creative, Nicole Story.
"Flight School loves to create multi-sensory user experiences," says Brandon Oldenburg, Chief Creative Officer at Flight School Studio. "Together, our teams created a fully immersive experience that allows people to sit down on a toilet (actually, a recliner) and write their toxic thoughts on a tablet. Then, they virtually wad those thoughts up and communally flush them away.
"The experience activates all of the senses with 360º domed projection, 12 synced tablets, refreshing scented wind sensations and haptic seat shakers that simulate a truly rewarding flush."
Poo-Pourri has also created an interactive version of the experience online at GiantPoo.com where users can identify and release toxic thoughts, as well as sharing on social media.
The Giant Poo will be coming soon to:
New York City, NY: December 12 – December 31
Atlanta, GA: January 16 – January 19
Orlando, FL: January 23 – January 26
Miami, FL: January 30 – February 2
Charleston, SC: February 6 – February 9
Charlotte, NC: February 13 – February 16
Nashville, TN: February 20 – February 23
New Orleans, LA: February 27 – March 1
Houston, TX: March 12 – March 15
Austin (SXSW): March 19 – March 21
Washington D.C.: April 2 – 5
Philadelphia, PA: April 9 – April 12
Boston, MA: April 16 – April 20
Chicago, IL: April 23 – April 26
Minneapolis, MN: April 30 – May 3
Dallas, TX: May 7 – May 10
Flight School is a studio of artists and technicians, exploring the unknown in films, games, VR, AR and more. Collectively, the studio's creative team boasts top creative accolades, such as Academy, Emmy, Annie, Cannes Lion and Lumiere Awards. In addition to developing self-released titles, the team collaborates on innovative entertainment with agency and brand partners.