Melbourne's central business district will be home to a new attraction later this year, following in the footsteps of the successful Monopoly theme park in Hong Kong while doubling its footprint. Guests will be able to enjoy a range of locations and activities as they immerse themselves in the world of the iconic board game, including the Electric Company, Water Works, the Bank, and even Jail.
Entrepreneurs Derek Lo and Stephen Lo are behind the new project, which is set to cost more than A$20 million and cover an area of 1650 square metres.
Speaking to Broadsheet, Derek Lo said: "It's our passion and mission to bring the good stuff from overseas to Australia," adding: "'We want to give out really big prizes … it could be an airline voucher."
Monopoly money up for grabs
Inside, there will be two sections, Monopoly City and Monopoly Mansion, and a total of 15 attractions, as well as a cafe and a retail store.
As they pass Go, guests find themselves in Monopoly City, passing through a neon tunnel to discover a space modelled on Melbourne. This features local touches such as trams and graffiti. Here, they can play the Water Works projection game, take a spin of the Chance wheel, grab flying money in the Bank, generate electricity by hopping on a bike at the Electric Company and take a seat on the Monopoly railway inside the 4D theatre.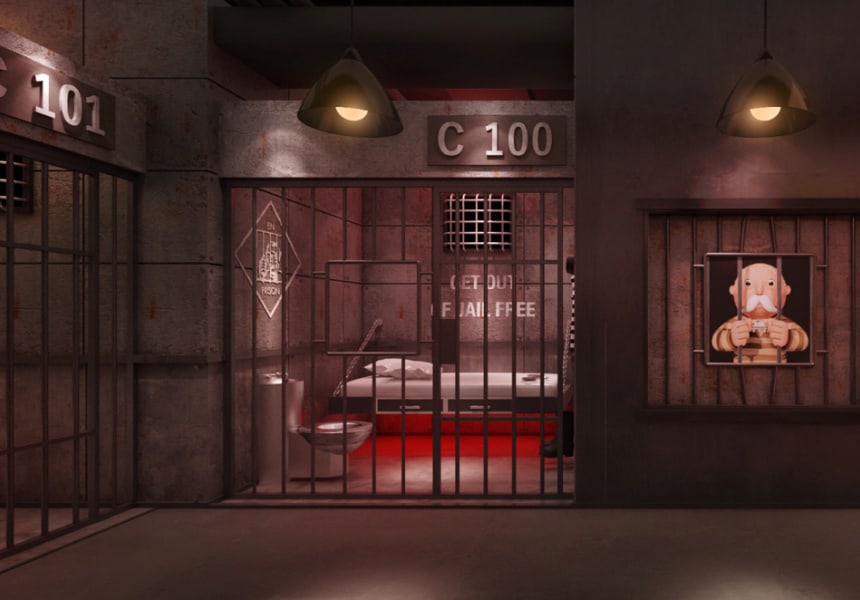 Like the board game, there is also the risk of ending up in Jail, where visitors need to roll a double with the giant dice in order to get free. Stephen Lo says: "Putting their kids in jail is probably parents' favourite part of the theme park."
Meanwhile, the Monopoly Mansion, home to Mr Monopoly himself, features a luxurious lobby and a lift ride up to a magic mirror area and a giant gold helicopter.
The theme park hopes to welcome 600,000 people per year and will be an ideal destination for families, as well as events like birthday parties and school trips. Tickets will cost A$30 – 40 dollars.
10 more attractions planned
Stephen and Derek Lo plan to open more attractions in the future. Derek Lo says: "This is not our last theme park. Our business is to set up at least 10 different attractions all around Australia."
Last year, Hasbro opened a new Monopoly Lifesized experience in London, in partnership with Gamepath. This combines the classic board game with escape rooms and team challenges. Previously Hasbro's Matt Proulx spoke to blooloop about the company's LBE strategy.
Images courtesy of Monopoly Dreams