Attractions around the world are busy planning strategies for reopening safely after the threat of coronavirus has passed. As the planet returns to a 'new normal', what is the best long-term strategy?
By Eddie Sotto
In the "World of Tomorrow", who could have predicted that the real reason we'd be wearing glass helmets was for social distancing? It's looking like tomorrow has arrived sooner than we thought, shuttering theme parks and events globally, and sadly, claiming many lives.
So as the world lumbers toward reopening, airlines, hotels, parks and attractions are scrambling to figure how how to best survive fiscally at a greatly reduced capacity. And how to provide a measure of reasonable safety. Lots of technology solutions are appearing to meet that challenge.
Safety solutions for reopening after coronavirus
Years from now we may look back and see these practices or technologies as workarounds or band-aid solutions. Electrostatic spraying, Far UV, temp readings, Ions, etc. may help us round the corner, but bigger questions arise as to how they all play together or affect the experiences we once craved.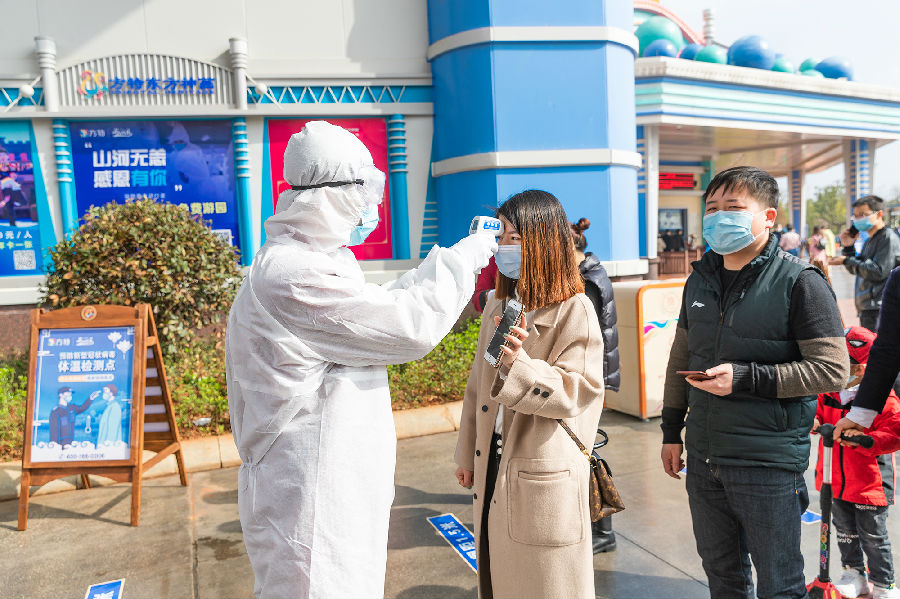 Beyond a miracle vaccine, the issues still seem complex and far-reaching as to ever going back to those large shared experiences as we knew them.
In the end, given things may never be quite the same, what will happen to the mass experience we enjoy in a theme park or in a stadium? How can they best evolve into capacities still worth the huge money operators need to make them pencil?
Will new, ever-evolving regulations threaten the ability to protect what we love about cheering with 30k fans at a ballpark? It's not an easy solve and we need plastic surgeons, as band-aid solutions are at best temporary. So, how do we heal these experiential wounds in a way that those scars of real-world caution don't show?
Adapting to a new normal
When reopening after coronavirus, we can look at reactions to previous crises, and assess the impact of these. For example, after 9/11, the response was to create security in airports. To this day we experience refinements of those tech and operationally driven band-aid solutions, making air travel miserable. We accepted this hardware store in the lobby of each terminal as the new normal, but does security have to be done that way?
The terminal experience did not evolve from a vision of what makes travel great, but rather is a series of temporary solutions that became permanent. We were hired recently to look at the curb to gate guest experience for an airport client. Just by seeing things from the traveller's point of view, we made some breakthroughs.
There is such opportunity in looking at experiences holistically, from a guest-centric position, versus just addressing mandates in isolation. We need both, just don't mistake band-aids for the cure. Case in point, when we develop solutions reactively with no creativity or guest-driven vision, we get a frustrating and disjointed guest experience. Welcome to LAX.
Can there be a frictionless experience when reopening after coronavirus?
As an ex-Disney Imagineering leader, I learned two lessons. One is to become your guest and be obsessed with what would wow them. Then, collaborate with great minds from other disciplines to make those wows come to fruition. Imagination leads engineering, not the other way around, as is happening today.
Looking down the road when places are reopening after COVID-19, the next real question will be "Who has a truly frictionless guest experience?"
The value of guest-centric thinking is crucial
If you are the Four Seasons, Las Vegas, Disney or any luxury brand, that will be the next big issue once the public can afford a choice of recreation. Is there still value to the guest and the provider given these new requirements?
The value of guest-centric thinking is crucial, although the conventional wisdom is to say there is nothing creative about security or a medical exam, but can it be less visible?
However, part of a guest feeling good is psychological. Remember how many avoided the ocean after seeing Jaws? Reassurance is a big part of that equation and the desire to return and a core underpinning of what makes Disneyland a repeat experience.
Retaining the wow factor
There will certainly be vetting processes, sanitation, distancing, etc. when attractions are reopening after coronavirus. But these need to be as frictionless and anxiety-free as possible. Going to a game, concert or theme park is voluntary and too much process devalues the experience you're queuing for. At some point, people say "it's just not worth it."
These same products compete with ever more immersive at-home options. For example, video games, home sports and concert broadcasts on 4K Monitors, binge TV, etc. These are hassle-free alternatives to going out for experiences.
It's true that as long as there are dysfunctional families, we will want to go out. However, it is then a question of who provides the best experience? We see the need to be extraordinarily creative. I drive to Vegas to avoid the Airport and it's only an hour flight. I enjoy the seamless drive.
We use our creativity and knowledge of guest behaviour to solve a client's flawed experience. We do this by starting with the wow and then applying tech and built solutions to achieve it. So much of our industry is based on repeatability. Therefore, retaining that wow factor and reassuring each guest becomes crucial to the ROI.
So that is what we're up to now. Reimagining everything from airport terminals to the mall and now hospitality and more. We see reopening after coronavirus as an urgent reason to bring the right talent together to help operators apply technology in a longer-term way that will add and retain value, not kill it. The show must go on, after all.