Now, museums, theme parks, FECs and more recognise the vital importance of keeping their visitors well fed.
An attraction's food and drinks offer is vitally important. If operators provide good quality food then people are more likely to spend longer in the attraction, breaking up their visit with a trip to the restaurant or café.
When Walt Disney built Disneyland in 1955, he started a trend for a new type of amusement park. In Disneyland, every ride and area was carefully themed. Even the food was themed to each area. This foodie trend has only grown over the years. After all, if you're meant to be on the alien planet of Pandora, you can't expect to buy earth food like an ordinary hot dog.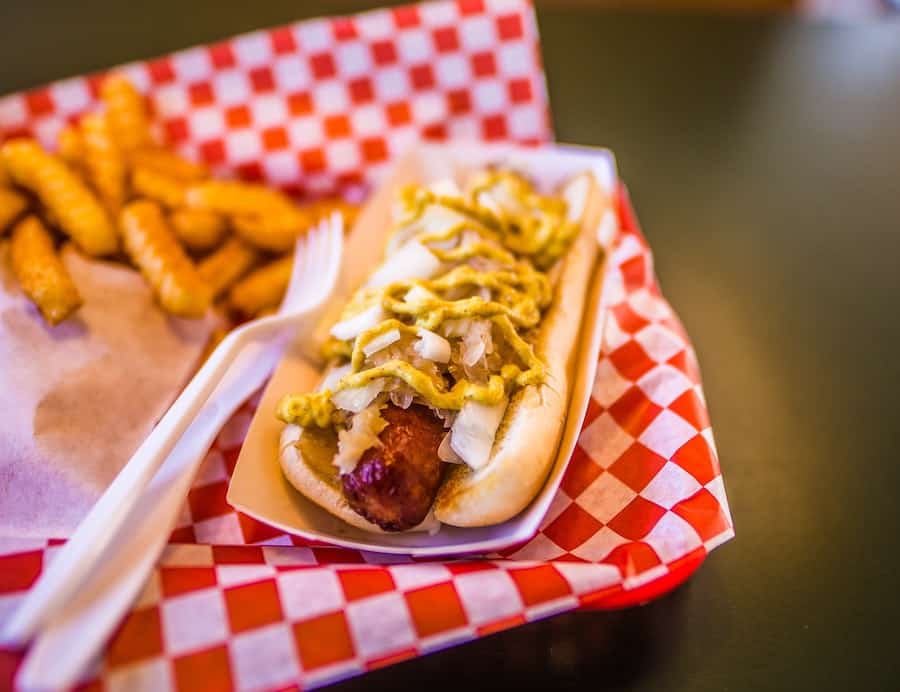 Food festivals at attractions
Theme parks have learnt that one good way to keep guests returning is by introducing a good festival. The queues for food stands at attractions are generally shorter than those for the rides. Plus, it gives visitors something different to do. This is especially important for annual pass holders, who want new experiences to tempt them back each time.
Epcot
Epcot at Walt Disney World is the home of the theme park festival and now has four such events throughout the year. These festivals are the heart of the park, providing fun new activities for guests. Food and drink offerings are extremely important to these festivals, and to the guests who return time and time again to revisit them.
For instance, the violet lemonade at the International Flower and Garden Festival is so popular it returns year after year. And who can imagine the Food and Wine Festival without the cheddar cheese soup from the Canada pavilion?
What's special about Epcot's festivals is that the food is uniquely themed for each one, so every festival feels different. For example, The Festival of the Holidays features different holiday foods from around the world.
Food to share
By creating lots of themed booths around the park, guests are encouraged to buy lots of small portions and share them amongst friends, making it a great social occasion. It also helps to draw in adults without children.
With the renovation of Epcot underway, a new festival pavilion will be a key part of the current renovation of Epcot. This new pavilion suggests that festivals will be more important than ever for the park.
Other food festivals
However, Disney isn't the only theme park or attraction to promote food and drink festivals. For example, Busch Gardens has also introduced a Bier Fest. With live music, traditional German food and lots of drink options, including local beers, the festival has become very popular.
In addition to this, SeaWorld Orlando holds the Seven Seas Food Festival. Introduced several years ago, this features food and drink stands with refreshments from around the world. Guests can even purchase a sampler lanyard that gives them a discount, allowing them to buy 10 or 15 drinks or food items. This is easier to use than constantly getting your wallet out, and so encourages visitors to eat more food.

At Universal Orlando's Halloween Horror Nights, there are several bars and tents for guests to buy drinks. Visitors can also purchase a souvenir cup, which entitles them to cheaper refills throughout the night. With several Horror Night themed drinks available, the souvenir cup allows guests to try several different drinks.
Eatertainment
Eatertainment is the idea that food and the act of eating can also be part of the entertainment experience at an attraction. Many attractions use themed food as a way of creating different worlds.
Disney's Star Wars: Galaxy's Edge land in both Hollywood Studios and Disneyland use intricately designed food to keep the illusion that guests are on another planet alive.
For instance, Oga's Cantina serves well-known drinks with different Star Wars-themed names. So, a Cosmopolitan becomes a Bespin Fizz. At the Docking Bay 7 quick-service restaurant, fried chicken tenders become Fried Endorian Tip-Yip.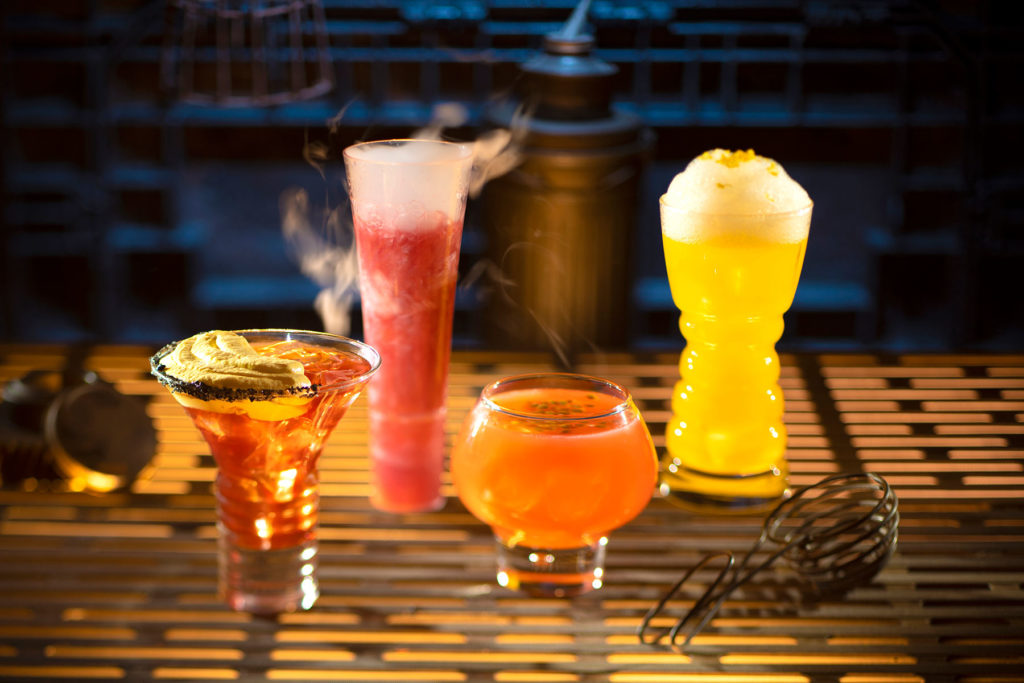 Creating immersive environments
The Be Our Guest Restaurant in the Magic Kingdom at Walt Disney World has painstakingly recreated the West Wing and the ballroom from the Beauty and the Beast film. For a short while, this popular restaurant immerses guests into the enchanted world of the Beast's castle.
Visitors to the Be Our Guest restaurant can forget about the busy theme park outside as they spend an hour feeling like they are inside the Disney animated classic. Not only are the surroundings themed to the film, but the food is also French-themed too. Guests can even 'try the grey stuff' and find out if it actually is delicious.
At the Warner Bros Studio Tour, visitors can pay more to dine in the Great Hall at certain times of the year. This immersive experience allows guests to feel like they are actually inside the Hogwarts castle.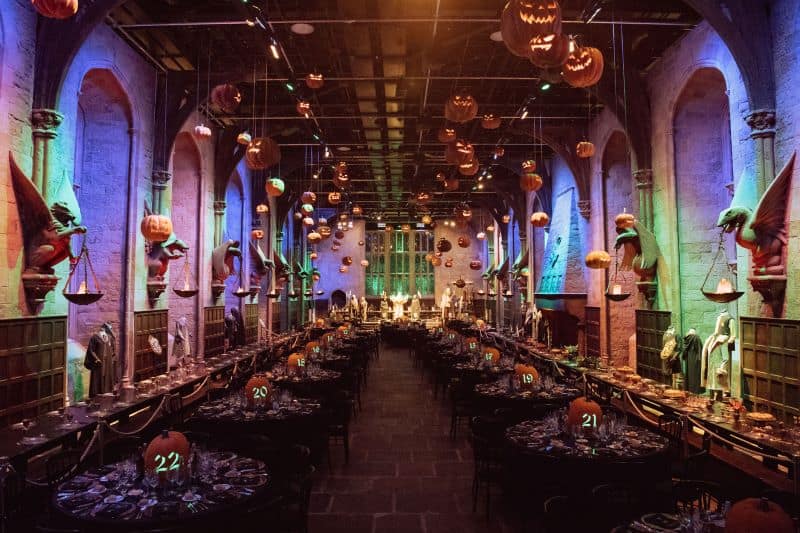 Using IP
Theme parks and attractions that use popular IP, like Disney and Universal, also make the most of food-based entertainment through character dining experiences.
For instance, guests can eat breakfast with the Grinch at Universal Orlando, or dine with princesses at the Cinderella Castle restaurant at the Magic Kingdom in Walt Disney World. Visitors are often happy to pay a premium price for the unique experience that comes with dining with their favourite characters.
Some restaurants in theme parks are designed purely to create entertainment. For example, Alton Towers has the UK's first rollercoaster restaurant. Food makes its way to you on a rollercoaster track, providing children with entertainment while they wait for their food.
Similarly, Europa-Park has the FoodLoop restaurant where food also arrives at each guest on a mini rollercoaster.
Educating through food
At the National Museum of African American History, visitors can extend their education through the food they eat. At the Sweet Home Café, the rich culture and history of African American people are showcased through traditional food options.
View this post on Instagram
There are four stations in the café, each based on a different region. The Agricultural South, the Creole Coast, the North States and the Western Range. Each region has played an important part in the history and food of African Americans.
Not only does this café fit in with the themes of the museum, but it also provides a unique and authentic food experience that encourages people to return time and time again.
Tackling important issues
In 2018, popular attraction designer Meow Wolf hosted a pop-up food experience, The Depressed Cake Shop. This platform was designed to raise awareness of mental health issues. All the cakes available were grey on the outside, with a slight pop of colour to symbolise hope.
Artists at Meow Wolf decorated the cupcakes, with some left blank for visitors to decorate themselves. Combining food with a well-known attraction brand like Meow Wolf helped to bring people together and shine a light on an important, but often overlooked issue.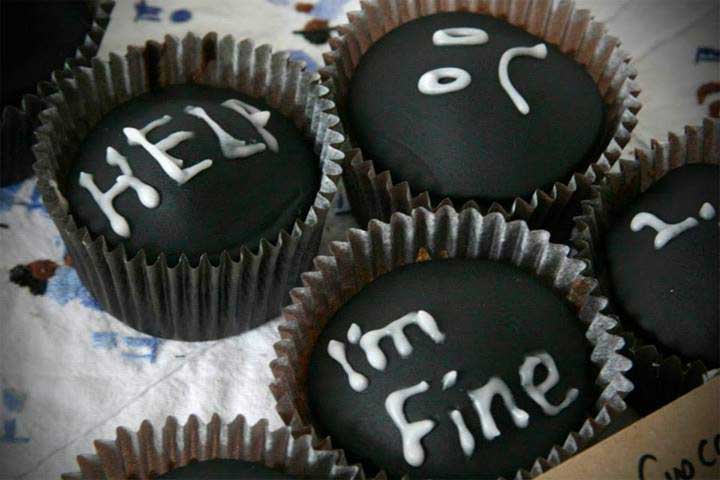 Attractions, food and sustainability
People are also becoming increasingly concerned with the sustainability of food. Visitors are now more aware of an attraction's green agenda and animal welfare, and veganism is part of that.
With veganism on the rise, many attractions are adding vegan food options to their menus to appeal to as many people as possible. For example, Disney has aligned with Impossible to bring Impossible's plant-based burgers to its US theme parks.
Disney is also adding hundreds of vegan options to its menus. Adding these vegan options encourages guests who are vegan to purchase more food within the parks, as they have more options than before.
Going plastic-free
But sustainability is about more than just the food served at an attraction. Guests are also concerned about the use of plastic in restaurants and quick-service facilities. To this end, The Horniman Museum and Gardens has replaced all single-use plastics in its Cafe with plant-based products.
Its disposable coffee cups, sandwich wrappers, straws and cutlery are now all made from plant-based materials that can be composted. The Museum also got rid of bottled water, supplying canned water instead. These aluminium cans can be recycled more easily than plastic bottles.
Another important part of sustainability is ensuring the food that is used is locally sourced. UK adventure attraction BeWILDerwood uses local farmers and suppliers to reduce its food miles. This fits in with the attraction's focus on nature and being environmentally friendly.
At Epcot in Walt Disney World, visitors can see some of the food that they may consume in the park being grown. On the 'Living with the Land' ride, guests can see experimental ways of growing food that use less water and land and are therefore more sustainable. The food that is grown there is used in the Garden Grill Restaurant in the park.
Attractions based on food and drink
Guinness has created an entire attraction around its popular drink. In order to appeal to a younger audience, the company brought the brand story to life. By providing an authentic and engaging experience, the Guinness Storehouse was able to become one of the most popular attractions in Dublin.
A rooftop bar overlooking the city allows visitors to sample Guinness in style. It also provides a good backdrop for photos, inviting guests to document their experience and post it on social media, thus spreading the word about the attraction.
Experience designers Bompas & Parr created an entire museum around food in 2016. The British Museum of Food was created to celebrate the story of food.
Its exhibition, SCOOP, in the summer of 2018, looked at the history of ice cream. This exhibition took visitors back in time to try out old ice cream recipes. It created a unique and fun experience for people of all ages.
Competitive socialising
Attractions like Flight Club and Putt Shack combine fun sports activities with a bar and food offerings. Creating an environment of competitive socialising draws crowds in. And drinks and food encourage them to stay after their game has ended.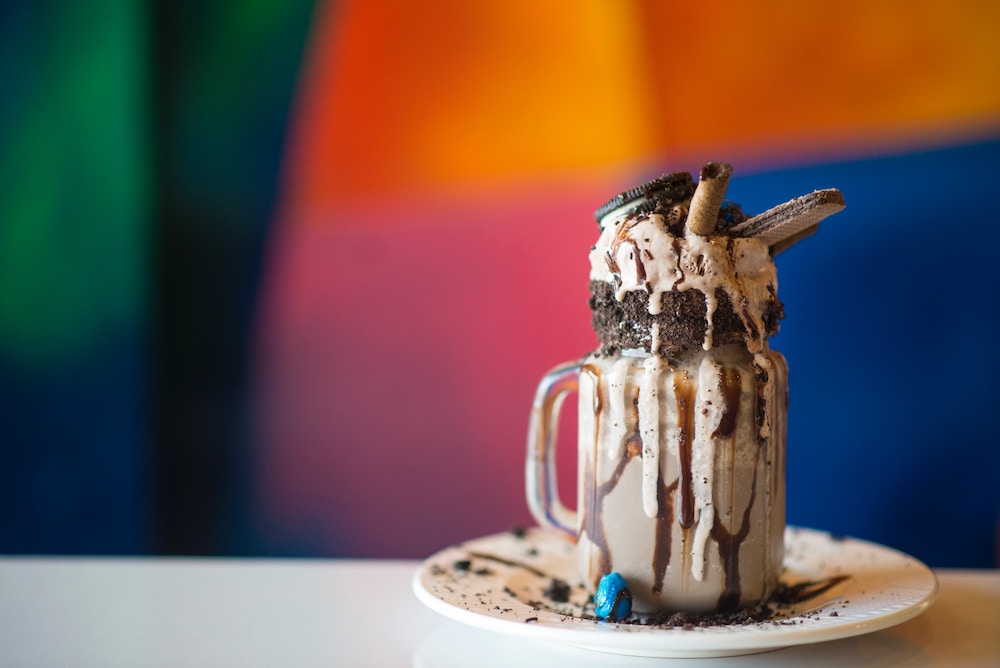 This is a useful model for many FECs. Operators have found that good food and drinks can help retain guests at the location. And the longer they stay, the more money they spend.
The effect of coronavirus on food at attractions
We cannot know what permanent changes the coronavirus pandemic will cause to the attractions industry. But it is likely that restaurants will have to have a smaller capacity for a while. This is to ensure guests can socially distance.
It is possible that some visitors may pay more for a smaller, more intimate dining experience. Or they may go the other way and avoid sit-down restaurants in theme parks, preferring to limit contact with others and have quick-service meals.
Food festivals may suffer in the wake of this pandemic. Before, guests loved socialising over shared dishes from food stands. Now, that might not seem such an attractive concept. Furthermore, the large number of crowds these festivals attract are unlikely to fit into theme park capacity rules. With limited numbers, will these festivals make financial sense?
Whatever the outcome, it will hopefully lead to some interesting dining experiences in attractions. Perhaps guests at the upcoming space restaurant in Epcot will dine in space pods to keep themselves isolated from each other. Or maybe a robot will bring you your food in a science museum?
After months of isolation at home, guests are likely to want a unique food experience that can only happen at their favourite attraction.
Background image – Disney's Star Wars: Galaxy's Edge