Fernbank Museum of Natural History in Atlanta is celebrating two anniversaries. This year is its overall 25th anniversary. However it's also the first anniversary of the museum's building being connected with its wider environment.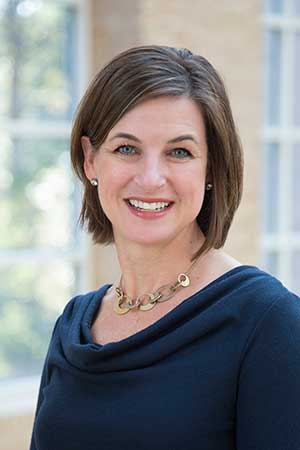 Blooloop talked with Jennifer Grant Warner (right), President and Chief Executive Officer at Fernbank Museum of Natural History about the museum's history and her exciting plans for its future.
Connecting visitors with science and nature
The museum's origins lie in the late 1800s. Nature-loving Emily Harrison grew up in an area east of Atlanta which she called 'Fernbank'. In 1938, she teamed up with others to create a charter for Fernbank. They purchased the 70 acres of woodland in which Fernbank Museum is now situated. In 1939 Fernbank Forest was preserved as a "school in the woods for nature studies."
They purchased the 70 acres of woodland in which Fernbank Museum is now situated. In 1939 Fernbank Forest was preserved as a 'school in the woods for nature studies.' In 1989, ground was broken on the adjacent property, and, in 1992, Fernbank Museum of Natural History officially opened to the public.
Connecting visitors with science and nature has always been Fernbank's focus. Since 1992, it has welcomed more than 10 million visitors. As a result, it has become the foremost museum of natural history in the southeast, and one of the highest attended cultural institutions in Atlanta. It is also renowned for its two vast dinosaurs, the Giganotosaurus and the 123 foot long Argentinosaurus.
Warner's long career at Fernbank
Warner took over as President and CEO when Susan Neugent retired last June. The two women had collaborated over the museum's growth and strategic planning.
Warner had been at Fernbank Museum for 18 years as a key member of the executive leadership team. She began her career at Fernbank in 1999 as Assistant Chief Operating Officer. From 2003 to 2014 she served as Senior Vice President and Chief Programming Officer. She then took on the post of Executive Vice President and Chief Programming Officer.
A committed champion of Fernbank's mission, Warner directed the restoration of Fernbank Forest. She was also responsible for the design and development of the WildWoods exploration and outdoor adventure play area.
A unique history and environmental legacy
"The issues facing our community, and how we can address those issues, are important to me," says Warner. "Fernbank has such a unique history and environmental legacy. Education is key in terms of opportunity for educating children, and for creating a more informed citizenry."
She pays tribute to the visions of Fernbank's founders. "Our founders were quite visionary," she says. "They were influenced by the Teddy Roosevelt movement around preserving national parks and lands. Our real origin is the old-growth forest."
Over the next two weeks, Fernbank will be celebrating both its 25th anniversary, and the first anniversary of having connected the museum building for the first time to that forest. "The outdoor components of the museum were opened to the public for the first time and all connected as one museum experience a year ago.
"It's wonderful and exciting," says Warner. "It lays the foundation for us as we look to the future and what the next 25 years will hold at the museum."
Inspiring lifelong learning is the mission
"Our mission is about inspiring lifelong learning of natural history through dynamic programs and experiences," says Warner. "Natural history is about two of the most contemporary and relevant topics today: environmental diversity and cultural diversity. Through our programmes, we hope that we are inspiring curiosity for learning about these things. We also hope to create a greater understanding that can lead to inspiration and motivation to preserve the natural world, to understand our place in this world, and to make sure that we take care of Mother Earth along the way."
Families are the core constituency
Fernbank also has a number of permanent exhibitions, including NatureQuest, an award-winning children's exhibition that opened in 2011. The interactive and immersive experience was designed by global design and production company, Thinkwell Group. NatureQuest won the 2012 Thea Award for Outstanding Achievement for a Museum Exhibit, and it also won the 2011 Bronze Award for Best Museum Environment from Event Design.
"It is designed for our younger audience," says Warner. "Families are, of course, the core of our constituency. We wanted to make sure that they had a place where they could explore. NatureQuest gives them habitats to explore. They can go underwater. They can climb up to discover the inside of a red oak tree, and see the animals that you would see at that level. In addition, they can walk through a virtual waterfall, and explore the rockwork and animals behind it. It's one of our signature exhibitions."
A permanent exhibition on the cultural side is Reflections of Culture, based on the Dorothy Methvin McClatchey Collection. This consists of over 500 objects of personal ornamentation and decorative arts representing the diverse cultures of the world.
"I like to think of it as Anthropology 101," says Warner. "It looks at how we identify ourselves culturally in terms of group identification. It's a way for us to draw the parallels and commonalities that run through human culture and humanity."
Bringing the mission to life with special exhibitions
Special exhibitions are brought in two or three times a year. "We are currently opening Gladiators: Heroes of the Colosseum," Warner explains. "This looks at some recent archaeology that has taken place at the Colosseum. It explores the lives of the gladiators. We look at how they became gladiators, how some were revered and led to fame; and how death was a part of it."
She points out that the exhibition also looks at parallels with today's sports. "We think about how we regard the sports stadiums of today, which is what the Coliseum was, and the sports celebrities. You can really see those parallels with the Gladiators exhibit."
Next year, Warner will be bringing in three further exhibitions. "They are fantastic. We will be working with our friends at the American Museum of Natural History. The exhibitions will cover the range of our mission." The three exhibitions are titled The Secret World inside You; Food: Our Global Kitchen; and Life at the Limits: Nature's Superheroes.
"They are great way for us to bring the mission to life in exciting ways for our guests, and our members."
Educational Initiatives
Around 60,000 students pass through Fernbank Museum's doors each year as part of field trips. The museum has a number of school-based outreach programmes, and other programmes. "We offer science classes that correlate to the curriculum, and that are guided by state and national standards," says Warner. "We also do an outdoor biodiversity class for under-served middle and high school students in 'Title 1' schools."
The programming is funded privately by the museum to offer these programs to students at Title 1 schools. Title 1 funds aim to bridge the gap between low-income students and other students. It is aimed at students at risk of failure and living at or near poverty.
"Students spend the day on our campus and in our forest with our biologists and ecologists," says Warner. "They learn about biodiversity and their role in improving biodiversity. We work with them and do hands-on activities. So they are working with us on a restoration project in the forest, or looking into the microscope in the field lab."
A further programme, entitled PNC Grow Up Great, is a collaboration between Fernbank Museum of Natural History, Sheltering Arms Early Education and Family Centers, and Young Audiences at The Woodruff Arts Centre. The aim is to enhance early learning in science and the arts for preschool children.
"It involves us going into the classrooms and training teachers," says Warner. "So we work with these instructors on how to incorporate science and enquiry-based learning into their classroom. We then bring those kids here for a field trip where they can stand underneath the world's largest dinosaur. They are fantastic programmes that we are so proud of. They really help us connect more deeply with our community."
Creating a bridge from the museum to nature
The WildWoods project was completed last year. This features ten acres of all-new outdoor exhibits, nature paths, experiences and science-driven learning opportunities that serve as the new entrance to Fernbank Forest. Warner explains that it was conceived, "in terms of that bridge that people need to cross in going from this beautiful museum to a majestic forest.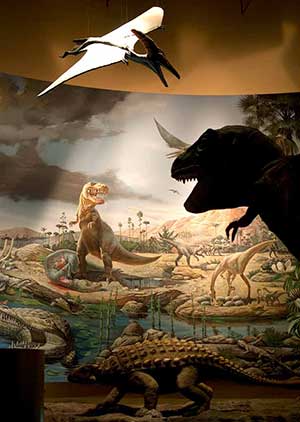 "What is the palate cleansing that needs to happen?" she asks. "But also, how do we take moments along the way that will allow guests to see things differently, to consider their other senses?
"If we think about all the technology we automatically use in the world today, we want to have them disconnect so that they can reconnect to nature. We want them to see it with new lenses, to look all around. They might also hear the leaves rustling a little differently, or hear the birds, and notice those things that maybe they might have missed if they hadn't just been to WildWoods."
WildWoods is, in effect, an exploration and outdoor adventure play area. It has an elevated walkway leading from the museum terrace into the forest. There's an interactive dry and water play area. Various nature trails include unique sensory walls and sculptures.
A project that evolved
The project team was overseen by Warner. COST of Wisconsin built some of the key exhibtion areas. These were Creek Run, Animal Tracks, Nature Gallery Macro Sculptures and Nature Play. COST has been an industry leader in theme and specialty construction services since 1957. The company specialises in theme construction and exhibit fabrication and also in scenic work, water features, sculptural elements and murals. COST have been responsible for work at major attractions and institutions such as Smithsonian's National Zoo, SEAWORLD, Universal Studios, Chicago's Field Museum of Natural History and, as Blooloop reported, El Paso Zoo.
Also involved were Thinkwell, Sylvatica Studio landscape architects, Daniels Wood Land and a number of passion-driven museum staff.
"It evolved as we went along," says Warner. "Our team of content experts, landscape experts and exhibit designers challenged ourselves as we went along. We wanted to make sure that we were being true to our mission. Equally we wanted to think outside the box, doing something that hadn't been done before."
Above all it needed to be fun. "We really are guided by the philosophy that you remember 90 percent of what you do," says Warner. "Underlying everything we do is solid science. So you kind of sneak in all these little points of learning. Children are having fun while they're doing it."
The project consists of interactive and immersive exhibits for younger and older children. There are also trails along the creek and through the meadow and wildlife sanctuary. There's a sensory wall, animal tracks, and an education pavilion. In addition, the water play area includes a simulated rock waterfall that resembles native Georgia landforms, with mosses.
Catering for all types of learners
"In Wildwoods we have beautiful tree pods that you can walk through and stand in," says Warner. "They also give you a wonderful vantage point up in the canopy of trees, where you can see the stream that runs through this part of the property. Both these pods are inspired by things that you find on our campus. One is inspired by the tulip poplar bloom, another is inspired by a fern.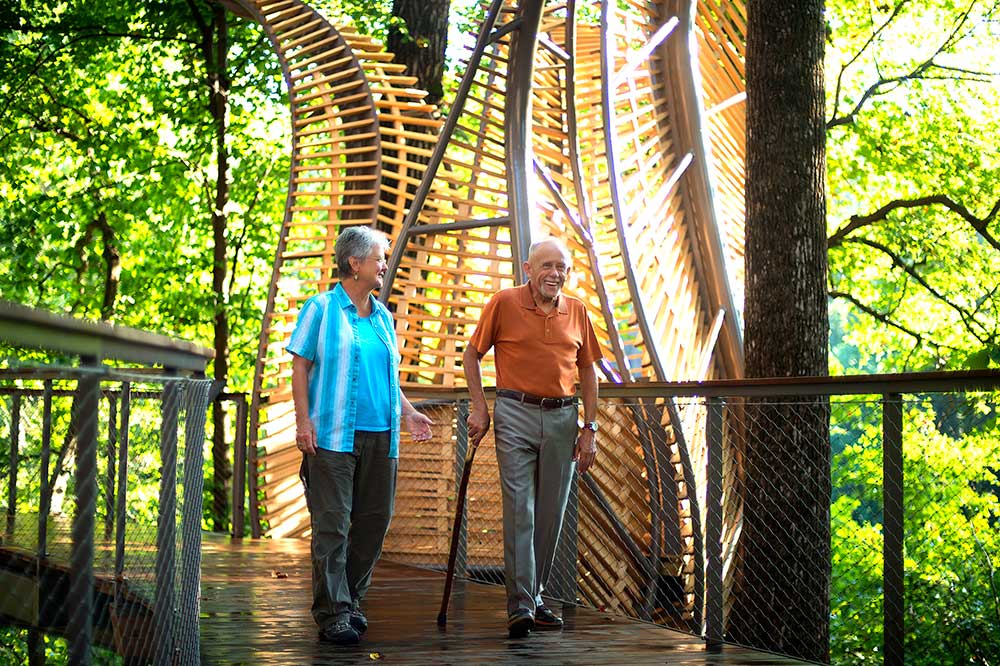 "Then we have the exhibition areas. There's a water system that we have created, with a creek and waterfall. Kids can manipulate the water, and understand the cause and effect of what is happening. They think about how a beaver builds a dam and then try to build one themselves. They can make an eddy in the stream, and observe what animals are around that stream, and what that indicates.
"We also have a nature play area, which is a quieter corner, and outdoors. It's for all types of learners and in particular for those children that maybe don't do so well on stimulation. It's a place where they can gather and connect to nature."
Then there is Adventure Outpost, designed to connect with and engage older children.
Providing contemplative spaces
"The further you get from the museum, and the closer you get to the forest, the designed elements get a little quieter," says Warner. "So the Nature Gallery is a more contemplative space, for observing beauty in the natural world.
https://www.youtube.com/watch?v=zr6OSsdNQnw
"We have these great macro sculptures of a sweetgum. It's a type of tree we have here, that produces a fruit. So we have the three phases of that, blown up. We curse the pod of the sweetgum here. When it dries up it turns into a prickly little ball, and you often step on it. So we've had a little fun with that, and blown them up to macro size, so we can celebrate them."
There are boardwalks along a restored wetland where native species have been planted to draw in pollinators and native birds. Plus there's the education pavilion, which provides a headquarters for outdoor programming. "WildWoods has just been so rewarding to design and develop," says Warner. "It's fabulous to see people using it now."
Inspiring future scientists – the role of museums in education
The addition of WildWoods and Fernbank Forest to the Fernbank Museum of Natural History offering has therefore taken the museum to a new level. It connects the past with present and future, and the theoretical with practical, in a way that makes observing and learning fun.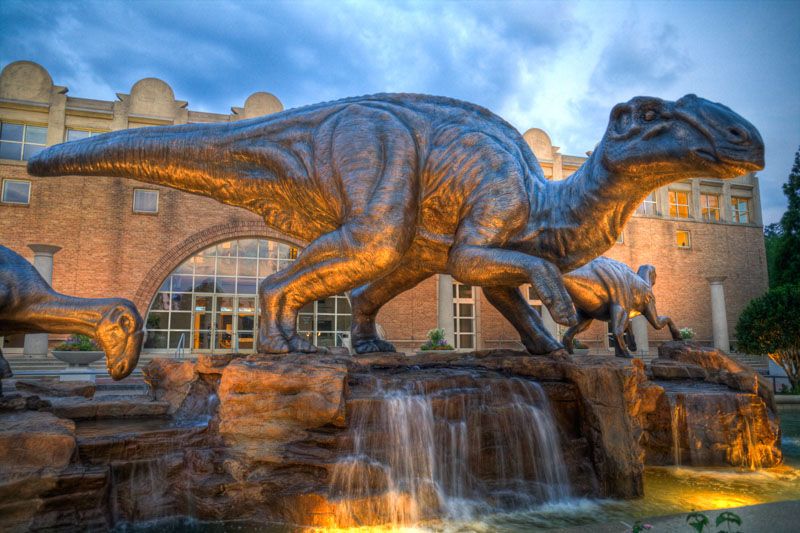 "The role that science and natural history museums play is increasingly important," says Warner. "We live in a technology driven society. Science is how you observe things. It is also through those skills associated with science, critical thinking, observation, and curiosity that we make new discoveries that can lead to advances in any number of fields.
"It is also how you hopefully inspire future scientists. If you look at the workforce of the future, a proficiency in science, technology, engineering and maths, the STEM fields is going to be critical.
Museums a trusted source of information
"Schools are certainly important, but museums can complement that experience, and take it to a new level. They serve as points of inspiration, those moments that people will remember.
"Museums bring concepts and objects to life. If you're with a textbook, or in a classroom, it doesn't always click in that same way. Our teaching scientists say, 'We've got the best props in the world. Who else has the world's largest dinosaurs? Or an old-growth forest?'
According to the American Alliance of Museums, museums are still the most trusted source of information for Americans. "It's a responsibility," says Warner. "But it's also an important opportunity, and that is why that content and that science underpinning is really important.
"You have to make sure you are engaging people. So we have to keep things new and fresh, and relevant. We need to connect to something that they can relate to, or that they are experiencing in their community, or that is going on around them. So that's something we certainly try to do here, through the changing exhibitions, and the films that we are bringing in."

A young museum with an exciting future
"Fernbank Museum of Natural History is, in museum years, still a very young museum," says Warner. "We are excited about what the future holds."
If Warner's list is anything to go by the future is exciting – and varied. She is committed to the ongoing forest restoration. Then there is the continued development of educational programming. The initiation of national re-accreditation is important as is the development of a new strategic plan. Underpinning this is the elevation of the role of science in the community. Not to mention ongoing initiatives in research, exhibition strategies, giant screen film planning, and garnering philanthropic support.
It's not only the dinosaurs at Fernbank which have lofty perspectives.
All images kind courtesy Fernbank Museum of Natural History.