Its aim is to develop new dramatic work and experiences.
Toby Coffey is Head of Digital Development at the National Theatre. He spoke to Blooloop about the Immersive Storytelling Studio in more detail.
"A big part of my role for the National Theatre in digital development is looking at how we engage audiences digitally around the work that we're doing. Both at a performance generally or at a specific show," says Coffey.
The National Theatre formalised the studio 2016. "Rufus Norris, the Artistic Director, and Lisa Burger, the Executive Director, came in in 2015. And there was a planets aligning kind of moment. I showed Rufus a cinematic 360 film as something that would be an area of interest to us, he was really taken with it.
"He said: 'We don't know where this is going yet. But the potential for dramatic storytelling is really significant. We should explore what this can do in a theatrical setting. We also need to look at what the discipline of theatre means for this new discipline of immersive forms.'"
The Immersive Storytelling Studio
The first VR piece was in a show called wonder.land. It was a musical inspired by Alice in Wonderland. It had music by Damon Albarn, book and lyrics by Moira Buffini and direction from Rufus Norris.
"In it, Alice is an avatar of a girl, Ali, in high school; the rabbit hole is the internet and wonder.land is Wonderland.
"The digital wonder.land was created in 3D CGI software and projected onto the stage. People were asking me if I was going to do a game. What we actually did was we created a virtual reality (VR) music video."
Fabulous wonder.land is a first-of-its-kind collaboration between the National Theatre, 59 Productions and Play Nicely. It also involved Production Partner Mahdi Yahya, Managing Director of Room One. The 2016 Sundance Film Festival selected it for the prestigious New Frontier section. This champions storytelling at the crossroads of film, art and new media technologies.
Alice in wonder.land
Coffey says: "We took over the Wolfson Gallery, which is where we've got the current installation. What happens is that you fall down the rabbit hole, land in wonder.land and the Cheshire Cat serenades you. The whole thing is so wild and trippy.
"We wanted the exhibition to feel as if the world of the show were spilling out into the front of house spaces. So, we worked with the show's designers to create the installations. The digital stage design was as important as the digital interactions.
"The story is that Ali was being bullied at school, and went into wonder.land on her phone, in the school toilets. So, we recreated the school toilets.
"To enter wonder.land you had to sit on the toilet and put the VR headset on. This was just a really good pairing of the technology and the stage design. It worked incredibly well. We had 90 000 people doing the VR inside 5 months, which is just phenomenal in terms of figures. We had envisaged 10 or 20 thousand, but this is huge."
This was the point at which Coffey and his team began doing call-outs to artists and storytellers. They began workshopping the potential of using technology to tell stories in a different way.
A new type of storytelling
"It gained traction," says Coffey. "We had several projects in development. So, the idea of formalising the studio just made sense on so many levels. We used eight shipping containers welded together to create the actual studio. This is where work gets developed."
The second project came about when Norris returned from volunteering in the Calais jungle. He was there over the Christmas period in 2015.
"He came back and said: 'We don't know our specific response to this humanitarian crisis yet. But you need to get a 360˚ camera out there. Film and photography aren't doing the sheer sense of just being there justice.'
"So that was the second project from the Immersive Storytelling Studio: a cinematic documentary called HOME | Aamir."
HOME | Aamir
The project is a 360˚ verbatim storytelling film about a 22-year-old Sudanese refugee. It premiered at Sheffield Doc Fest, then went to the International Documentary Festival Amsterdam. This is the largest documentary festival in the world. It also showed at Future of Storytelling in New York.
It won the Grand Jury Prize for VR at the Encounters Film Festival. The project also won Best Director and Jury Prize Winner for Best Journalistic Achievement at the Social Impact Media Awards.
"It tells the story of a 22-year-old Sudanese refugee, says Coffey. "The project was, particularly at that time, very moving and necessary. It is on some educational platforms. We have also had lots of people want to show it at relevant exhibitions or events.
"It really helps draw the audiences in, in a way people don't understand until they put on the headset. Then they realise this is a different type of film, delivering a different type of message."
By this point, the Immersive Storytelling Studio was fully underway. It had content being put out directly to customers. It also had work in development, as well as material and technology being tested.
Draw Me Close
"We then developed a project with the National Film Board of Canada," says Coffey. "The project, Draw Me Close, was an absolute game-changer in terms of what this technology could do."
Draw Me Close ran at the Young Vic from 21 January to 2 February 2019. It was the work of Canadian playwright and director Jordan Tannahill. He partnered with the National Theatre and National Film Board Canada to create a memoir which combined live performance, virtual reality and animation.
The project explores the relationship between a mother and her son in the wake of her terminal cancer diagnosis. It allows the audience member to experience Tannahill's childhood – from hugs to being tucked up in bed – in a live, animated world.
"You walk into what is a performance space, take off your shoes, and put on a VR headset," says Coffey.
"At this point everything is white, a completely blank canvas. Then an illustration of his house starts to appear in front of you. Effectively, you're in an illustrator's world. He says 'this is the house I lived in when I was 5 years old, come on, let's go in'. You are in front of the front door, and you can see an illustrated door handle. But when you reach out, there's actually a physical door handle there. You open the door and walk in."
"I call that the 'holy shit' moment: you see it in people's response: 'oh my god – this illustrated mother is hugging me.'"
Truly immersive storytelling from the National Theatre
"It's a room-scale experience," says Coffey. "You walk around an illustrated house, and you can feel the pile of the carpet under your feet. Then Mum comes home from work; an illustrated mother in this VR world. She exists in the headset because we've got an actor in a motion-capture suit in the space with you, so it's a live performance. And she comes over and gives you a hug, which you experience physically.
"I call that the 'holy shit' moment: you see it in people's response: 'oh my god – this illustrated mother is hugging me.'"
Draw Me Close was first released in a six-minute version at the Tribeca film festival. A longer version was shown at the Venice Film festival.
"Then earlier this year we did a two-week preview run at the Young Vic here, as an hour-long audience experience. You start as 5-year-old Jordan, and then you're 15, then 20, then 25, so you go through his life journey at different stages."
Future possibilities in terms of touring are being explored.
All Kinds of Limbo
The most recent project from the Immersive Storytelling Studio is All Kinds of Limbo. This immersive VR performance reflects on the influence of West Indian culture on the UK music scene. Raffy Bushman composed the music with Nubiya Brandon, who wrote and performed the lyrics. Music is performed by NuShape Orchestra.
It was, Coffey says, created in response to Small Island. NT's theatre adaptation brought this Orange Prize-winning novel by Andrea Levy to life and streamed it to cinemas.
"We thought: "How do we acknowledge the positive influence of mixed heritage status and culture in contemporary society?"
"Raffy Bushman, Rufus, our artistic director, and Marc Tritschler our music associate, ran a workshop before Small Island. The focus of the workshop was charting the musical evolution. Literally from 1948 to the start of the Windrush era, to the present day.
"He felt that you could chart the West Indian influence on our own musical heritage and development. By looking decade to decade at different types of reggae and calypso and so on.
Musical evolution
"I really liked the idea of that as a concept for the workshop. So, we commissioned him to write and make a ten-minute piece of music that outlined that musical evolution. That went through different genres, to be the basis of something.
"Then he brought Nubiya Brandon, performer, writer, vocalist, on board. She co-composed with him, but also she wrote the lyrics that she would be singing. Rufus was quite clear with her, saying: 'This isn't a history documentary. It's really important that you tell your own story'."
The result is a musical landscape that transcends different musical genres.
"On top of that, you've got Nubiya doing a very contemporary perception of her own experiences growing up as a young woman of mixed heritage growing up in London today. Conceptually, it feels as if it all gels together really well."
Communal VR at the Immersive Storytelling Studio
Cutting-edge VR technology featured in the staging. This allowed audiences to step into the VR performance space with the musicians for an immersive musical experience.
"For the experience, the communal VR, we've volumetrically captured the performer," says Coffey. "This means that in the VR headset you can actually walk around her as if she is a video sculpture. We've converted the space of the Wolfson Gallery into two performance spaces. There are three performances an hour, every 20 minutes.
"It's a ticketed event. It's communal and it lends itself to the more traditional elements of the ceremony of performance. When you put the headset on, you can hear the orchestra warming up in the background. We want it to feel like you're coming to a performance as much as seeing a piece of VR."
The audience's responses have, so far, he says, been incredible. He adds:
"It's a staged musical experience. There are six scene changes and four costume changes as you go through different musical genres. We've capped it at 15, but up to 20 people can experience it at a time.
"For us, this is the first ticketed performance, where the performer, though it was recorded with live performers, is not in the space with you.
"We're charging £5 for it, which is a very National Theatre price. We want to develop the audience, but also to recognise that it takes money to make this kind of thing. It needs to be sustainable."
The Immersive Storytelling Studio on tour
To show the piece, all that is needed is a performance space, a server, the headsets and a few physical props.
"This is what's great about it. We've got quite a big staging in the Wolfson Gallery, but it's actually quite light. The idea was that we were going to develop something that we can transfer and tour around. So that's what we're doing now: looking at all the venues and organisations where this would be of interest.
"For instance, we're looking at a potential North American tour. The history of UK black music is quite underrepresented there. So, it would be a nice destination to start with.
"It is interesting that we've got something that could be shown in a music venue, a gallery, anywhere. As well as in a theatre. The theme park market is one we're at the very early stages of engaging with.
"I'm really looking forward to seeing who we're able to take it out to, how long people want to take it for, what it feels like to model in different organisations.
"We're charging £5. But other organisations might choose to lean towards commerce rather than audience development. So we're at a point in the industry where there's so much to learn, as we put a new piece of work out there."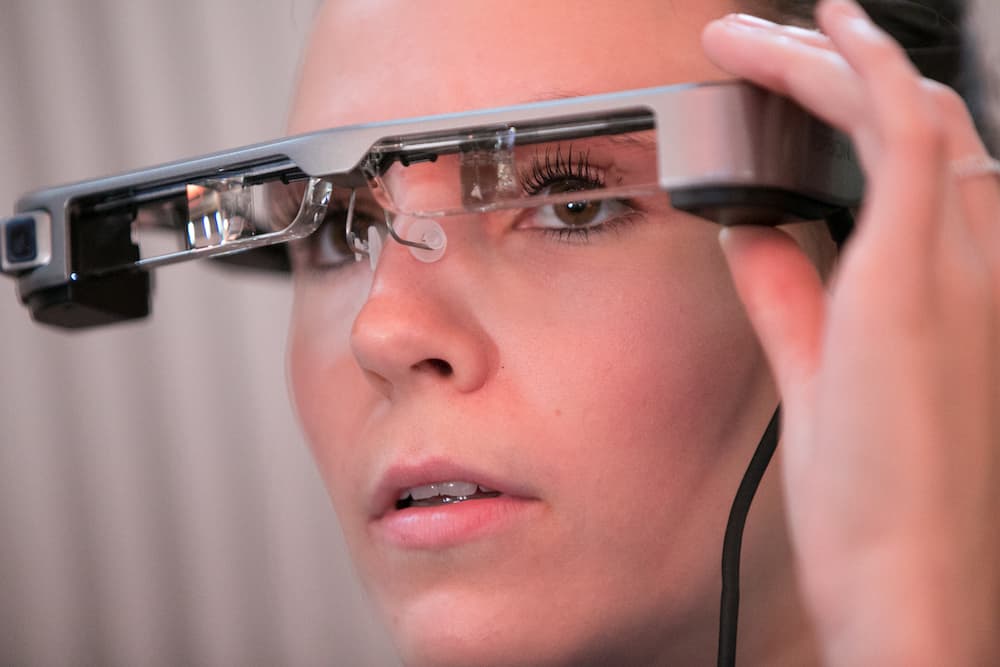 National Theatre and partners
All Kinds of Limbo is developed with the NT's partners for innovation, Accenture.
"They developed the tracking system with us," says Coffey. "This allows anyone in the space to know where other people are. We could never have done this project without them; they're invaluable. These types of partnerships are so important."
Accenture was also instrumental in developing the Smart Caption glasses with the NT.
"That's quite an eclectic portfolio of projects. Firstly, to deliver the glasses which are incredible in terms of how they have changed access. But then to step into doing something that's purely creative in storytelling."
https://youtu.be/mVhWUlJKxog
The future of the Immersive Storytelling Studio
For the future, Coffey is working on something he describes as "creative pollination":
"The Immersive Storytelling Studio is working on bringing in artists and talent with creative technologists. We want to look at how we develop new types of performance, new types of audience experiences.
"Something I started pushing this year to run in parallel with that and help feed into that is a more producer-like strand.
"We'll say: 'okay, let's say we want to create a commercially sustainable performance with a cast of 5, an audience of 50 to 75. It is a mixed reality, in a space that can support it, running it 6 times a day, in 2 years time. What are the performance models we'd need in place, what technical infrastructure? What are the commercial models, the creative rights we would need?'
"It's about trying to build a producorial framework for these new creative ideas to fit within."
Seeing the potential
"We always respond entirely to each creative idea anew," says Coffey. "So, when we were developing Draw Me Close, for example, I was quite clear that there was no way we were going to define what the prototype should be.
"That is for the artist to do themselves. And that was totally the right choice. If we had pushed him in the direction of making a 10-minute piece of the art we would never have broken the ground that we did, with what Draw Me Close was.
"But this is to give a firmer environment to people. So they can see the potential of what can be done as we start to build the scale-up."
"We are also looking at how we integrate within our existing business spaces. there are two parallel strands there. From a mission perspective, the direction of travel that we're working on is looking at how we develop both creatively and sustainably.
"What is great is that we're in an organisation where we recognise that audience development is more important than commercial exploitation at this stage.
"At a certain point, the Immersive Storytelling Studio will need to be commercially sustainable. But we're still developing the form. We're still developing all the engagement opportunities. It's a very interesting time."
Images kind courtesy of the National Theatre and the Immersive Storytelling Studio