A new initiative at the UK's National Holocaust Centre & Museum is using ground-breaking digital technology to facilitate 'living' dialogues with holocaust survivors in perpetuity.
The urgency of the Forever Project cannot be underestimated as, every year, fewer survivors remain to tell their story.
But, thanks to a highly skilled team of designers and technical engineers, visitors for generations to come will not only be able to see 3D images of holocaust survivors recounting their memories – they will also be able to ask them questions.
Blooloop spoke to Sarah Coward (right), Development Director and Deputy CEO at the National Holocaust Centre & Museum and Chris Walker, Director of museum design consultancy, Bright White Ltd., about the project.
Based in Laxton, Nottinghamshire, The National Holocaust Centre & Museum was founded in 1995 by brothers Stephen and James Smith as a permanent memorial to the victims of the Holocaust. Sarah Coward has been at the Centre for about five years.
"My role is twofold," she says. "I'm the Development Director and Deputy Chief Executive. I also have a focus on raising resources and funds for the museum. Particularly on some of our major digital initiatives."
Using digital to convey interpretation and content
Part of Coward's task is to decide how best to invest in digital work in order to further the scale and reach of the museum.
"We see it as part of embedding digital in what we do in a more integrated way," she says. "And, taking digital initiatives more seriously, in terms of how they connect with historical content. We're interested in how new technology and digital approaches can be used in an in-depth and serious way."
Coward says that, until recently, digital work was regarded as peripheral. She is adamant that it needs to be seen as a fundamental way of conveying interpretation and content to a wider audience. "Over the past few years, we've changed our perspective on the use of digital in the museum and in the heritage environment in general."
A safe environment to tackle contemporary issues
Coward is clear about the aims of the Centre. "Our focus is primarily on both remembrance of the events of the Holocaust, and remembrance of the victims of the Holocaust. However, most significantly, it concerns educating young people about those events. We challenge them and their thinking to consider what those events mean for them today."
To this end, the Centre works with young people to help them better understand issues like propaganda, racism and prejudice.
"We get them to look at their own opinions around people they consider different from themselves. Together, we look at how welcoming we are to different groups. In particular, we reflect on the experiences of refugees during the late 1930s, looking at how Britain responded to Jewish refugees at that time. We encourage people to reflect on what that means for us today."
We get them to look at their own opinions around people they consider different from themselves.
She explains that talking to young people about the past gives them a safe environment in which to tackle contemporary issues. The slight distance enables conversations about propaganda, and to look at the messages that newspapers are giving.
Both victims and events of the Holocaust
"You enable them to see how the Nazi regime was propagating division about certain groups: Jewish groups, gypsies, the gay community. And, how those groups were being represented in the media," she says.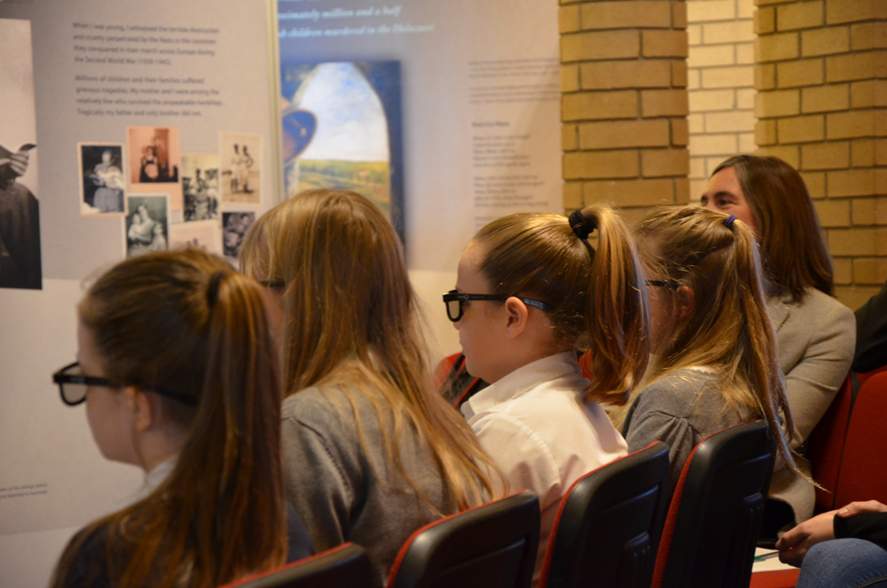 "If you can do it in a safe environment, at a distance of time, that enables them to be quite critical. Then you can look at what they have learnt, in terms of how newspapers can be used. In turn, that enables them to develop their critical thinking skills so that they can look at what is happening today with a more critical eye."
Restorative justice for young offenders
The National Holocaust Centre and Museum has also been conducting a pilot programme with young offenders.
"We are working particularly with young people who have perpetrated a hate crime, one that doesn't warrant a custodial sentence," says Coward. "It's a bit like if you've been caught speeding, and are offered a training course instead of points on your licence. We're trialling it on the same principle, working with the police. They refer people to us as part of a restorative justice programme."
An independent research company ran a three-year evaluation programme. It showed that the educational work at the National Holocaust Centre did have a positive effect on young people's attitudes towards those they consider different from themselves.
"Our research work is ongoing," says Coward. "We are in the process of evaluating our work with young offenders at the moment."
The Journey – an immersive, tactile narrative
The National Holocaust Centre and Museum has tailored its exhibitions to ensure that its stories resonate across all age groups.
"One of our exhibitions, The Journey, is an immersive, tactile environment with a really strong narrative," explains Coward. "It's a refugee experience, following the story of a ten year-old German Jewish boy, and his escape to the UK on the Kindertransport."
The experience is much more engaging for young people than a museum with lots of display cabinets and little bits of text.
"The experience is much more engaging for young people than a museum with lots of display cabinets and little bits of text. The narratives and the stories encourage people to engage and build empathy with people who were going through that experience during that period."
The Forever Project at The National Holocaust Centre
Coward explains that the Centre works with around 25,000 young people every year. After the educational programme and the exhibitions at the Centre, children have the opportunity to meet a survivor. However, many of the speakers are now in their late 80s or 90s.
"We are really aware that, within the next few years, those survivors will either no longer be well enough to share their stories, or they will have passed away."
Another issue is that although a lot of Holocaust survivor testimony is recorded on film, it often doesn't answer the questions that children really want answering. "It doesn't enable them to connect with those survivors in a way that is interesting and that responds to the children's needs," says Coward.
Each survivor answered up to 1400 questions
The Forever Project offers a way to replicate the first-hand experience. "So far, we have filmed ten survivors in ultra-high definition 3D video. We then developed and integrated a number of different technologies to enable young people and adults to watch a 3D life-size projection of one of the survivors as they give their testimony."
they can ask questions of the 3D Projected survivor – and The survivor will respond.
But, it is the interactive element of the project that makes it so ground-breaking. Visitors will be able to ask questions of the 3D version of the survivor and the survivor will respond. All thanks to some very clever technology.
The survivors were filmed individually over a five-day period. During that time they answered between 850 and 1,400 questions.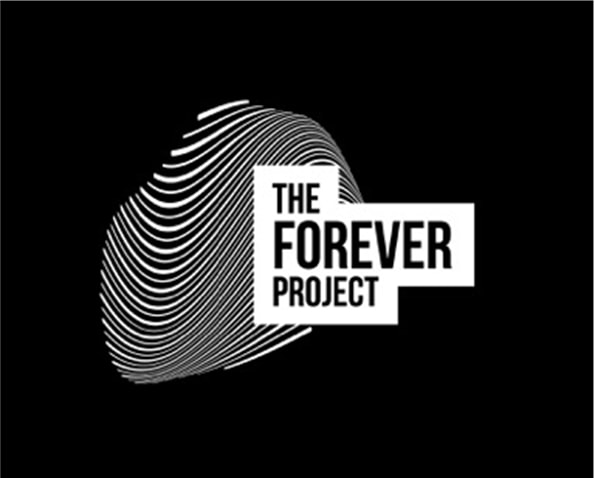 "Our focus was on questions that are frequently asked by children," says Coward. "We based it on our experience of working with young people. What they tended to ask in general, and what the children tended to ask those specific survivors."
The response time is fast. "There is a little pause," says Coward. "But, as one of the kids who we were testing it with said, everybody needs to think about an answer before they give it.
"It's definitely one of those projects where you feel you have helped to deliver something really important."
Bright White – a leader in digital interpretation
Chris Walker, Director of museum design consultancy Bright White, is part of the team that put the project together.
"We have been working very heavily over the last years with digital interpretation," he says.
Bright White is well known for the Battle of Bannockburn visitor centre in Stirling, Scotland. This was a £10 million project, with a £2.5 million digital interpretation budget. They also opened the new Heath Robinson Museum in London this year. In addition, they have just launched The Engine Shed in Stirling for Historic Environment Scotland.
"It's a really big interpretation centre with a fantastic augmented reality facility, and a big 3D 4K cinema," says Walker. "The subject there is the history of building in Scotland."
Making the past accessible
Sarah Coward then set Bright White the challenge of The Forever Project. "There are a number of video testimony projects around the world," says Walker. "The most famous of which is probably Stephen Spielberg's organisation, the USC Shoah Foundation, in Los Angeles."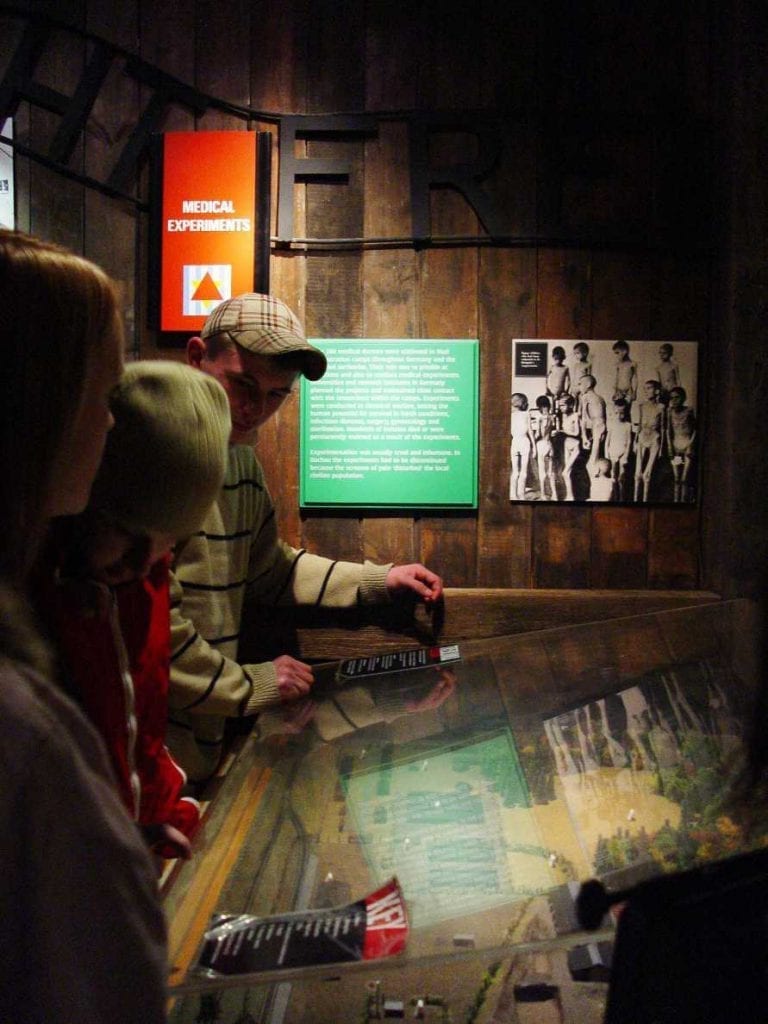 According to Walker, all the testimonies are 'fairly lo-fi'.
"The recordings are getting on a bit now, and they are each about two hours long," he says. "So, while they are fantastic as a historical document, they are not very accessible to most people."
The challenge was to preserve or conserve the experience beyond the life time of the survivors. "It was at that point we went through a few different kind of research and development thought processes."
Walker says that filming the survivors telling their stories was relatively straightforward. "It just involved 3D 4K filming so we could project them back into the space in 3D," he says. "The part that was difficult was working out how to make it so the projected survivors would actually answer the audience's questions. And, of course, the clock was ticking."
The team didn't have the luxury of spending years thinking about the project and doing a number of field tests. "In fact, less than six months after we finished, we lost the first of the survivors that went through the programme, Steven Mendelsson," says Walker.
Predicting every question under the sun
"Our R&D project was, firstly, to create a methodology which meant we could try and predict all the questions that could be asked of each survivor," Walker explains.
Each survivor's life story was picked apart. "We had a team of people generating questions. Then, we instigated a really complex manual procedure to get rid of duplicate questions. We ended up with something like a thousand questions per survivor, on average. That became our shot list that we took into the studio."
Each survivor was recorded over a week. "We sat them down in a studio. We literally asked them one question after another for five days straight, recording their answers," says Walker.
"Then, the editing team chopped those rushes up so that each answer was its own video asset."
Creating the software
A separate team worked in parallel to create the computer software. This is able to accept questions spoken into a microphone by an audience member. It then converts them into machine text. An algorithm is run matching it to the answers that had been given in the studio. "It would then automatically play the answer as if the survivor is actually responding to the question. That all happens in about half a second," says Walker.
It's the first time I've ever worked on a project where no-one ever asks why we're doing this.
All the filming is now completed and the team is busy post-processing the computer side of the equation.
"It's been a huge success," says Walker."It's the first time I've ever worked on a project where no-one ever asks why we're doing this. With many museum projects, it's a good question, and a difficult one to answer. Here it was easy."
Electrosonic and d3t were key parts of the team
"We had some great team members on this project," says Walker. "We were the main designer and contractor but we had two key contractors. The first was Electrosonic, who did a great job of designing the audio-visual hardware. It's incredibly complex: way more complex than anything we've ever worked on before. I think it was probably one of the most complex systems they've ever worked on, too.
"Then, the software development was created by a company in the Manchester area called d3t. Their software was incredible, really brilliant. They created a series of modules which worked fantastically well.
"They broke new ground in terms of creating a conversational agent that we created with the holocaust survivor."
Virtual versions of survivors will answer questions indefinitely
"Now Steve Mendelsohn has passed away, the only way to hear him speak is to go to the National Holocaust Centre," says Walker. "You can listen to him there, and ask him questions. Imagine what that would be like for his grandchildren, or the great-grandchildren, who have never met him?
"This is where you get an idea of just how important this project could be, going forward. Once digitised, these virtual versions of the survivors will be there to tell the story and answer questions to generations going forward, indefinitely."
(Above: Holocaust survivor Steven Frank)
The ten survivors who have so far taken part thoroughly enjoyed the process."We knew it was a big ask," says Walker. "To take an eighty-something away from their home for a week, and film them. And, of course, with studio lights it does feel a little bit like an interrogation, so we were careful.
"We always made sure that the survivor who was next in the video pipeline came to see the preceding survivor in the studio. So, they had a clear idea of what they would go through.
It just worked really well
"They could talk to the previous survivor. Of course, the previous survivor was having a great time by that point, so it put them at their ease. The camaraderie that we built up between the production team and the survivors was really important. We still email them now. We've met members of their family.
The camaraderie that we built up between the production team and the survivors was really important.
"It all just worked really well, to the point where some of the survivors were divulging aspects of their life that they hadn't done before. It was thrilling."
Applying the same approach at other museums
The Forever Project at the National Holocaust Centre has been funded from diverse sources. The Heritage Lottery Fund funded the filming. The Digital R&D Fund for the Arts provided the budget for developing the software aspect. Further funding came from the Association of Jewish Refugees; the Audrey and Stanley Burton 1960 Charitable Trust; the Foyle Foundation;the Department for Communities and Local Government; the Genesis Philanthropy Group; the Pears Foundation and the UK Holocaust Memorial Foundation.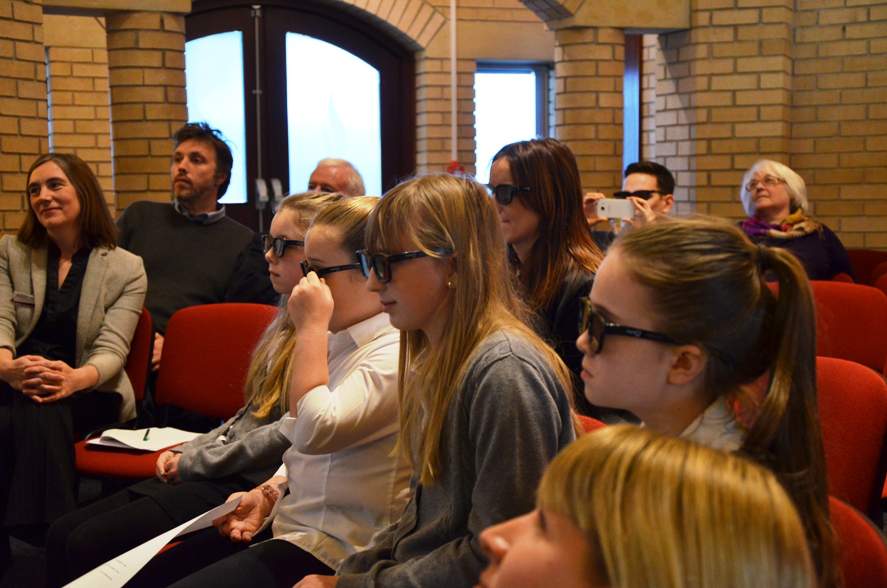 While ten testimonies have been recorded, further funds will need to be raised to film more testimonies. Sarah Coward is also interested in seeing how the National Holocaust Centre can work with other museums to apply the same approaches or technology in different contexts.
"It occurred to us, partway through the project, why isn't anybody else doing this?" says Walker. "Also, isn't it interesting that the first people who go through this process aren't the President of the United States or the Prime Minister of the United Kingdom? They're not household names. Rather, they are people who went through something which absolutely demands to be communicated to the next generations.
"I think it's just gaining in relevance as we go forward."
Sarah Coward Development Director and Deputy CEO at the National Holocaust Centre & Museum will be speaking at blooloopLIVE in London, October 6th. Click here for tickets and further information.
All images kind courtesy The National Holocaust Centre.