The National WWII Museum is located in New Orleans, Louisiana. It tells the story of the American experience of WWII – the reasons behind it, how it was fought, and what it means today.
Stephen Watson has worked at the National WWII Museum in a variety of positions since 2002, and in 2017 he took on the role of President and CEO. He spoke to blooloop about his experience at the museum and the importance of being nimble and adaptive in the face of a crisis.
Watson has always had a strong interest in history, he says: "It was always something that I was attracted to in school. Then, as a teenager, I had the opportunity to go to Normandy with my high school. It made a big impression on me, as a 15-year-old, to visit those sites and to go to the cemeteries. The experience was one of those moments that really stuck with me through my adult life.
"Plus, I had a grandfather that served in World War II. I grew up in Scotland and my grandfather served in the Royal Air Force. It was such an important time in his life. So, like many people that are drawn specifically to the National WWII Museum, there's a personal connection for me."
Stephen Watson and the National WWII Museum
As well as this passion for history, Stephen Watson says he has always been drawn to the non-profit sector. So, when the chance to work at the National WWII Museum came about, he jumped at it.
"I started my career as a fundraiser," he says. "I was working for National Public Radio, here in New Orleans in the late 90s. At that time, the museum was not open, but it was approaching opening day – under its original name of the National D-Day Museum. And it was one of the most exciting and biggest things that had happened in the city in a generation."
"I said, this is a place that I want to go work. I want to be a part of the mission and a part of the work that they're doing to bring the story to a broader public. And I was fortunate, 18 years ago, to start here at the museum."
A unique museum
Talking a little more about what makes the National WWII Museum special, Stephen Watson says that having a clear central vision is key.
"Our mission is to tell the story of WWII through the lens of the American experience. For instance, why did we get into the war in the first place? How did we go about winning it? And what does that mean to us today?
"You could make a really compelling case that WWII is one of, if not the most, important event in human history. Over 65 million people lost their lives. It was a transformative time in the world. It was a fight for freedom and democracy, and it's a really big and important story."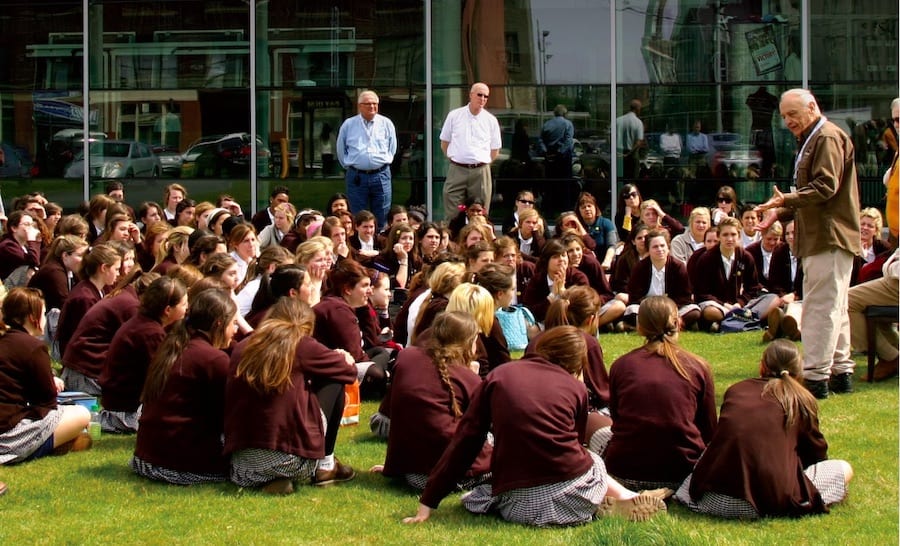 "In addition to this, a lot of people have a personal connection to it. So here at the National WWII Museum, we really focus on the significance of our mission and the stories that we're telling. I think that is what people are drawn to here. For example, how we use personal testimony, how we use oral history to tell the story. We tell it through the lens of the individuals that were there and who fought and their experiences.
"Of course, we have tanks and aeroplanes and artefacts and multiple layers of interpretation. But when you come to the museum you don't only leave with an understanding of the big picture. You leave with a very detailed and compelling understanding of the personal experiences."
Using technology to tell an immersive story
In order to make this connection with visitors, the National WWII Museum uses a variety of different technologies and design concept to tell an immersive story.
"We've tried to build this as a museum that will be here for 1000 years," says Watson. "So, every decision that we've made, we've tried to really do it to the very best of our ability. Whether it's exhibition design, research, media production, scenic design, lighting. And of course, the architecture of the buildings and the concept for the campus."
"During the visit, we really immerse guests in the types of environments that our troops were experiencing. The museum uses technology to really engage people in a way that is disruptive, unexpected and multi-layered. For instance, we have 4D experiences and we use projection creatively.
"One of the compelling experiences here is that when you come to the museum and you purchase a ticket, you are given what we call a dog tag, which has an RFID chip. As you begin your visit to the museum, you actually get on a train, in the same way as many of these men and women began their journey to war.
"When you scan your dog tag, you are introduced to a real person and you follow them and their journey through the war as you go through our exhibits.
"We use all of the tools that are available to us now in our field to really engage with visitors in a dramatic way."
The National WWII Museum and Hurricane Katrina
Over the years, the National WWII Museum has weathered several crises, most notably Hurricane Katrina which devasted the city of New Orleans in 2005.
"It's hard to believe that we just passed the 15th anniversary of Hurricane Katrina," says Stephen Watson. It was very tough. Throughout the city and the region, there was a significant loss of life, as well as massive property destruction on a scale that it's really hard to describe unless you saw it. It was beyond anything that you can really comprehend unless you see it yourself."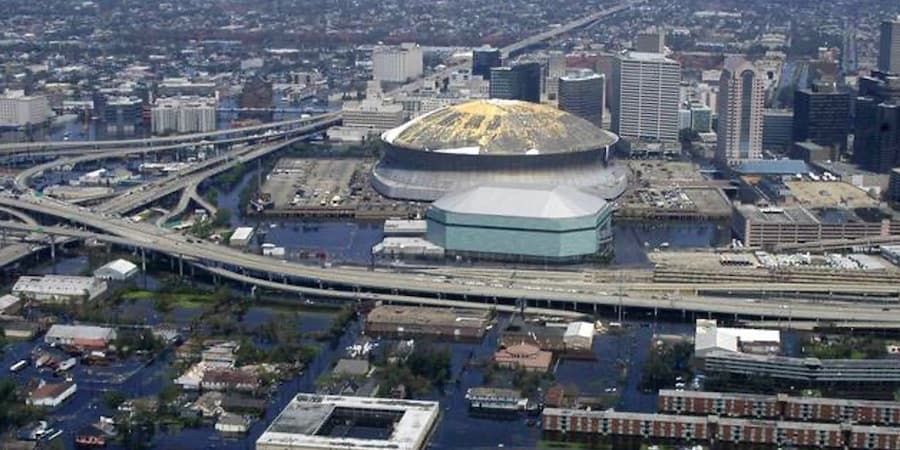 "Hurricane Katrina impacted our staff, our volunteers, our donors, our stakeholders, in some fairly dramatic ways. The majority of us lost our homes. And, of course, in the middle of all of this, you have to make the tough decisions and cut back on staff. It was a very tough experience.
"We were closed for several months. Then it was five years before we got back to our pre-Katrina visitor numbers. It was a long and tough road back to recovery.
"But a couple of things did come out of it. Of course, you never want to go through something like Katrina to get to this point, but when you're faced with a real crisis like this you have to focus on your survival and think about what you can do to move forward."
Adapting to survive
Two things occurred as a result of the crisis, says Watson.
"One was that we realised, from an economic perspective, we had to diversify our revenue sources. We could not just be solely dependent on people walking through our doors. We had to think differently about an economic model and financial resilience. As a result, we began to think about what can we do beyond visitation revenue, retail and food & beverage.
"For example, we ramped up our efforts to build an overseas travel programme. Today, we operate as many as 50 different programmes a year overseas. Last year was the 75th anniversary of D-Day and we took almost 1000 guests and 30 veterans back to Normandy."
"Programmes like this fulfil our mission from an education standpoint as well as providing operating revenue to our budget. And it's also a great way to make connections and find friends that can help the museum in other ways.
"In the wake of Katrina, we were able to economically create some diversity, so that our revenues are not as dependent on people walking through the doors. That helped us with our recovery from that crisis, definitely."
Distance learning at the National WWII Museum
"The second thing was a focus on distance learning," says Stephen Watson. "It seems normal now, but 15 years ago distance learning and outreach were in their infancy compared to where they are now.
"When you are impacted by an event like Katrina and you have no visitors, you begin to think about relevance – how do you fulfil your mission and continue to connect with people?
"It led us to a place where we were one of the early adopters in terms of distance learning, particularly in middle and high schools. The crisis helped us think about outreach, digital content and the digitization of our collections. We looked at the curriculum, learning materials, teacher training."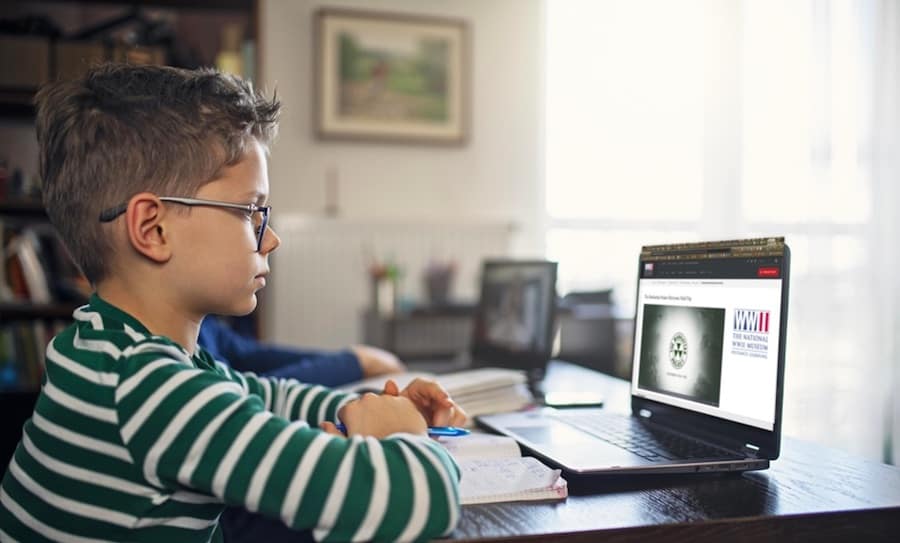 "As a result, we were able to accelerate the programmes and the initiatives within our education programmes to touch multiple audiences outside of our region. And that's a huge part of the work that we do right now.
"This is also something that has been relevant as we've gone through the pandemic. So, while Katrina was very difficult in terms of the economics and the tough decisions, it has in some ways made us stronger. It helped us to think a little more broadly about how to fulfil our mission."
Weathering a new storm
The National WWII Museum, like many other cultural organisations across the globe, was forced to close to help stop the spread of COVID-19. It has since reopened to the public with several extra health and safety procedures in place.
In terms of the impact of this closure and the resulting challenges, Watson says that the museum's experience with overcoming Katrina was useful.
"Looking at outreach and distance learning part, we were really well-positioned due to that earlier work."
"Over the past few years, we have been in the midst of a long expansion plan, building our campus. And we're almost finished. One of the new pavilions that we opened last fall is the Hall of Democracy which houses two entities that we created at the museum a couple of years ago. One is the Institute for the Study of War and Democracy. The other is the WWII Media and Education Centre.
"These new centres represent two things. One is a commitment to deepening our content expertise. And the other is doubling down on a lot of the work that we had done with media production. We are deepening our bench of folks that can produce content. For instance, instructional designers, distance learning experts, media producers and documentary producers.
"So, we have this beautiful new building, but more importantly, we have the talent and the expertise to become a much more significant content producer."
Supporting learners
"During the pandemic, we quickly, like many museums, shifted our focus to what can we do through digital content production," says Stephen Watson. "We wanted to support students and teachers who were also going through a massive transition. The museum provides curriculum materials and webinars. We also produce live panel discussions and original articles."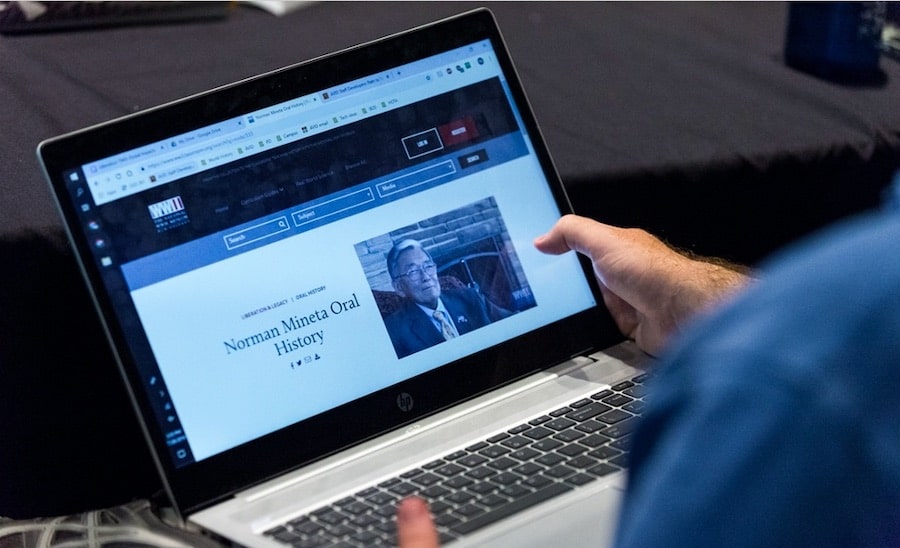 "The 75th anniversary of the end of the war is approaching so we really made that a big focus of our digital content. We had podcasts that we launched, and then we work with partners.
"This has been something we're very proud of in the last six months, how we've been able to really grow our digital audiences, again, through this very difficult situation."
The National WWII Museum and COVID-19
"Economically, it's similar to Katrina," says Watson on the pandemic. "It's devastating, in a way. We have built the museum over the last 15 years into a much larger and more significant organisation than we were when Hurricane Katrina struck.
"Between our hotel and conference centre, and our museum staff and our food & beverage partners we had around 600 people working on campus.
"Then we had the closure, like just about every museum in the world, and we had layoffs. We also know that we're going to have a significant recovery phase. We are predominantly a tourist-driven museum. The majority of our visitors come from outside the state of Louisiana."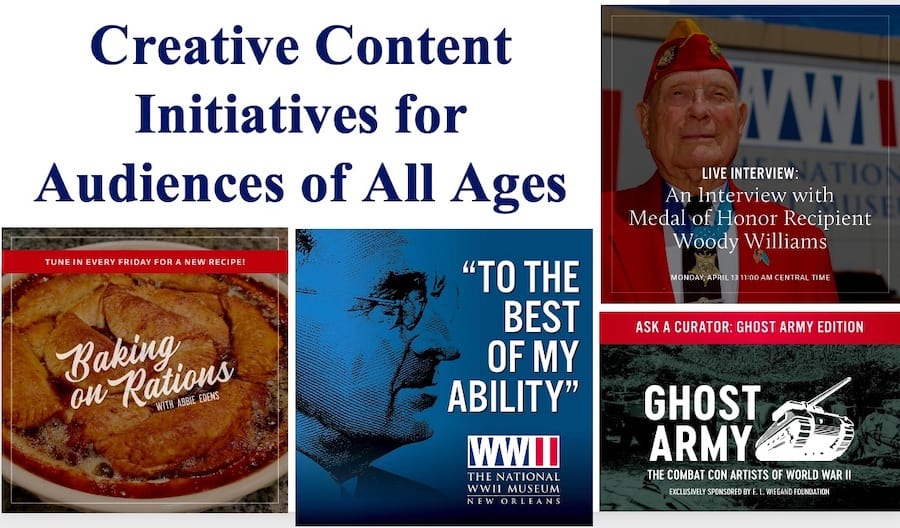 "What has made COVID especially difficult is the fact that some of the things that we did to diversify are really not helpful in this situation. For instance, our overseas travel programmes are just as impacted now as people visiting the museum.
"But we're all making the best of this tough situation and doing what we need to do, to get through this. And there will be better days ahead. We are all hopeful that in the next few months, there'll be some good news and we can get on a more solid path to recovery."
The wider impact of the pandemic
When asked about the wider impact of the pandemic on the museum sector across the US, Stephen Watson says:
"I think it's hard to know right now. But when you're in the middle of something, it often feels worse than maybe it will be. That's my hope.
"There have been and there will continue to be closures. My own belief is that most will emerge. Some of the safety measures and protocols that museums have put in place will likely become permanent. For instance, with relation to cleaning and ticketing, and the ways that we handle our food and beverage operations."
Some of the safety measures and protocols that museums have put in place will likely become permanent
"Plus, there will be some impacts on exhibition design, as it relates to how people interact with exhibits and especially tactile and high touch.
"Financial resiliency is going to become more important, certainly. We've all planned for various forms of crises and emergencies. But this is probably one that none of us ever prepared for. I'm sure there will be things that the sector will think about as a result that will ultimately help us to become stronger.
"Ultimately, I think we will we will get back to something closer to normal than what we're all dealing with right now. I'm optimistic that the impacts on the sector won't be as negative as maybe we had feared a month or two ago."
Welcoming guests back to the National WWII Museum
The National WWII Museum opened its doors once more in May 2020. Stephen Watson explains some of the ways that the museum is ensuring it keeps guests safe in the wake of the pandemic:
"We were one of the first museums to reopen and I had the opportunity to serve on the governor of Louisiana's recovery Task Force representing museums and cultural attractions.
"Our belief at that time, and this has since played out, was that museums are probably better positioned than most to open safely. Museums have ticketing systems, they have security teams, they have large open spaces. Often they have custodial and cleaning crews."
"So, we felt like we had all of the tools and facilities to open safely. We put together plans in late March and early April to convince our elected leaders that museums, with restrictions, should be able to open. And we reopened on Memorial Day, 25 May 2020.
"We have enhanced cleaning and extensive signage throughout our campus, from the moment you park your car. This emphasises our hand washing, mask-wearing and social distancing rules.
"The museum also implemented timed ticketing, which is something that we did not have prior to this. We worked with our ticketing vendor to pivot and were ready on opening day to be able to do timed ticketing, which is important for contact tracing. It's also important for capacity management and spreading out visitors."
Museum visits in a post-COVID world
Like many other museums, many of the exhibits at the National WWII Museum are hands-on. Watson talks about one simple change that the museum has made in order that allows visitors to use these safely:
"We've modified some of our interactives. So, we now give our visitors a little stylus so that they can actually use the interactive without touching it."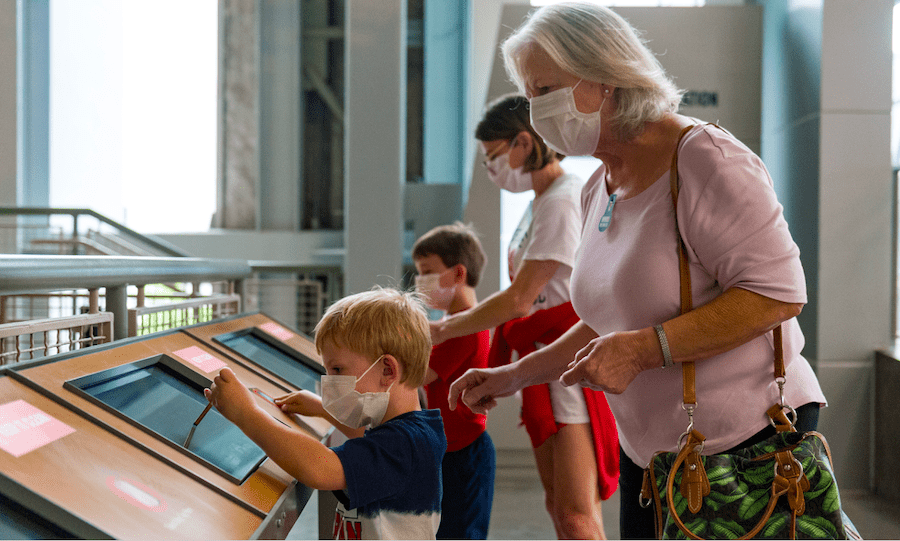 "There are other health and safety regulations in place for the time being too. For instance, we're not admitting groups and there are no public programmes. We've adapted our food & beverage provision. Plus there are now plexiglass screens in place to provide safety for our guests and our staff. We have also done as much as we can in terms of touchless transactions.
"Something that is equally as important as the front of house operations is making it safe for the staff. We have to take into account how people work and what measures will ensure that staff, these people who deliver a great experience for our guests, feel like they are safe.
"One of the things that we really tried to emphasise at the opening was 'know before you go', making sure that our guidelines are really clear and that our visitors understand before they arrive at our front door. For example, there are a few areas of the museum that are not open just because they're really not conducive to social distancing."
The future of the National WWII Museum
Now it is able to welcome visitors once again, Stephen Watson is excited about some of the plans and upcoming events that are in the pipeline.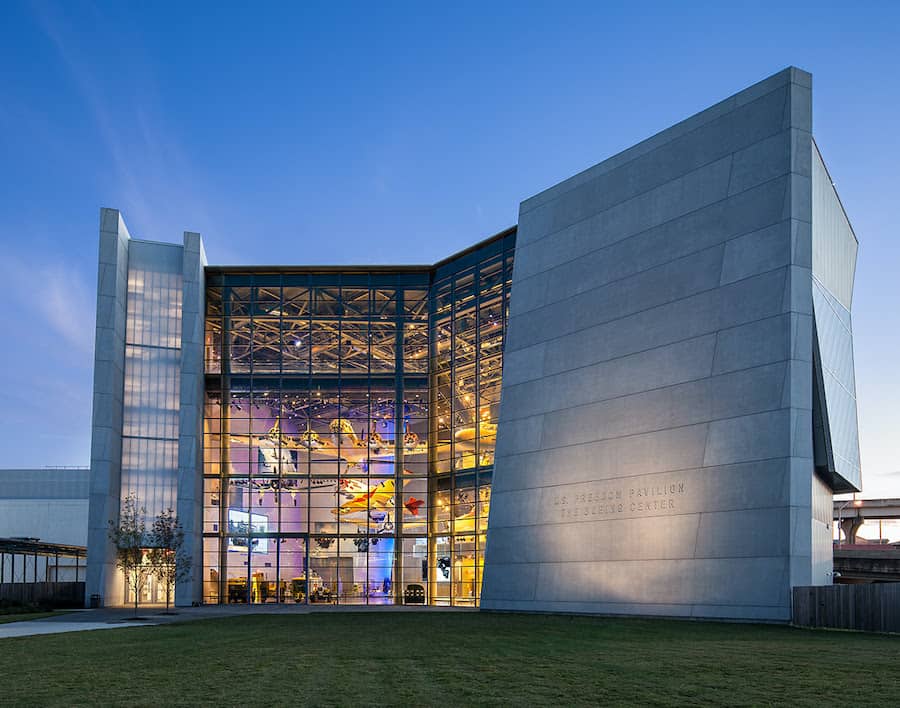 "In the middle of all of this, one of the exciting things that is going on here right now is we have one last major permanent exhibition pavilion to be created as part of our capital expansion.
"We have raised the money to fund that and as I sit here today we are in the process of beginning construction on our final pavilion, the Liberation Pavilion. This really concludes the story of the war, in terms of how we tell it through our permanent galleries."
The Liberation Pavilion
"It picks up the story really near the end of the war, telling the story of the Holocaust and where the world was in 1945," says Stephen Watson. "We will explore things like the cost of the victory and look at the post-war period, through the lens of what happened in the United States domestically as well as how the world changed after the war."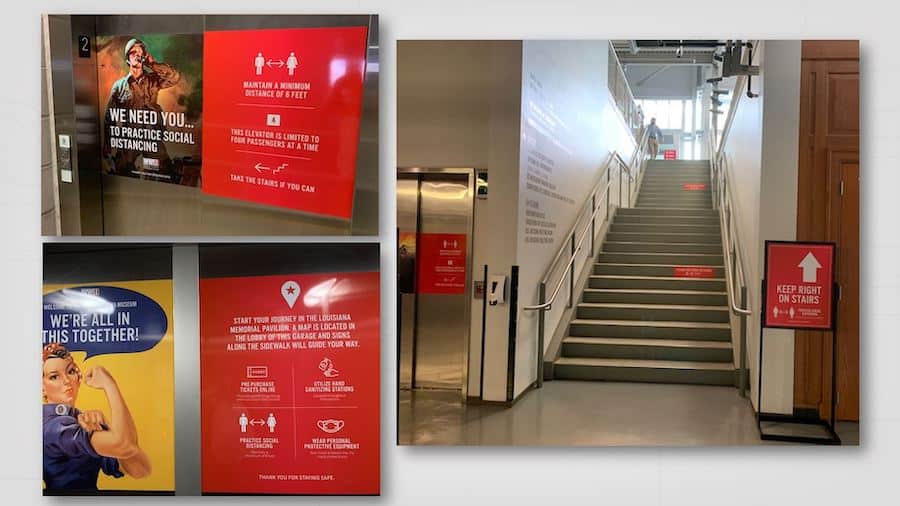 "That's everything from the war crimes trials and the Marshall Plan to the G.I. Bill, which transformed education in the United States. We will look at the advances in technology, the International Declaration of Human Rights and the formation of the UN. Plus, the social change that took place in the United States, the civil rights movement and the women's rights movement. WWII had a direct role in those.
"Ultimately, we will be reflecting on what we were fighting for, which is, of course, freedom and democracy. We are beginning construction on the pavilion right now and we'll open it in 2022."