The Nobel Museum is currently housed in Stockholm's old Stock Exchange building. It is a small museum with a vast audience but that is set to change.
Work is set to begin on what will be the new Nobel Center, a hub of engagement and inspiration. It will be sited in the heart of Stockholm, on a site along the central waterfront. However the project is not without controversy.
Opponents state that the proposed eight storey bronze, steel and glass building is too big. They also feel that its proposed location is unsuitable. Some critics claim the design is ugly and obtrusive to the city's historic skyline.
Olov Amelin is director of the Nobel Museum. He told Blooloop the story of the museum, from its inception to its inspirational global outreach projects. He also discussed its new incarnation as the Nobel Center.
A Varied Career in Museums and Science
Amelin started in the museum sector in the 1980s, at the Science Museum in Stockholm. He was firstly a teacher before becoming a curator, in charge of the section dealing with energy and power transmission. At that point he was charged with the task of setting up a new museum in the old observatory in Stockholm.
"It was a fantastic task," he says. "It is a beautiful building: an 18th century observatory owned by the Royal Academy of Sciences. They have a fantastic collection of instruments that have been used in the Observatory. What we did was to put together an exhibition about the science that had been carried out in the old Observatory."
Amelin worked there for a number of years. "Parallel with that, I started to do research, dipping into this magnificent treasure of scientific instruments. I also wrote my PhD thesis about Swedish makers of scientific instruments."
Museum dealings
In the meantime, he became Vice Director of a research institute at the Royal Academy of Sciences, where he was involved in the history of science.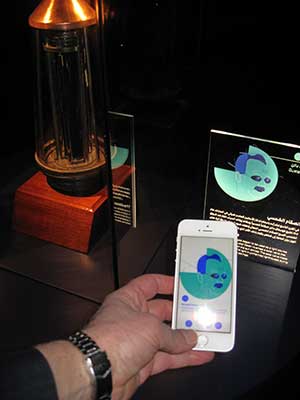 "It involved both running an archive, and receiving researchers using our archival material, but also dealing with the artefacts and producing exhibitions, both at the old Stockholm Observatory Museum, and in other museums. And then I was asked to establish a new university museum at the University of Uppsala."
Founded in 1477, the University of Uppsala is the oldest and one of the largest Swedish Universities.
"The deal was that we would renovate an old medieval building that had been reconstructed in the 17th century," Amelin continues. "It contains a wonderful anatomical theatre from the 17th century, and some lovely galleries. It was not just a case of continuing the renovation process and rebuilding the entire house. We had to produce a number of exhibits and establish an organisation that could run the museum. It became the Museum Gustavianum.
"I did that for some years. I finished my work at the museum, where I was the first director, at the same time as I completed my PhD thesis, in 1999."
The Inception of the New Nobel Museum
"Then I was asked by the Nobel foundation to start work on a new Nobel museum. They wanted me to be in charge of the exhibitions."
The idea was to open the Nobel Museum in 2001. This was the hundredth anniversary of the first Nobel Prize, awarded in 1901.
"I was in charge of developing all the exhibits for the Nobel Museum, and for producing travelling exhibits," says Amelin.
Once again, the process began with the renovation of an old structure. This time it was an 18th century building where the Stockholm Stock Exchange had its offices.
"They moved out, and we carefully tried to adapt the building for public access. That was tricky. It was not only a question of making the old office space into nice museum galleries, but of adapting the building. We wanted to be able to bring in disabled people. There is lots of legislation that we had to follow in order to organise that.
"We had to open the museum in April 2001, and then launch a big travelling exhibition in early August of the same year. That was a tough task but we did it."
Using Film as a Vehicle to Explore Creativity
The first exhibition was called Cultures of Creativity. "What we did was to look at Nobel laureates from two perspectives," says Amelin. "One was to look at the individual laureates, at individual creativity, and different types of creativity. The other aspect was to look at creative environments. In what kinds of environment had people been particularly creative?"
It quickly became evident that these abstract stories were difficult to tell in a traditional museum manner, using artefacts and texts. Instead, film was used as the vehicle.
"We started to make video interviews, and produced a lot of film. For our first exhibition, we made two or three long productions: filmed material was our way to convey the stories to the public."
In fact they still use film widely. "We work with filmed interviews. People can watch Nobel laureates talking about the Nobel prize, and see what they have to say. That was really the background."
In 2009, Amelin's predecessor resigned. Amelin became the new director of the museum.
A Small Museum with a Large Audience
Making major changes to exhibitions at the museum in Stockholm have caused challenges. "Because this is a protected building, we are limited in what we can do in the building," says Amelin. "At the same time, we have had an increasing number of visitors to the museum. This has meant adaptations to our exhibits so that we can manage the numbers of people. The Nobel Museum in Stockholm is a very small museum with a large audience. So that's tricky."
Digital media is one way of supplying visitors with more information. "Now, with Wi-Fi in the museum, when you walk in you can download what is basically a tour guide. We supply that in 13 different languages.
"At the beginning, you would use a device that you rented when you bought your ticket. Now, you can simply download the information to your cell phone."
The Nobel Museum has worked with a number of consultants who have supplied technical solutions. "But, content-wise, I think the really big asset that we have is the stories that the Nobel laureates give us. They come to the museum, and maybe hand over an artefact that has meant something to them in their work."
Reaching over 30,000 Schoolchildren Yearly
A large part of the Nobel Museum's demographic is schoolchildren and school groups. "We have roughly 18,000 schoolchildren coming here every year," says Amelin. "But then, we also reach out all over the country with school activities. So in that way we have managed to reach more than 30,000 schoolchildren yearly. If we go abroad, it would be even larger numbers."
He feels that the best interactions happen when they can combine a Nobel laureate with a group of schoolchildren. "We try to do that as often as we can," he says. "Especially when we are out with our travelling exhibits. Most of the Nobel laureates are very much engaged in promoting education on all levels, from kindergarten up to university."
Taking the Nobel Prize on the Road
Travelling exhibitions and travelling exhibits are an important focus for the Nobel Museum. "The Nobel Prize is so well known worldwide that working in countries other than Sweden feels like the right thing to do," says Amelin. "So ever since we began in 2001, we have had exhibitions on the road, and have reached a much larger audience abroad than we have in Sweden."
Asian laureates – a benchmark for excellence
Interestingly, interest varies according to location. "We recently showed an exhibition in Ahmedabad, in India, in the state of Gujarat," says Amelin. "It opened in January, and closed in late March. We had roughly 300,000 people, mostly schoolchildren, coming to that exhibition during that period. Our experience is that whenever we go to India we have huge numbers of visitors. The same goes for Japan, Singapore, and Malaysia.
"We have fewer visitors when we do exhibits here in Europe. In the United States it depends a lot on where we are with our exhibitions."
He attributes this to the fact that in Europe and the US people are familiar with the notion that there are new Nobel laureates every year. They expect some of them to be European, and still more to be American.
"However in Asia it is still very much a benchmark for excellence," says Amelin. "Japan actually introduced what you might call a public policy that they should have 30 laureates within 50 years.
"That was something that their Minister for Education proclaimed when we were there for the first time, with an exhibition in 2002."
Are they on track? "We have checked the numbers," says Amelin. "They are well on track, to say the least."
Finding the Right Spot for a new Nobel Centre
While the outreach programme flourished, the Nobel Museum in the old Stock Exchange building was languishing. It was long overdue for a move to more expansive premises.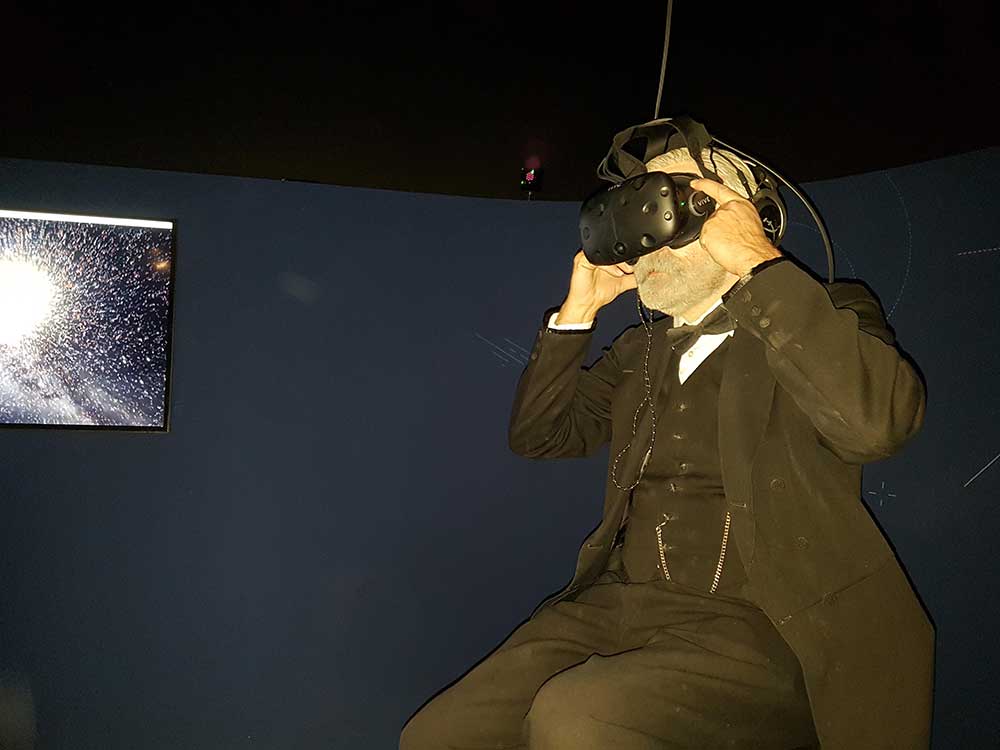 "When we moved into this building, we had a sign outside that said: 'The Nobel Museum visits the Stock Exchange, 2001 until 2005.'
"We were convinced that this was just a temporary solution, and that a bigger and more appropriate building would be found or built by 2005.
"In 2005 we had to bring out the ladder and simply remove that text. And since then we have worked quite intensely trying to find the right spot for a new Nobel Center."
In 2011 an agreement was reached with the city of Stockholm to build jointly the new Nobel Center in Stockholm city centre. "We started to explore a number of ideas," says Amelin. "We settled on a site right in the city centre, very close to the Grand Hotel, the Royal Dramatic Theatre, and the waterfront."
Anonymity Part of the Competition Process
This was the beginning of a protracted process. Building in the centre of an historic city like Stockholm is complicated. "It began with an architectural competition in which we looked at some 148 architects from all over the world," says Amelin. "We narrowed it down to 20, and invited them to come to Stockholm to present their idea of a Nobel Center."
The international competitors retained their anonymity. Eventually they were narrowed down to three. The jury examined each proposal minutely. Only then were the architects revealed. The finalists turned out to be one British and two Swedish architects.
"In the end it was the British architect, David Chipperfield Architects, who won the competition," says Amelin. "So we are working with David now. He has created a fantastic design for the new Nobel Center. Now, the next step is to get the permit to start to build."
Opposition to the Construction of the new Nobel Center
The process has been complicated. "There have been complaints," says Amelin. "A lot of neighbours have opposed the construction of the Nobel Center. There have been demonstrations in Stockholm."
In April 2016, the Stockholm City Council approved the detailed local plan for the Nobel Center. Appeals followed. In February 2017 the Stockholm County Administrative Board rejected the appeals and approved the local plan.
Amelin is sanguine about the snags. "Whatever you want to do in this town engages people. I think there is also a positive side to that."
He and his team have been forced to work really hard on re-evaluating aspects of the design. "Now we are getting close," he says. "We have a case in the courts that we believe we will win. Hopefully, before the end of this year, we should have permission. Then we can start construction works next year. But it is a long and quite tedious process."
Exhibitions in Dubai help Develop the Project
In the meantime, an increasing number of people continue to visit the Nobel Museum at the old Stock Exchange.
"We are developing new concepts and testing them for the new Nobel Center," says Amelin. "Quite early on, we decided to work with an international exhibition designer. We looked at a number of alternatives, and ended up with Atelier Brückner, based in Stuttgart. They're one of the biggest companies working exclusively with exhibitions.
"Together we have produced two exhibitions in Dubai, and are about to produce a third. This has been an interesting way of developing the project and testing out ideas."
An agreement was made with the Mohammed bin Rashid Al Maktoum Knowledge Foundation in Dubai. This aims to increase science literacy in the Arabic world. "They asked us to produce four exhibitions," says Amelin. "One on medicine, one on physics, one on chemistry, and one on literature. We have completed the medicine and the physics ones. We have now started work on the chemistry one."
Inside Explorer – Performing Digital Autopsies
For the exhibition on medicine, Amelin and the team were looking at interesting technical solutions. They collaborated with Interspectral AB, a spin-off company from the Interactive Institute Swedish ICT in Sweden. This is a visualization software company working with volumetric rendering and 3D-digitization.
"They have developed a big digital table where you can look at digital autopsies. They call it "Inside Explorer".
"If you do a CT scan of a body, you can load these images into this large table and then play around with them. You can look at different parts of the scan. You can turn it, and look at it from different angles – you can peel off the skin, or choose to look only at bones. Essentially, you can look at different aspects of the digital content.
"They have scanned animals and artefacts as well as human beings. In our medicine exhibition, we used four of these tables. One was connected to a projector, so a teacher could show the entire class what they should look for and what they should work with. They could then split up the class into four so they could work on these four tables, and do a digital autopsy.
The first Nobel prize was given to Wilhelm Conrad Röntgen. He produced and detected electromagnetic radiation in a wavelength range known as X-rays or Röntgen rays. "Given this, we thought it should be the centrepiece of this exhibition of medicine."
Laureate Go – One of a Wide Range of Interactive Opportunities
Another interesting interactive exhibit was the image of a cell projected onto the floor. "As a visitor, you could walk into that cell and affect it in different ways," says Amelin. "You could add sugar, for instance, and discover in which way your habits affect the cells of your body.
"Of course there is also lots of film material and lots of interviews with Nobel laureates. We even staged an interview with Alfred Nobel himself. He explained why he had decided to hand out a prize in medicine."
A planetarium show was the focus of the physics exhibition this year. "It was a show where you took a trip out in space with a number of Nobel laureates. You looked at things that had been awarded the Nobel prize. So, together with the Nobel laureates you discovered a number of things on your journey, out in space. That was pretty cool. We also made a VR version so it could be watched in the film theatre as a class, or experienced with a VR headset. We used HTC Vive for this experience."
The exhibition also featured a cloud chamber for observing background radiation, and a game based closely on Pokémon Go. "The task is actually to find laureates, so we call this Laureate Go," says Amelin. "And when you have found one, the specific Laureate would speak to you. He might say, for example, 'I am Einstein, and I discovered the photoelectric effect. I developed the theory of relativity, and I was awarded the Nobel Prize in 1921.' That was a nice way of getting a younger audience interested in finding things in the exhibition. I must say that I enjoyed it a lot myself."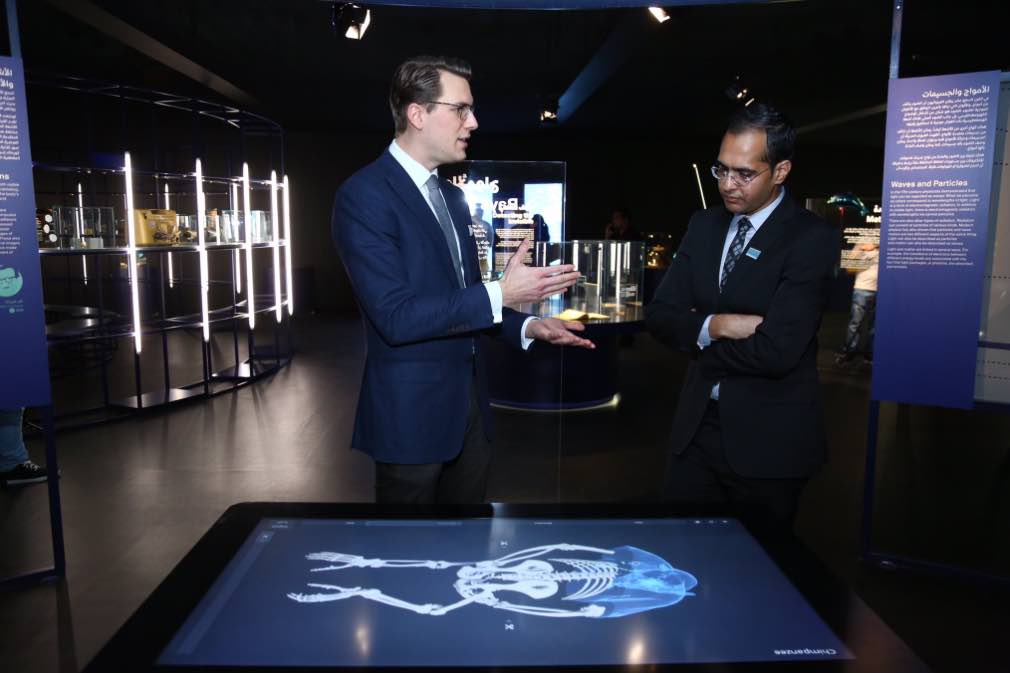 The physics exhibition also showcased, among other hands-on activities, a 'tinkering lab'. Here children could build different electronic devices, supervised by teachers. "We are just starting to work on the chemistry exhibitions. And then literature will be the next step."
Not a Case of Technology for Technology's Sake
The Nobel Museum has staged a number of literature-based exhibitions over the years. Most recently it offered one on the Swedish poet Tomas Tranströmer. He won the Nobel Prize for Literature in 2011.
"Here, again, we could use technology so that people could listen to the writer as s/he read his or her own poems, or texts," says Amelin. "If you have rare books, you could also use technology to make them accessible even if they're very delicate, or special. So there are many ways in which you can enhance the experience using digital media. Then again, you have to combine that with real artefacts. The feeling of seeing something unique and authentic is irreplaceable."
Amelin is not in favour of technology for technology's sake. "Very often you see exhibitions where people have tried to implement some really new and cool stuff, and it breaks down. I think it's a lot better to invest your money in technology that you know works."
However novelty does have a function. "At the same time, I think the interface has to be unique and new. It's a lot more fun to access data in some other way than what you do it home."
Using Technology to Communicate with Visitors
"Another important feature is that technology can enable you to leave an imprint," says Amelin. "Perhaps you do something that other people could read. Or you bring something with you that you could continue to read or look at when you move out of the exhibition.
"I think we are moving towards a situation where we will use technology when visiting an exhibition or attraction in order to communicate with people who share the same experience."
He gives an example of an ingenious implementation of relatively simple technology. "I recently visited the Cooper Hewitt, Smithsonian Design Museum in New York. When you buy your entrance ticket, you get a device that looks like a big pen. Whenever you see something interesting you simply tap the pen. All the things that you're interested in are then loaded into a file or web page that you can continue to access when you go back home. But you could also use the pen in order to make your own designs, or imitate designs and then manipulate them in many ways. That was a very clever way of using technology, because it was quite simple technology, implemented in a new and imaginative way.
"I think that is the way to go, rather than using the most cutting-edge and exclusive digital equipment."
Mixed Reality Trumps its Virtual Counterpart
Amelin believes virtual reality can be useful for educational purposes in museums. However he feels it is limited in its application. "It is very much an experience that only one person can have at a time and that makes it less useful in the exhibition situation. I believe a lot more in mixed reality, the kind of thing that Microsoft is developing, with HoloLens for instance. In that you can take part in an experience together with a group. I'm sure that will eventually be implemented with VR. You will share your experience with other people taking part at the same time.
"However as a device that gives you the possibility of exploring something on your own after your visit to an exhibition, the potential of the technology is superb."
He sees the increasing number of interesting interfaces a very promising development in the museum business. "I recently attended a very nice exhibition at a dance museum," he says. "You stood in front of a camera in a dance position. Your pose was matched to a pose in their photo archive, of dancers from an earlier time. It made me interested, and gave me an immediate feeling of the type of material they had in their archive. That was very cool. It's very simple technology."
In short, he says it's really a question of "having a brilliant idea, having the right content, and then simply using the available technology that is around us. I don't think we should go in a direction where the technology, as such, will be the interesting thing. It's really about the content, the stories, and the things that technology can help us to access. That's the thing you should focus on."
A Mix of the Expected and the Unexpected in the new Museum
Completion of the new Nobel Center is still some way off. As far as specifics are concerned, plans remain in the embryonic stage. However, Amelin is willing to give away some hints. "Story -wise there are a few things that we really need to have there. Everyone will expect us to say something about the life and discoveries made by Alfred Nobel himself. Everyone who visits will ask something about how Nobel laureates are selected. And I think everyone will expect that they will find information about all the Nobel laureates when they visit the centre themselves."
However when it comes to technology, all bets are off. "I wouldn't be so sure that the things we are looking at now are the things that we will have on site when we open," says Amelin. "Technological development runs so fast. I think we should take those decisions as late as possible in order to be able to use the best possible technology that we can have at that time."
All images credit The Nobel museum unless credited otherwise.