Crown Prince Mohammed bin Salman, chairman of the Royal Commission for AlUla (RCU) unveiled The Journey Through Time masterplan on April 7.
"Today, we embark on a journey to preserve the world's largest cultural oasis and advance our understanding of 200,000 years of heritage," said HRH Crown Prince.
"The Journey Through Time masterplan is a leap forward to sustainably and responsibly develop AlUla, and share our cultural legacy with the world."
AlUla is billed as the world's largest living museum, and the masterplan includes 5 unique districts, 5 heritage sites, 15 cultural assets and 10 million square metres of green spaces.
Additionally, the plan includes more than 5,000 hotel rooms, 9km of regenerated cultural oasis, 20km of public realm and 46km of low-carbon tramway.
The Journey Through Time follows the framework of Vision 2030 and aims to achieve harmony between nature and people and preserve the cultural legacy of AlUla. It will also create development opportunities and sustainable economic growth for Saudi.
The masterplan consists of five districts – AlUla Old Town (district 1), Dadan (district 2), Jabal Ikmah (district 3), Nabataean Horizon (district 4) and Hegra Historical City (district 5).
15 cultural assets of AlUla
Perspectives Galleries
Wadi AlFann
Arts District
Oasis Living Gardens
Incense Museum and Gardens
Kingdoms Institute
Dadan Interpretive Centre
Jabal Ikmah Interpretive Centre
Incense Road Market and Life
Memory Galleries
Hegra Museum
Nabataean Theatre
Arabian Horse Heritage
Black Basalt Museum
Skyviews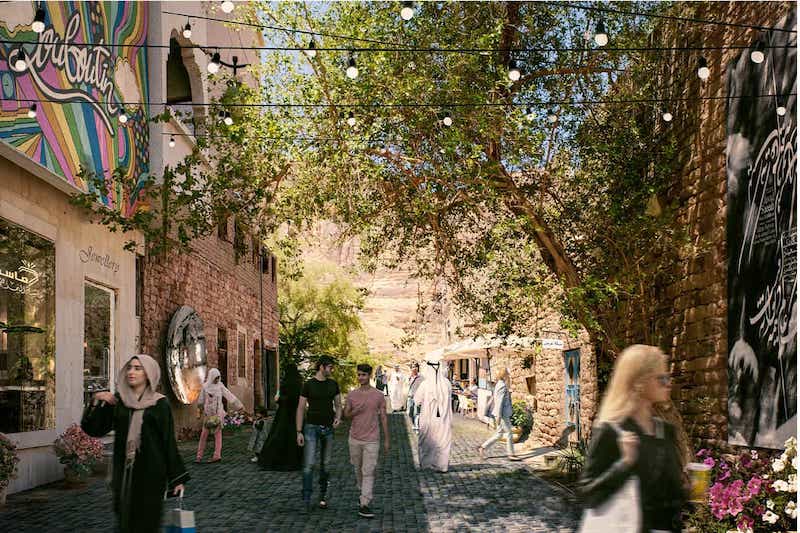 Each district will focus on an existing heritage site. The districts will be connected by a 20km public realm called the Wadi of Hospitality.
The masterplan will be implemented in three phases through 2035. The first phase, a visitor-centric experience, is scheduled for completion in 2023.
Upon completion in 2035, the development is predicted to increase the population of AlUla to 130,000 residents and create 38,000 jobs. It is also estimated to contribute SAR120 billion ($32 billion) to Saudi's GDP.
Saudi Arabia is developing various attractions and giga-projects under Vision 2030, including Qiddiya, the Red Sea Project and NEOM.
Saudi Arabia's Public Investment Fund (PIF) recently launched the Soudah Development Company (SDC) to create a $3 billion destination in the Asir Region.
Images: AlUla