Art Processors, the experiential design consultancy, led the Centre's creative and digital transformation, which is shortlisted for a 2021 MAGNA Award. The recently reopened Australian Stockman's Hall of Fame and Outback Heritage Centre is among the country's leading outback heritage institutions.
Seeking immersive experiences
Since its first opening in 1988, the Heritage Centre has seen over one-million visitors hailing from around the world. Thousands travel each year to the remote town of Longreach, about 1,200 kilometers northwest of Brisbane, to visit the museum.
"We've been in business for 33 years, and we were still telling our story the same way we were 33 years ago," says Lloyd Mills, CEO of the Australian Stockman's Hall of Fame and Outback Heritage Centre. Mills and the institution's board decided they needed to reimagine the museum to deliver a more immersive and modern experience.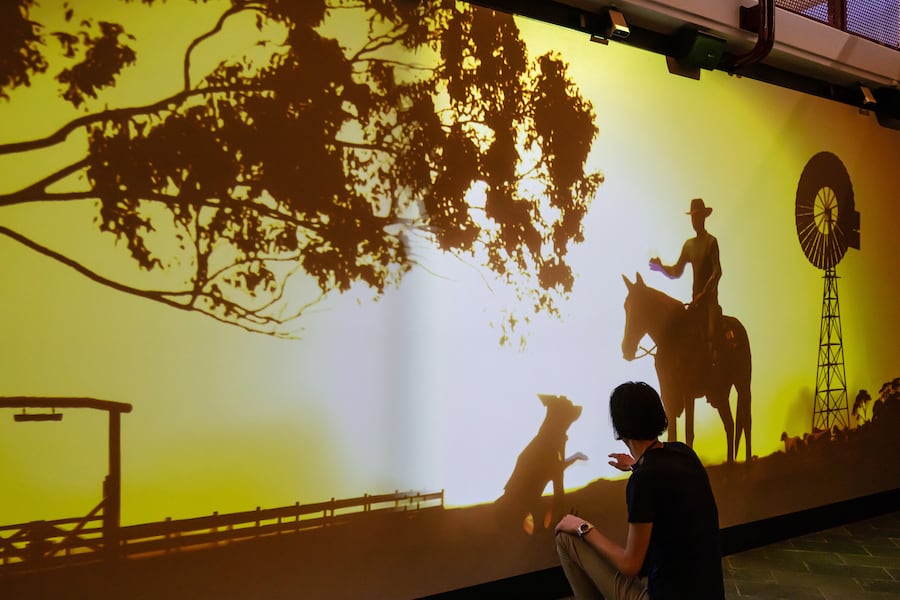 "We were still very much doing the 'object, signboard, move to the left please' exhibitions," he says. "[But] we felt a product like ours steeped in tradition and stories needed to be more immersive." The museum engaged Art Processors to undertake the major redevelopment with attention to updating its digital and experiential offerings.
Remote renovations
Instead of piecemeal changes, the leadership decided to "pull everything out and restart," with a totally new technology-based experience. However, the Feiko Bouman-designed building known as the "Sydney Opera House of the Outback" would stay.
Melbourne-based set design fabricators Show Works and local contractors collaborated with Art Processors to create neutral spaces as storytelling environments. Art Processors Project Manager and Producer Monica Zetlin credits constant close communication for the success of the project amid lockdowns.
Multimedia connections
The museum utilizes the Art Processors Museum Operating System because it enables audio, video, text, and augmented or virtual reality. Accordingly, interactive elements weave throughout the Hall of Fame and Heritage Centre's exhibitions.
Upon arrival, guests encounter a motion-controlled welcome station which uses the latest computer vision technology. Then, they may choose to engage with mobile audio experience featuring cinematic storytelling that guides them through the museum's offerings.
Later, the "Outback Cinema" multi-screener lets the audience pick films they want to watch, supplying real-time audio to their headphones. And lastly, interactive displays share the stories of everyday people living in the outback.
Painter Hugh Sawrey campaigned for over a decade to create the Australian Stockman's Hall of Fame and Outback Heritage Centre. Unquestionably, the Art Processors team felt Sawrey should guide visitors through his completed vision. Voiced by Tony Barry, the location-aware immersive audio guide called "the Hugh" is a tribute to Sawrey.
Art Processors recently assisted the Western Australian Museum Boola Bardip in creating a database-integrated site-wide digital platform and mobile guide.