The Changsha Subway Digital Art Museum has opened at Yingwanzhen station in Hunan. It is the first attraction of its kind in China to offers an immersive subway experience.
The museum covers 20,000 square feet and boasts six large-scale 3D LED art installations, turning the subway station into an art space for commuters (via Jing Culture & Commerce).
Yingwanzhen station is now attracting more than two million passengers and visitors daily (via China Daily). Although art can be found at stations across China, Yingwanzhen is the first to house a digital art museum.
Immersive subway experience in China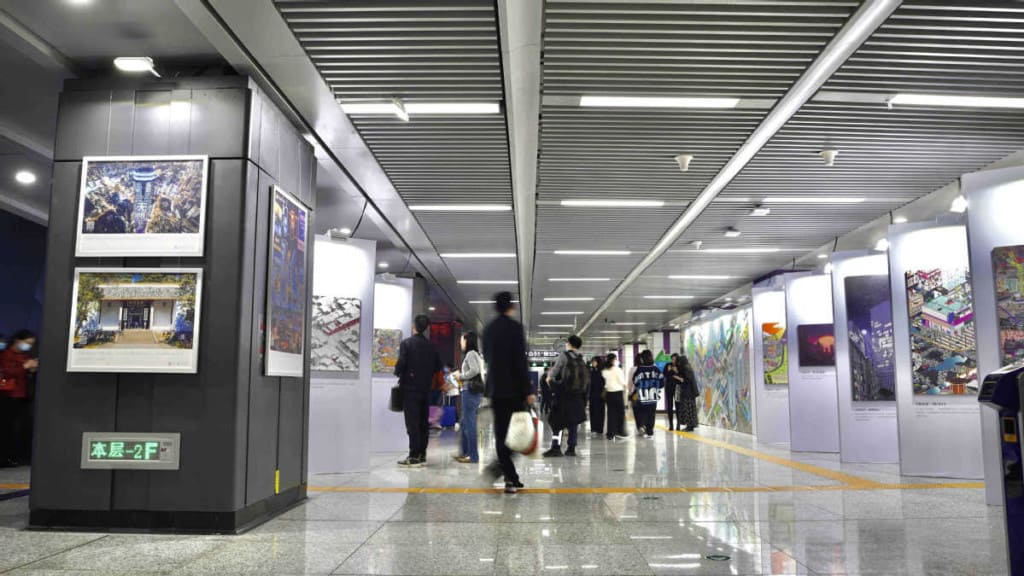 The project is a collaboration between the Fine Arts Academy of Hunan Normal University and Tianwen Metro Media, who selected Yingwanzhen station for its diverse visitors and location.
The station serves university students, office workers and tourists visiting the nearby Yuelu Mountain and Orange Isle on the Xiang River in Changsha.
"The past, present, and future of Changsha blend together here – the west side of the river represents cultural heritage, the east side our vibrant, modern city," said the team at Hunan Normal University.
The museum's first exhibition, Happy Changsha, celebrates the city and features abstract imagery associated with Changsha. For future projects, the museum will invite creative teams to build exhibitions focused on public welfare.
Museum's first exhibit celebrates Changsha
"Public art is the most unique DNA of a city," the Hunan Normal University team said. "One that reflects the true soul and character of a city."
The Changsha Metro Digital Art Space is part of a growing trend for immersive art experiences in China. In 2019, the Zaha Hadid Architects-designed Changsha Meixihu International Culture and Arts Centre opened in Changsha.
Li Shaobo, chief designer of the museum, said: "We use the post-modern deconstruction method to build the museum into a tunnel-like architecture, and the tunnel connects the past with the future, history with modernity."
Images: China Daily