Roto, a leading planning & design-build firm, recently collaborated with exhibit designer Studio Matthews and media designer Belle & Wissell on the redesign of Museum of Science and Industry, Chicago's legacy Take Flight exhibit. Roto completed fabrication and installation on the project.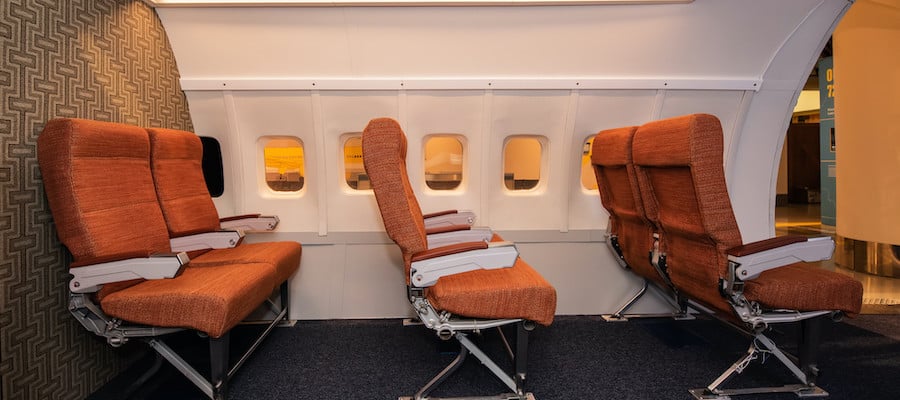 MSI wanted to fully reimagine the existing gallery says Jeff Buonomo, senior manager, special exhibitions and business partnerships. "It was definitely time for a refresh and to tell a new, modern story."
Immersive aviation experience
For nearly 3 decades, MSI Chicago was home to a 1964 United Airlines Boeing 727 suspended high above visitors. The plane, named in honor of United's first African American pilot, Captain Willian Norwood, consistently wowed guests of the museum.
"United's 727 airplane has been a one-of-a-kind sight that has amazed millions of guests," says MSI President and CEO Chevy Humphrey. "We're excited to showcase the plane in a new way that highlights modern advances in aviation."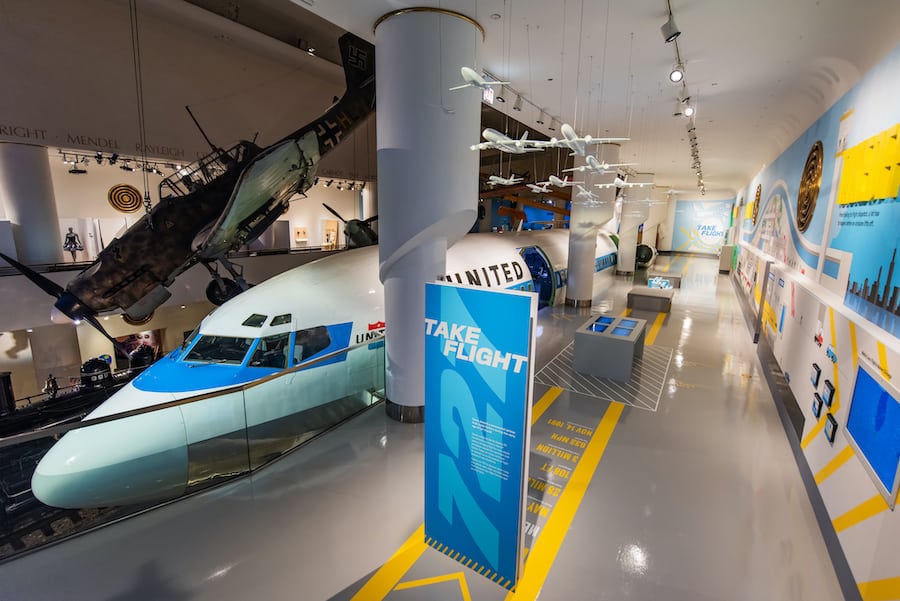 The content, design and fabrication teams' work transformed the antique airplane into a sort of multi-sensory time machine. Visitors can see, touch and hear what mid-1960s air travel was like—from the swingin' music to the tangerine upholstery. And look back in time to understand early jet travel, while fully experiencing flight through a spectrum of modern technologies.
These brand-new interactives allow guests to see into the mechanical, electronic, and hydraulic systems of the plane. Further, anyone can explore the landing gear, wings, seats, storage, and even the flight recorder or "black box."
Rebuilding the past
The interactives are not just digital—as part of the reimagining of Take Flight, Roto stripped the 727 in order to bring it back to life.
"In addition to demo'ing the inside of MSI's historic plane, we had to imagine innovative ways to modernize such a beloved legacy exhibit embedded with modern technologies purposefully embodying the experience of flying generations ago," said Jeff Pecchio, Roto's Vice President of Fabrication.
Once on board, visitors become travelers and learn about the science behind what happens to the human body during flight. They discover the sensations associated with and how to combat turbulence, high altitudes, dehydration, ear-popping, and even jet lag.
Retired pilots volunteer by lending their expertise to an especially popular section: a newly refurbished cockpit. Visitors also get to peek inside the world of pilots, flight controls and air traffic systems to enhance their understanding.
Then, as "passengers" deplane, they encounter a vibrant, interactive 150-foot mural highlighting various aviation topics from factory to airport, and finally to takeoff where visitors explore how flights and tickets get tracked worldwide.
Because Roto is building upon its success as a leader in museum and exhibition design, it's expanding its leadership team, with a focus on partnering with AE firms, developers, brands, and entertainment leaders.
All photos, including the header image, kind courtesy of Museum of Science and Industry/Heidi Peters