180 Barco projectors are now in use at the Memory Lane Museum Complex, Russia, where they are helping to tell the story of Russian heroes in the Great Patriotic War (the Eastern Front of WWII). This includes 112 x G60-W8 projectors, 35 x G60-W10, 15 x F70-4K8, 14 x F80-4K12 and 4 x F90-4K13 projectors.
This projection technology provides quality images with truthful colours while also being stable and reliable.
Impactful visual storytelling
The experience can be found at the Memory Lane Museum Complex within the 5,500-hectare Patriot Park, a military-themed visitor attraction in Kubinka, Russia. It includes 1.5 kilometres of visual installations showing scenes from WWII in an immersive and interactive setting.
The museum complex is 1,418 steps long, reflecting the 1,418 days and nights of battle during the Great Patriotic War, through which a graphic timeline of the war is brought to life.
Avilex, a large IT integrator in Russia, was responsible for the installation of the audiovisual equipment. While the company has much experience in the field, this project presented quite a challenge says Alexey Samokhin, Avilex's creative director:
"We are used to working with the top brands in the industry because system reliability and image quality are top priorities for all our installations. But the biggest challenge here was the tight deadline.
"Mid-February 2020, we understood that more than 100 projectors would be needed and we were expected to complete the project in May 2020. Barco was the only visualization provider that could make this work. We also succeeded thanks to close collaboration between Barco, Avilex and our distributor Auvix."
Bringing the exhibition to life
Avilex and Barco teams worked together to bring the customer's creative vision to life, alongside distributor Auvix which ensured fast and safe delivery within the tight deadline.
The exhibition itself is a huge undertaking, consisting of 35 galleries and immersive exhibition halls, three panoramic cinema halls and two audiovisual tunnels as well as break-out areas and a welcome area.
"We wanted to meet the customer's creative requirements, but at the same time, we wanted to make the configurations for the 180 projectors as uniform as possible to make maintenance and interchangeability easier," says Samokhin. "We were able to meet all of the requirements with a mix of Barco's G60 series laser phosphor projectors, and F70, F80 and F90 laser phosphor projectors."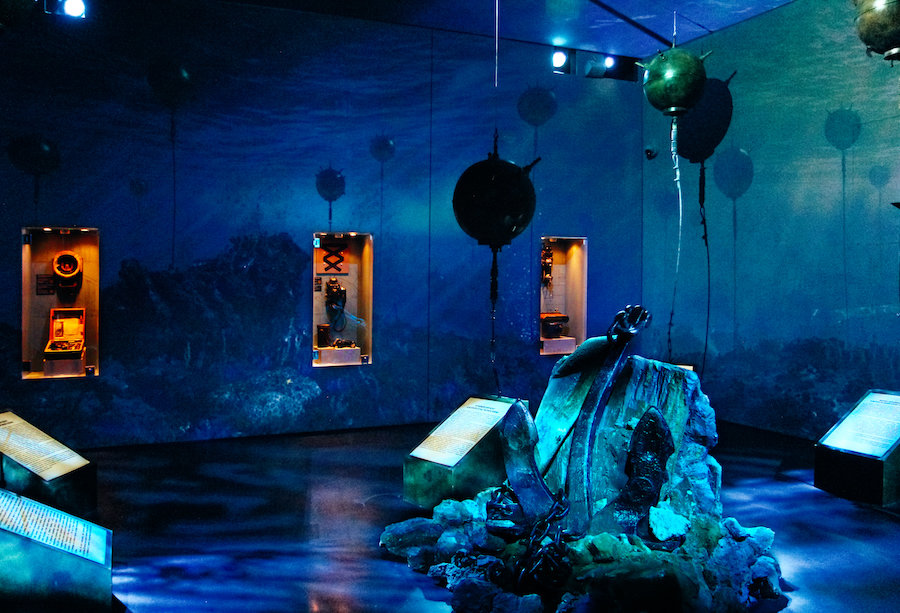 Among the innovative installations that Barco and Avilex created here is a crashed German plane with projection mapping, five panoramic halls with 180-degree screens and a four-channel dome projection system in the 'Battle for the Caucasus' hall.
One of the key challenges of this project was the installation of the three 'full immersion' halls which have 360 degrees of projection. Each of these is themed around an important moment from the war. Here, Barco was able to overcome the challenges of the space to deliver an effective solution.
"At first, we had no idea how we could make this installation work," says Samokhin. "But the compact Barco F70 projector combined with an ultra-short throw lens offered a solution. We couldn't have made this work without the help of the Barco F70.
"A creative project of this size requires perfect communication and a well-oiled team effort. Thanks to the relentless dedication and coordination of the Barco team, we were able to complete this stunning visualization project in record time. It's a piece of art which may serve as an example to museum projects all over the world."
Last month, it was announced that the Barco-powered digital art centre, Bassins de Lumières by Culturespaces, has welcomed 400,000 visitors in the first four months of opening.