Dorte Mandrup has released visuals of 'The Whale', a new Arctic attraction in Andenes, on the island Andøya, Norway. The Danish architect won an international competition to design The Whale.
The Whale was designed by Dorte Mandrup in collaboration with Marianne Levinsen Landskab and consultants JAC Studio, Thornton Tomasetti, AT Plan & Arkitektur, Niels Øien and Anders Kold.
Other teams that participated in the competition include BIG, Snøhetta and Reiulf Ramstad. Dorte Mandrup's winning design will form the basis for construction.
Andenes is situated on the northernmost part of Andøya, 300 kilometres north of the Arctic Circle.
One of the best places in the world to spot whales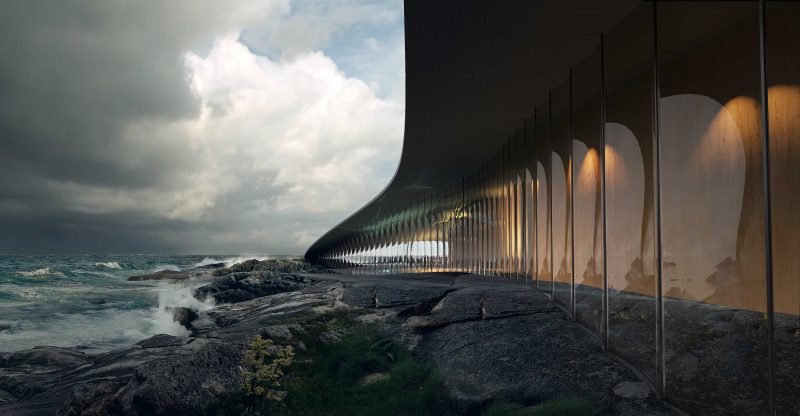 The deep-sea valley Bleiksdjupa, where migrating whales pass by, is a few sea miles from shore. This makes Andenes one of the best places in the world to spot whales.
"Located this far North, Andøya is a unique place and The Whale an extraordinary project," said Dorte Mandrup, founder and creative director.
"Not only will we be creating architecture in yet another remarkable landscape, but we will also take part in increasing the understanding of whales and preservation of marine life."
Positioned by the edge of the ocean, The Whale rises naturally as a soft hill, with visitors able to walk on the roof and take in dramatic views of the ocean and rugged mountains.
Visitors can walk on the roof of The Whale
The curved concrete roof of The Whale will be covered with stones. The parabolic form creates a large room, free of columns.
The building, which rises as a soft hill on the rocky shore, will feature large windows, exhibition spaces, offices, a café, and a shop.
The remote location of Andøya has 50,000 annual visitors, with The Whale set to strengthen Northern Norway as a travel destination.
"Choosing a winner of the architectural competition has been a major challenge because we had several proposals of a very high quality," said Børre Berglund, CEO of The Whale AS.
Attraction will have exhibition spaces, café, and shop
"However, the project from Dorte Mandrup is a clear winner and meets the competition criteria in the best way. It is poetic and low-key and at the same time a very exciting and unusual building."
The Whale is expected to open in 2022.
Images: MIR and Dorte Mandrup