Exhibits Development Group, a global leader in travelling exhibitions, has announced the North American debut of "Pompeii: The Immortal City", following a successful run in Europe. The exhibition has limited availability for its US tour.
Exhibits Development Group is proud to bring its acclaimed travelling exhibit "Pompeii: The Immortal City" to North America. It opened on June 6th at the Science Museum of Virginia and is now at the start of a five-year international tour. The exhibition first opened in Brussels, Belgium in 2018 and was well-received.
The exhibition will now be open to visitors to the Science Museum of Virginia until September 3rd 2019. It features 100 artworks and artefacts, as well as interactive and multimedia experiences to bring the ancient city to life. It is supported by up to date archaeological discoveries from the Naples Museum of Archaeology, which is still excavating the site.
An enthralling exhibition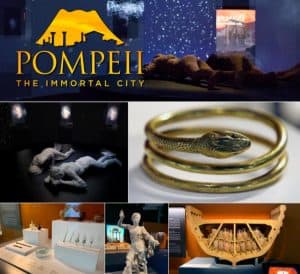 Richard Conti is Chief Wonder Officer at the Science Museum of Virginia. He says, "We are proud to premiere the North American tour of Pompeii: The Immortal City and have taken delight in seeing how our guests have been enthralled by it. The artefacts, graphics, immersive media experiences, and overall presentation have exceeded our high expectations."
As part of the exhibition, guests can explore frescoes, jewellery, sculptures, medical instruments and more. There is even a perfectly preserved loaf of bread! The display gives visitors a unique insight into the lives of Pompeii's inhabitants. The city was surprisingly modern, and the exhibition demonstrates the artistic and technical advances that the inhabitants made. During the immersive experience, visitors can also enjoy multimedia moments that show how the great city was buried by volcanic ash.
The exhibition has limited availability. Institutions should get in touch with the EDG team quickly to secure one of the available booking slots:
October 2019 – January 2020
June 2021 – September 2021
October 2021 – January 2022
February 2022 – May 2022
EDG has had a busy summer so far, showcasing a selection of its latest exhibitions at various shows including ECSITE and AAM Expo 2019. The company continues to expand globally with the recent appointment of new team members across several regions.