Gallagher & Associates (G&A), the internationally recognised interdisciplinary design studio, is looking back at some of the ways that it has helped museums to immerse visitors in music and culture over the past year.
Music and culture have the power to bring people and communities together, often in surprising ways. In the wake of the pandemic, people are more in need of connection than ever. While COVID has changed the way we approach communal spaces, the unifying power of music remains.
In a post-pandemic world, visitors will be more aware of health and safety, meaning that museums must think of innovative ways to create personal experiences in a shared space. Over the past year, G&A has worked with the Mississippi Arts & Entertainment Experience, the Indian Music Experience Museum, and the National Museum of African American Music to navigate and adjust during the pandemic.
Mississippi Arts & Entertainment Experience
The Mississippi Arts & Entertainment Experience (MAX) showcases Mississippi's legacy in the arts and celebrates the Mississippians who created it. The museum covers around 60,000 square feet and is an ideal venue for guests to immerse themselves in the process of creating art and the world of the artist.
G&A provided early feasibility and master planning, exhibit and experience design, as well as executive leadership via G&A's Strategic Services. Through spaces such as a writer's studio, a juke joint, a church hall, and a front porch, visitors can engage with the setting of Mississippi as they play and discover.
Throughout the MAX, which celebrates place and the shared human experience, visitors can enjoy a range of interactive media, hands-on experiences, and soundscapes that complement each immersive space.
Galleries are organized thematically, focusing on the Land, the Home, the Community, the Church, People, and Places. These galleries highlight the stories of Mississippi-born artists, as well as encouraging guests to try their hand at virtual pottery, place themselves in the mindset of an author at her typewriter, jam on the upright bass, or create a down-home meal.
During a visit to the MAX, personal stories and history come to life, allowing visitors to learn something new and to think about how they themselves are inspired by the world around them to produce something incredible.
Indian Music Experience Museum
The Indian Music Experience (IME) is India's first museum dedicated to the history of Indian music. Documentaries, interactive games, and singalong kiosks explore the country's diverse musical genres.
The 50,000 square-foot museum creates a personal connection with its audience by using both sensory and intellectual stimulation, as well as encouraging social interactions between visitors.
Talking about the development of the project, Sujit Tolat, lead designer, said: "We hope to lead with an approach that is educational and engaging while also being fun and entertaining. IME aims to set a new benchmark in the way museums are experienced on the Indian landscape."
A visit to the IME gives people a chance to interact with music that ties in with their own interests while experiencing and sharing content in a communal setting. The connection between music, identity, and culture is explored through stories and histories, while layered content allows guests to explore at their own pace in a personalised way. Multiple interpretive entry points appeal to guests from different backgrounds, ages, and interests.
Visitors can also create their own music at the IME, adding their own contribution to the country's rich musical heritage.
The National Museum of African American Music
The National Museum of African American Music (NMAAM) is the first museum dedicated to preserving and celebrating the many music genres created, influenced, and inspired by African Americans. This brand new museum showcases Nashville's rich history of African American music and culture.
Both contemporary and historical voices and songs are used to explore a history spanning Southern plantations, civil rights sit-ins, historically Black institutes of higher education, and modern-day diversity in Nashville. Immersive exhibits are used throughout the 56,000 square-foot museum.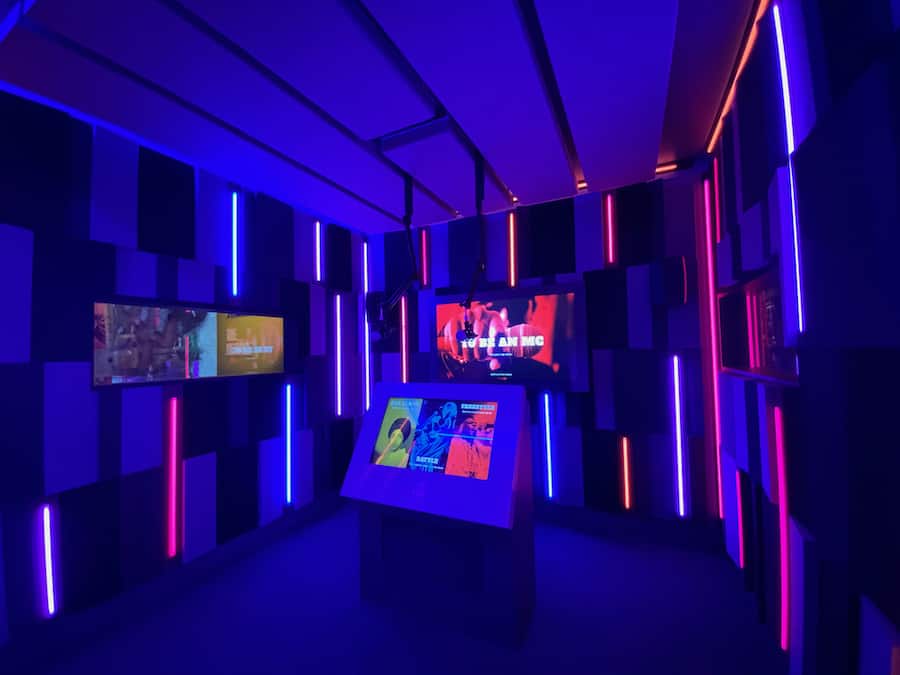 The "Rivers of Rhythm" take guests from the beginnings of American music with Southern religious and blues traditions to the impactful hip-hop and Rhythm & Blues of recent history. NMAAM also explores how popular musicians of today, like Beyonce and Harry Connick, Jr., are connected to the traditions born out of the African American experience.
During a visit, audiences are invited to sing with a virtual gospel choir, dance along to hip-hop videos and experiment with instruments to create their own jazz composition. They can also watch films which show the connection between music and social justice movements, test their skills in a rap battle or mix a beat within communal pods.
A personal, powerful and communal experience invites visitors to both learn and feel the history of African American music.
Visitor safety is paramount
Audience interaction in museums is evolving in the wake of COVID-19. G&A is acutely aware of how technology and spatial planning can be used not only to create an experience, but to help secure the safety and well-being of visitors and staff.
Technological solutions such as timed tickets, sophisticated gallery capacity calculations, RFID-monitored visitor flow, antimicrobial films on touch-screen monitors, and individual stylus pens can help to reduce the risk and allow visitors to continue enjoying communal experiences. These solutions are supported by mask-wearing, deep cleaning, limited hours, and easy access to hand sanitiser.
"The end of this pandemic will come," says a spokesperson for G&A. "And when it does, we will again engage and create and motivate through shared experience and interaction. Exploring the traditions of music and culture, and inviting visitors to be participants in those stories, is powerful means to connect visitors from all walks of life in a shared moment of understanding.
"While the pandemic has changed many aspects of life, G&A is proud to create environments where the uniting power of music and culture can be celebrated, embraced, and enjoyed."
Header image: National Museum of African American Music (Photo credit: Available Light)