Roto, a leading planning & design-build firm, was selected by the Denver Museum of Nature & Science in 2017 to work on the renovation of its much-loved Space Odyssey exhibit. This was the museum's first interactive exhibition and was in need of updating having been installed over 15 years ago.
The Denver Museum of Nature & Science has been transformed in recent years and is now home to a world-class collection and research facility. Roto was asked to help the museum meet its mission-driven goals for this permanent exhibition, engaging a diverse audience by creating a popular, content-rich attraction that aligns with the museum's brand for strong science education.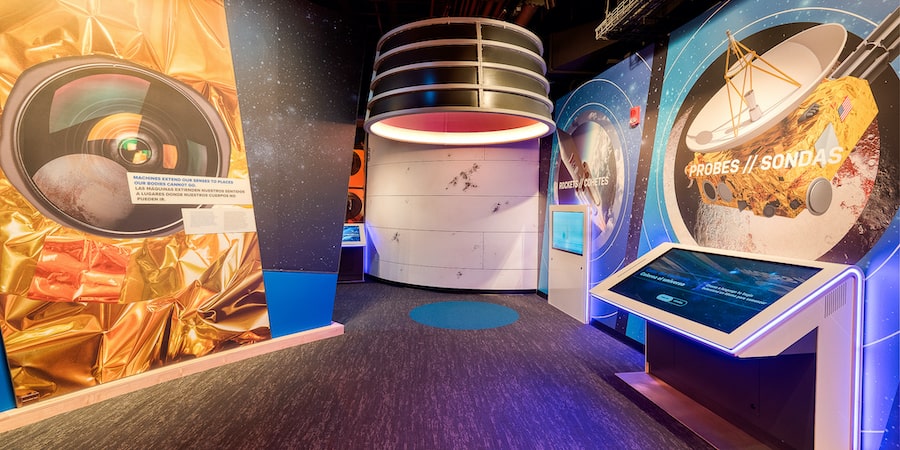 Space Odyssey
Space Odyssey is a family exhibition that looks at space science and exploration. During this project, the gallery was expanded by more than 40% and the exhibit updated to integrate science, nature, art, pop culture, and technology, allowing the museum to foster a deeper understanding of Earth and the universe.
The interactive and engaging gallery explores new topics such as exoplanets, gravity waves, Enceladus fountains, Dragon Heavy engine arrays, and Fermi's Paradox. Throughout the exhibit, big ideas are organised into six sub-zones, each of which looks at "a way of knowing" about space, earth, ourselves and humanity in general.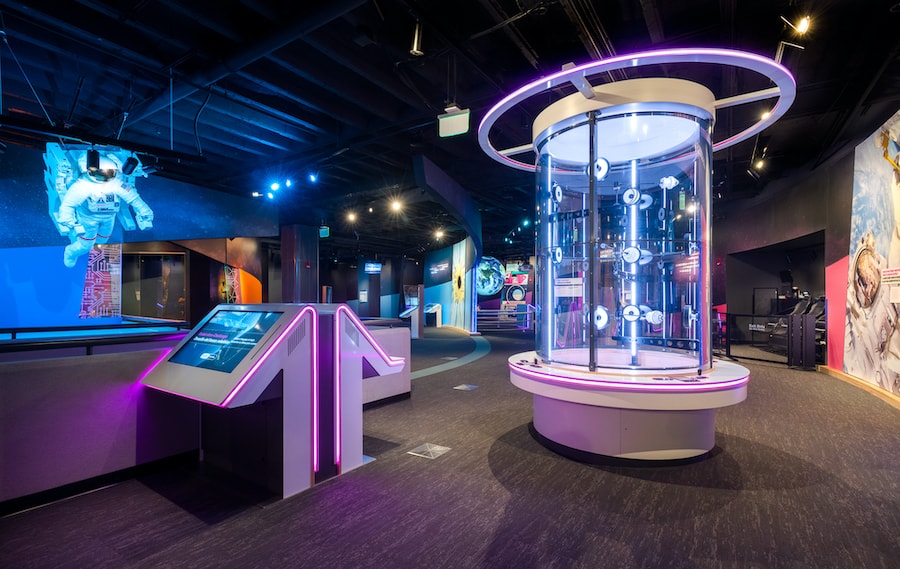 These big ideas encourage visitors to ask big questions, like "How do we know how old the universe is?" "What does it feel like to be in space?" and, "Are we alone?"
Roto designed and built the new gallery which blends techniques in immersive theatre, rewarding interactivity, embedded technology and social participation.
Guests can:
Experience the Sensory Spacewalk which uses 43 miles of optical fibre to create more than 11,000 "stars", simulating the feeling of being out in space.
Become a passenger or a crew member on the Fantasy Spaceship, taking the helm and jumping to light speed on the interactive bridge, talking to the ship's computer, firing a laser cannon to break up space debris in the ship's path, decoding alien languages, and triggering audio and lighting effects that ripple throughout the entire ship.
Learn the skills required to drive a Mars rover
Race other guests to correctly dock a space shuttle using pneumatic controls
Feel the rumble of epic ticket launches on a simulator platform
Crash an object into a planet to learn more about craters
Create colourful "Hubble" images of far-out galaxies
Watch animated films to learn about traditional and living indigenous knowledge of the night sky and the origin of the planet in an immersive "campfire" theatre
Enjoy engaging space-themed play in a special under 5's area.
The exhibition is designed to make the topic more accessible with entertaining experiences that help visitors make a meaningful connection to the subject of space science and to realise the interconnectedness of life on Earth.
Last month, Roto presented the new interactive Spark exhibit at The Bakken Museum, which completed a $4.5 million remodelling project last summer.