Roto presents a new interactive exhibit at The Bakken Museum, which completed a $4.5 million remodelling project last summer. This was the museum's first major renovation in 20 years and included a redesigned entrance, a courtyard, a walkway overlooking wetlands on the property, and expanded learning spaces.
The Bakken Museum in Minneapolis is a public museum that explores electricity and magnetism, as well as being a centre for research. It has used the remodelling project to enhance its core mission, inviting guests to look beyond historic inventions and see how innovation can solve problems as we head into the future.
Sparking innovation
Spark is a permanent exhibit designed to showcase the global impact of innovation and technology, and how these ideas can be inspired.
"Great innovations can be inspired by the humanities, nature, and even pop culture," explains The Bakken Museum's President & CEO, Michael Sanders, emphasized an expansive view of sparks for inspiration: "Great innovations can be inspired by the humanities, nature, and even pop culture."
The new exhibit also aims to connect with a diverse audience, showing how art, science and technology can change the world and transforming visitors into creators.
Roto was asked to design interactive exhibits that transform the 1,500 square feet of open gallery space into a multi-user, hands-on learning experience that explores STEM and the humanities. The space aims to provide a series of unique experiences and a macro loop of inspiration and innovation in all directions. It is also the museum's first bilingual (Spanish and English) exhibit.
Exhibit highlights
Visitors are greeted by a new sculpture, designed by Roto, that highlights the museum's iconic glass tower at the entrance. This is in constant motion, casting colourful shadows and reflections. Inside, guests can play customise physical and digital musical instruments thanks to Roto's Bakkenspiel. This allows them to work together to create new music while exploring both musical and computer languages.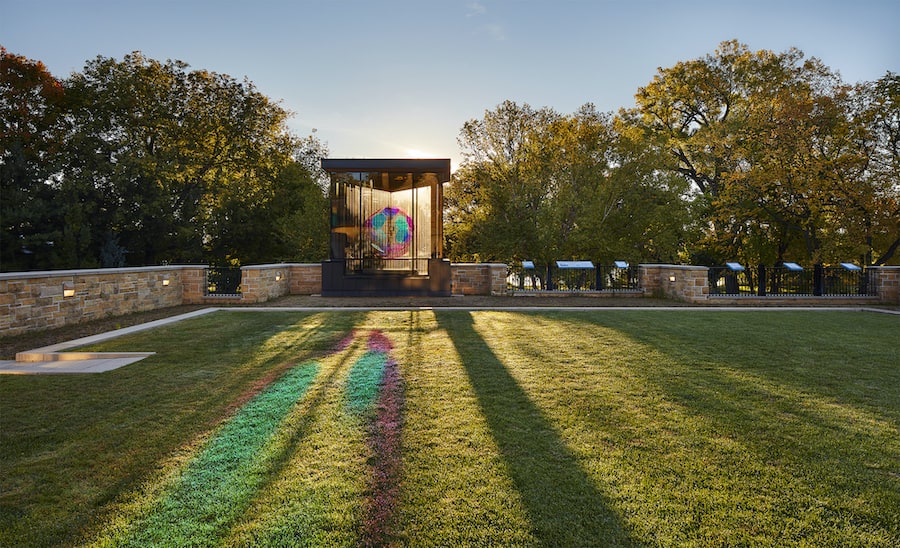 Spark is also home to the Collaboration Canvas, a kinetic interactive which lets visitors make art through body movement, alongside the "Innovation Inspired by Nature" Hallway, an immersive mural space. This invites guests to explore how people develop solutions inspired by nature.
Roto also designed the Magic Book which brings science fiction off the page and onto the table and nearby wall, allowing visitors to immersive themselves in the stories, in both English and Spanish. It features work from authors such as Octavia Butler, Madeleine L'Engle, Ray Bradbury, and Douglas Adams.
Meanwhile, the Bakken Booth focuses on code hunting and code-breaking. Numbers are hidden throughout the Spark exhibit, which let visitors play historical and current sound clips about inspiration and innovation across an array of fields in the Bakken Booth.
The Spark exhibit is sponsored by the Medtronic Foundation. Additional support was provided by Riverbridge Partners, Great River Energy, Fredrikson & Byron, P.A., and the Lillehei Family Charitable Foundation.
Last year, Roto also announced that it had been working on a successful expansion project at the Lincoln Children's Zoo.
Images © Corey Gaffer