Interspectral, the Swedish visualisation company, has worked with Ripley's Believe It or Not! Odditorium on its new Lost Civilisation Gallery, which opened to the public this month in Orlando, Florida.
The new gallery transports visitors to ancient Egypt through genuine artefacts alongside interactives, media and some of Robert Ripley's travels. Thanks to Interspectral's technology, guests can also virtually explore under the wrapping of mummies, including a mummified priest and a mummified Ibis, unique to this exhibition.
Discover more with interactivity
"The more our guests can engage with interactivity, the more they will learn about and be amazed at the artefacts in the Ripley's collection," says Kurtis Moellmann, Ripley's Exhibits Buyer
Neswaiu is a mummified ancient Egyptian priest, whose remains are held at the Museum of Mediterranean and Near Eastern Antiquities in Stockholm, Sweden and whose wrappings have been intact for over two thousand years. Now, modern scanning and visualisation technology means that, for the first time, it is possible to investigate the remains of Neswaiu and his burial equipment, inside out, without causing any disruption.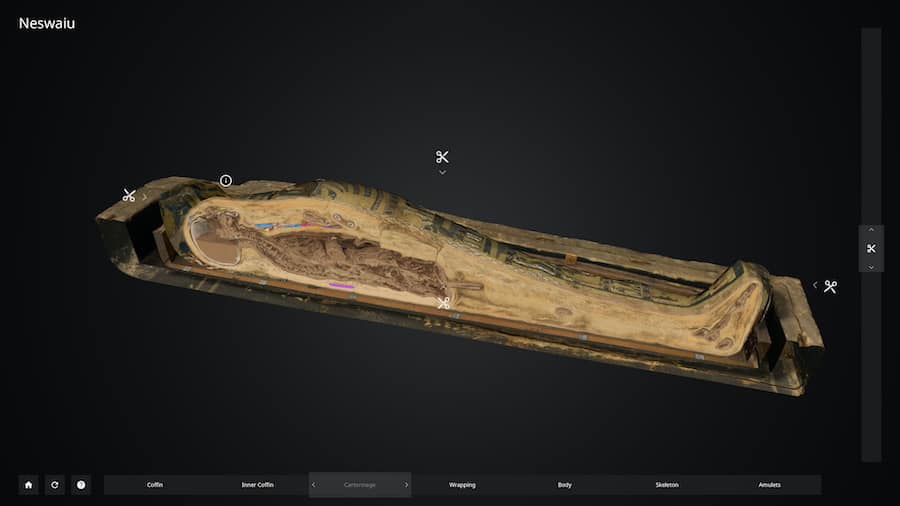 Ripley's was impressed with its initial purchase of the Inside Explorer system, featuring the mummy priest, and soon collaborated with Interspectral to create a customised visualisation of an Ibis mummy from its own collection. This will now be shown alongside the actual mummy within the gallery.
"The unique and engaging Inside Explorer software allows our guests to explore both the Neswaiu mummy and our own artefacts, says Moellmann. "It's exciting to be able to interact, and let guests interact, with a scan of one of our actual pieces!"
Earlier this year, the company also announced a new online store as well as expanded purchase options. In response to the changing conditions and lockdowns that museums are weathering, Inside Explorer products are now more budget friendly.