Meow Wolf has shared more details – as well as sneak-peek images and footage – of the mind-bending and thought-provoking experience that is Omega Mart at AREA15.
Meow Wolf also confirmed that its second permanent location, Omega Mart, is on track to open in early 2021 as part of AREA15 in Las Vegas.
"The installation is progressing at such a rapid pace," said Marsi Gray, senior creative producer for Meow Wolf Las Vegas.
"There's a really high degree of confidence in the team that we're working with and our ability to execute," added Gray.
M‍eow Wolf Las Vegas is more than double the size of the House of Eternal Return in Santa Fe at 52,000 square feet, and "unlike anything visitors have seen before".
Omega Mart is on track to open in early 2021
"It's all new concepts from the ground up," said Corvas Brinkerhoff, creative director of Meow Wolf Las Vegas. "Different narrative. Different artwork.
"It's the same collaborative creative model, but beyond the model, that's it. It's all original immersive artwork at a much larger scale, with a lot more depth of experience."
Brinkerhoff said the technology and interactivity at Omega Mart "is incredibly more complex than anything in the House (of Eternal Return)".
This includes video content, a phone system with audio recordings, and RFID interactivity. "It's like a free-roaming, open-world video game, but your body is your avatar," he said.
Interactive technology at Meow Wolf Las Vegas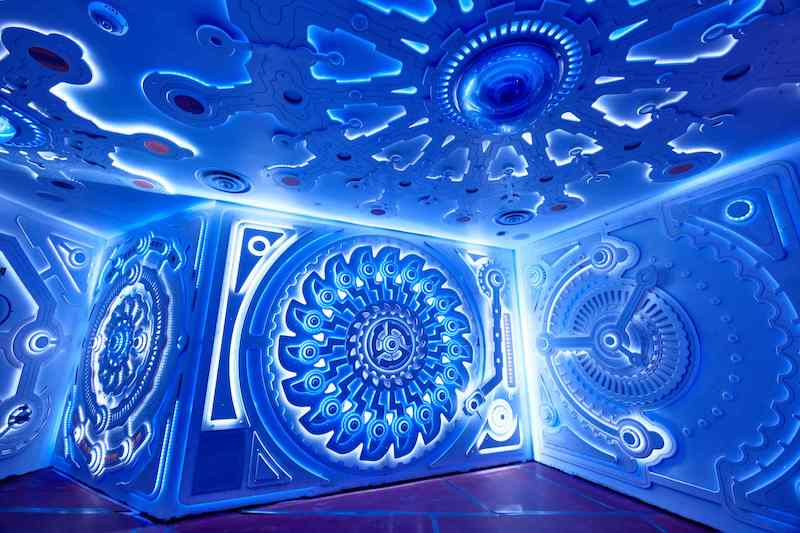 "Also contributing to the depth of experience is the storytelling, which is immense," said Brinkerhoff.
The final stage of Omega Mart is when the majority of the art goes up, which Meow Wolf refers to as 'The Frosting'.‍
As well as Meow Wolf's Omega Mart, more experiences are coming to AREA15. These include Wink World, Lost Spirits Distillery, and Dueling Axes.
AREA15 officially opened in September, before welcoming visitors to The Beast Pop-Up, a curated outdoor eatery by renowned chef and restaurateur Todd English.
Images: Meow Wolf